Ogontz is a beautiful 300-acre camp, nestled in the White Mountains of New Hampshire, in the traditional lands of the Abenaki people. The camp has its own secluded lake, surrounded by woodland and sunny open spaces. The waterfront has a shallow, sandy beach, and places for diving, deep-water swimming, sailing, kayaking, and canoeing. The Dining Room has a warm rustic charm with wooden floors and windows on three sides looking out towards the lake and open grassy fields. Meals include lots of fresh bread and desserts from the large camp bakery. There is a beautiful dance hall equipped with a hardwood floor and a stage. Several nice meeting spaces, including a barn loft, are used for our programs. A very special and popular spot to relax, read, listen to stories, or just take in the scenery is a welcoming circle of Adirondack chairs, spread out under a large tree and overlooking the lake and the surrounding mountains. There are also swing sets, tennis courts, and hiking paths following streams and waterfalls.
The camp is about a three hour drive from Boston, and six hours from New York City. CDSS has held programs at Ogontz since 1999.
How to Get There
Ogontz Camp is located in Lyman, NH, in the scenic White Mountains. The camp address is 14 Ogontz Rd, Lyman, NH 03585.
Phone contacts:
CDSS at Ogontz: 603-838-5044
Camp Ogontz: 603-838-5568
Camp is open from 4pm on the first day of the session, and dinner is served at 6pm. Departure time is by 10am on the last day.
Unfortunately, there is no public transportation to Ogontz, but if you need help getting there, you may be able to coordinate ridesharing with other campers – check out the CDSS Commons group or the Facebook page.
Housing
Most housing at Ogontz is rustic cabins with open sides, which come in various sizes housing two to six people each. These cabins have one wall for storage, and rolldown canvas on the other sides for warmth and privacy. Each family group will have their own cabin, and these will be allocated according to the age of the youngest child in the group. A Pied Piper will lead the young children back to their cabins at bedtime, and roving monitors will be on duty after that so parents are free to enjoy the evening dancing.
The cabins have an electric overhead light, but no outlets (you may wish to bring a battery-powered reading light). Some cabins have dressers, and all have a closet to hang clothes and some shelving. Toilets and showers are in separate buildings nearby. Campers are asked to bring their own bed linens and towels, and we recommend bringing mosquito netting as well. These items are also available to rent from the camp for a small fee.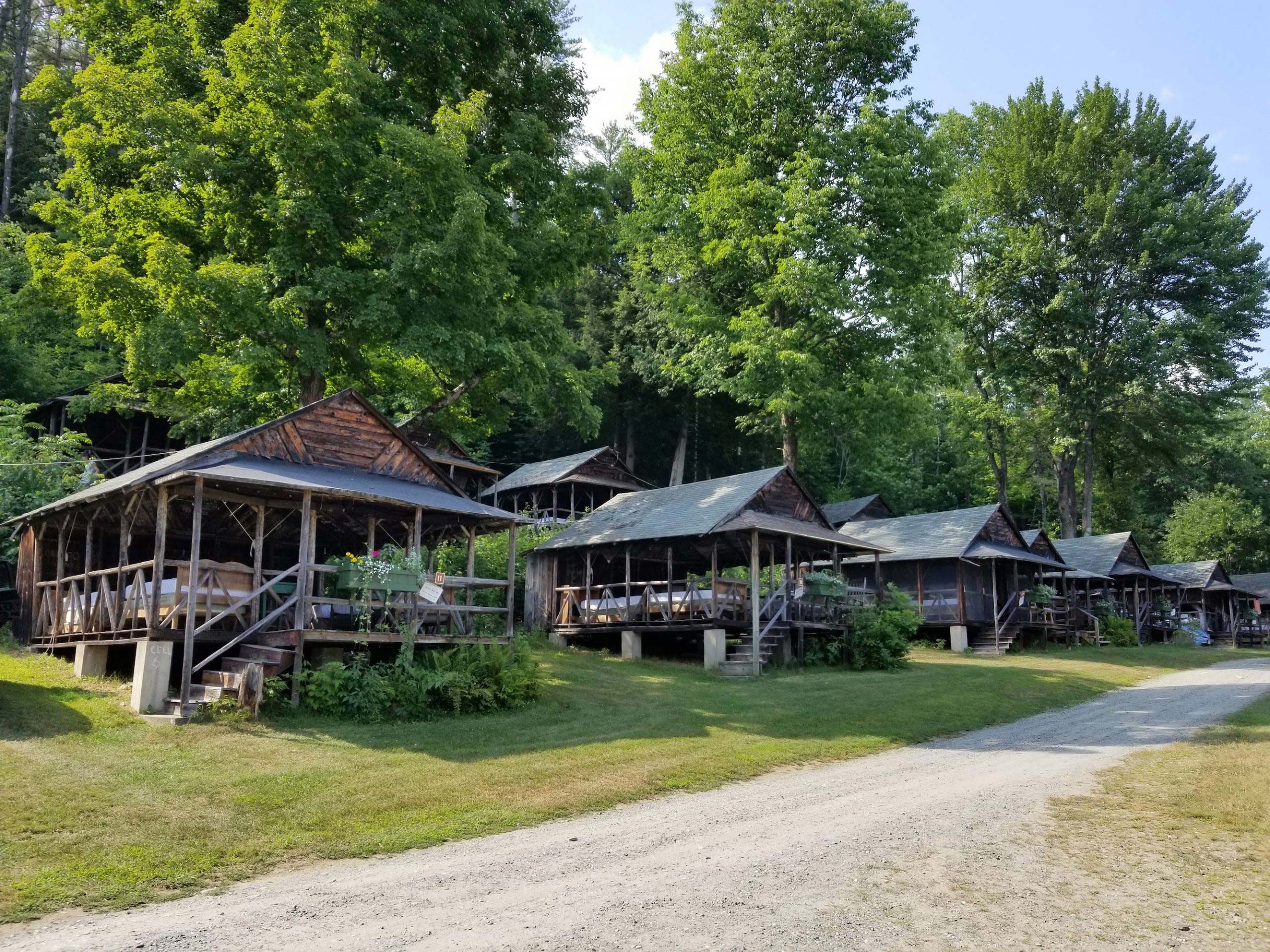 Campers will be given their housing assignments on arrival. Space is limited, and we can't guarantee that all specific requests will be filled, but if you let us know what you want, we'll do our best to make it happen. For instance, you could request a specific cabin or roommate. You can make housing requests when you register, or by logging into CDSS Commons at any time afterwards. Please notify us of all housing needs at least 10 days before camp starts. If you need disability/medical/access accommodations, please list this clearly on your housing preferences, and contact the CDSS Office if you have any questions.
Camper Jobs
In the cooperative spirit of camp life, all campers have a daily job to help make camp run smoothly.
Jobs are usually a half hour or less per day, every day, and the same job all week.
Generally campers will be given their job assignment on arrival.
You have the opportunity to make specific requests about your job assignment when you register, or you can log into CDSS Commons to update this information at any time. We can't guarantee that all specific job requests will be filled, but please let us know if you have any preferences or limitations (e.g., dust allergy, unable to lift heavy objects, difficulty staying up late or getting up early).
At Family Weeks, children ages 6-12 may be given a job to share with an adult family member.
Types of Camper Jobs
Dining Hall and Kitchen
Campers help with setting and clearing tables for breakfast, lunch, and dinner
Other kitchen jobs can include serving food, making tea and coffee, and washing dishes after meals
Sweeping
The dance pavilions and other camp spaces need regular sweeping to keep them clean and ready for dancing
Snacks and tea
Some of our camp weeks have a snack or teatime scheduled in addition to the main meals
Campers help with setup and tidying up afterwards, food preparation, and making teas
Parties and events
Some campers will be asked to help out with setting up and tidying away for parties, auctions, and other camp events
Helping with the late-night parties can be a great job for people who like to stay up late, but there are also daytime events that need help
Clerical/Office
The CDSS office staff sometimes need help with clerical work, which can include folding or stapling papers, helping with paperwork at fundraising auctions, or working in the CDSS Bookstore
Some sessions will have a camper job to coordinate mealtime announcements, or to help update schedules with any changes during the week
Greeters and tour guides
We'll ask a few campers to arrive early to be ready to welcome everyone else and give directions to new people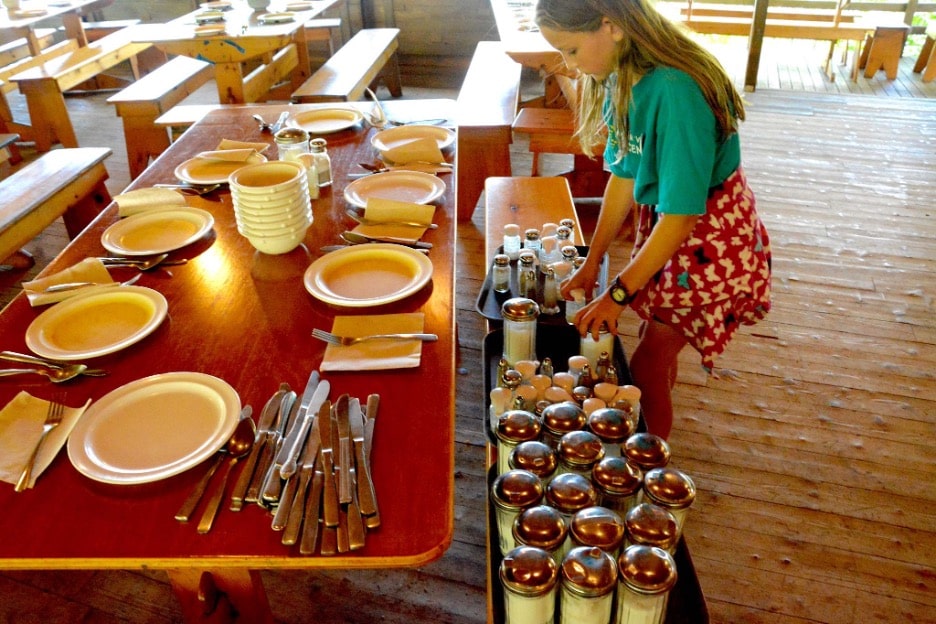 Food
Meals: The camp serves three meals a day, from dinner on the day of arrival through to breakfast on the day of departure. Ogontz feeds us well including lots of homemade breads.
If you have any dietary restrictions, please let us know in advance so we can make sure the kitchen is ready to feed you. You let us know your dietary needs when you register for camp, and you can also log into CDSS Commons after registration to update your information at any time.
Ogontz can easily cater for vegetarians and will try and meet other dietary needs, but the camp has a very small kitchen staff and cannot cater to every special diet. If you have very restrictive or severe food intolerances, you may need to bring some of your own food to supplement the camp food. Refrigerators and a small kitchen are available for campers to use for this purpose. Please contact us in advance if you have any questions or concerns.
In addition to the main meals, an alternatives cart and refrigerator are stocked with most of the following (available to all at each meal): hard boiled eggs, yogurt, peanut butter and jelly, carrot and celery sticks, bread, cheese, and hummus. These can be used both by people on restrictive diets or for children who might be fussy eaters.
Snacks and refreshments: A mid-morning and a mid-afternoon snack are served daily. Some after-dance parties are scheduled with food supplied by CDSS, but campers are encouraged to bring their own snacks and party food to share and to host parties.
Ogontz also stocks a self-serve, pay as you go ($1/drink) cooler of soft drinks and water in the dining room, for adult use only.
What to Pack
Here are a few suggestions for what you might want to bring with you to camp, and what you might want to leave at home.
Camp Essentials
Clothing

Bring enough clothes for the whole week; there are no laundry facilities at camp
Bring dance clothes, but make sure you're prepared for colder weather or rain as well

Shoes

Dance shoes
Trail or hiking shoes are a good idea for the paths around camp

Towels
Flashlight & spare batteries
Swimwear
Toiletries, sunscreen
Water Bottle
Bedding

Sheets, sleeping bag or blankets, pillow

Mosquito netting

Some of the cabins are open-sided so bringing mosquito netting is a good idea
The camp has some available to rent for a small fee
You may wish to bring:
Fan
Musical Instruments

Tunes, songs, dances, and stories to share

Snacks and food to share for parties
Auction donations and ideas for services
Food (if on a special diet)
Fancy dress or costumes
Bug spray
Please leave at home:
Computers (if you must bring electronics, please keep them in your cabin and away from camp social life)
Electronic games
Recorded music
Scented products (deodorant, shampoo, etc.)

In order to make camp safe and accessible for people with chemical/fragrance sensitivities, we ask that you refrain from bringing scented products to camp where possible

All the cares and worries of home and work
More Information
CDSS Bookstore
The CDSS Bookstore offers dance and song recordings and books, postcards, T-shirts and more. This includes recordings, publications from the talented staff. It is open for browsing from Sunday lunch until Thursday afternoon. Item may be taken only after they are checked out during posted staffed hours. Bills can be paid near the end of the week. You can pay by cash, check, or card (Visa & Mastercard accepted).
Ogontz General Store
Ogontz Camp has a store selling Ogontz Logo merchandise (shirts, umbrellas, hats, etc) as well as beverages, toiletries, baked goods, etc. Opening hours will be announced at camp.
First Aid
A resident first aider is in attendance at camp and available at all times for basic first aid. We are unable to dispense any medicine or medical advice; if there is an emergency or medical question we will direct you to the nearest hospital. There is a first aid station stocked with bandaids, ice packs and basic supplies. You should bring any specific first aid supplies or medication that you think you may need in the course of the week. CDSS and Ogontz Camp assume no liability for accidents or illness or for their treatment.
Illegal use and sale of alcohol and drugs is prohibited at Ogontz. The legal drinking age in New Hampshire is 21. Recreational use of marijuana is illegal in New Hampshire. Parents and guardians are responsible for making sure that their children do not use alcohol or drugs at Ogontz.
All the normal outdoor dangers: raccoons, ticks, poison ivy, etc. come with camp life. Raccoons and bats with rabies and ticks with Lyme have been found in the area.Do not approach or handle wild or tame animals and let us know if any contact has occurred. Standard precautions will be explained at camp.
Water Safety
The lake is visible from most of camp and is fun for everyone. It is a walk to the swimming area – bring a beach bag for towels and a change. For your water safety, lifeguards are on duty at the lake for specific periods each day. The lake is out of bounds at night and during class times that are not simultaneous with official swimming.
Minors (those under age 18) may only swim or boat under the supervision of the lifeguards.
Campers 9 & under must be accompanied by their parent or guardian.
Campers 17 and under wishing to swim beyond the roped off shallow end of the lake or to use a boat must pass a swimming test.
Canoes are available during swim times for use by people who have passed the swim test. By state law, all boaters must wear a life jacket.
CDSS and Ogontz Camp assume no responsibility for campers swimming or using boats.
Lifeguard equipment is for use only by the lifeguard or in the case of a swimming emergency. If you swim when or where the lifeguard is not on duty, please swim with a friend. Do not swim if you have been drinking alcohol.
2022 CDSS Sessions at Ogontz
CDSS is hosting one camp week at Ogontz in 2022: