August 6-13 // Plymouth, MA
Take your calling to the next level!
During American Dance & Music Week at Pinewoods
Join us for a hands-on intensive course led by Lisa Greenleaf designed for callers who are ready to get to the next level.
Program Description
This course is for advanced-beginner through intermediate callers. Together we will focus on teaching skills, including topics such as
recognizing good choreography
understanding effective walk-throughs
inspiring confidence in your dancers
improving performance presence
building an evening dance program.
All of this takes place in a supportive environment designed to help you discover your strengths and explore new ideas, with as much flight time at the mic as we can manage!
The course takes place for a solid block in the morning, during which time we will analyze figures and transitions, practice creating efficient walk-throughs, and learn how to connect effectively with musicians. This is followed by a hands-on experience called the Contra Callers Dance Party, when mini course participants work with a live band and call dances from the stage. Each dance is followed by dancer critique using a safe and supportive feedback model. This dance party is open to dancers from the wider camp community. The rest of afternoon and evening, participants have full access to the American Dance & Music Week at Pinewoods program.
Course Details and Participation Requirements
A week is not a lot of time to cover all of the course material, so in order to hit the ground running, please make sure that you can fulfill these criteria by the time camp starts:
Provide a reference who can describe your experience and skill level.
Be familiar with the AABB structure of contra dance music.
Know the difference between a jig and a reel.
Know how to cue the first figure off of four potatoes.
Have a repertoire of at least 3 dances you know and feel comfortable teaching and calling.
Be prepared to receive and incorporate feedback, even if you have a lot of calling experience.
Course Leader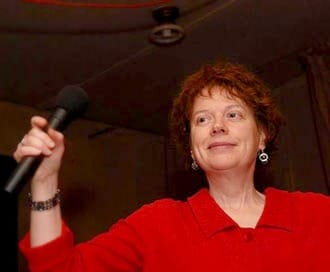 Lisa Greenleaf brings many years of experience to her callers workshops, having been on staff at camps across the country and beyond. She has created both short and long caller courses, and she particularly enjoys "geeking" out with other callers to understand how people learn dance moves, as well as how we can build effective dance communities.
Registration and Fees
The fee for the course is $950.
Participation is limited to 10.
To apply for this program, after you register for camp, you will be directed to fill out a survey. Survey responses are requested as soon as possible, but by March 15 at the latest. Applicants will be chosen based on potential and level of serious commitment.
If the course is oversubscribed on March 15, there will be a lottery with some preference given to applicants supported by their local community. Strong indicators of that support are our Group Priority and Matching Scholarship processes, where a CDSS Affiliate vouches for a participant and may offer some scholarship, asking CDSS to match that amount. This is a statement by people who know the individual, that the person is deserving of assistance and would benefit the local community by attending the course.
To learn more about available scholarships, visit our scholarships page.
To register, please log into the CDSS Commons, or visit our registration page for more information.