Camp Cavell spans 55 acres of woods on Lake Huron, in the traditional lands of the Fox and Sauk peoples. The camp has 1800 feet of shoreline that providing spectacular and sweeping lake views from almost all buildings. The rustic camp is located 4 miles north of Lexington in the 'thumb' region of Michigan with its many quaint towns and ice cream shops. Arriving at camp, you'll drive through the winding forested entrance until you suddenly see the water, cabins, and lodges.
Two large log lodges have great wooden dance floors and are the primary locations for the dance and spice programming and evening activities. The main lodge has a full length outdoor porch and fireplace facing Lake Huron for quiet times, singing, visiting, or watching the freighters go by. Summer nights are cool, the air is fresh, and the stars very bright on Lake Huron, so binoculars and plenty of layers of clothing are recommended. The second lodge has an enclosed sunny back porch, and it houses the kitchen. Both lodges have interior fireplaces and bathrooms, and are connected by a paved walkway. Steps and ramps weave down the hillside from the main lodge to the beach on Lake Huron for waterfront activities. Meals are served in a large outdoor covered pavilion overlooking the lake and grounds.
The program begins with swimming and an informal tour of camp on the afternoon of the first day; followed by an orientation meeting and dance after dinner.
Arrival time is after 4:00 p.m. on the first day of camp. Departure time is after a final gathering and by noon on the final day.
How to Get There
Driving Directions
The camp is a three to four hour drive from Toronto, ON, Fort Wayne, IN, Marion OH, and Grand Rapids, MI. Via air, the Detroit airport (DTW) is 84 miles away, Flint Bishop Airport is 65 miles, Capital City Airport in Lansing is 109 miles and Cleveland is 133 miles. Car rentals are available at each. Border crossings to and from Canada require a passport and are located at Detroit, MI/Windsor, Ontario or Port Huron, MI/Sarnia, Ontario.
IMPORTANT! Not all online maps get the camp location right. Make sure it shows Camp Cavell just a little bit north of Aitken Road.
Cavell is located twenty-four miles North of Port Huron, Michigan on Lake Huron, 4.5 miles past the town of Lexington. Just North of Aitken Road.
The address is Camp Cavell 3335 Lakeshore Lexington, MI, 48450
Directions: Take I-94 to Port Huron. Follow signs to North M-25 (Lakeshore Road). CAMP CAVELL entrance is on the right 4.5 miles north of Lexington on M-25.
CDSS Van from Detroit Airport
It is easy to get to CDSS programs at Camp Cavell from Detroit Metropolitan Airport (DTW)! Book a flight that arrives by 1pm and reserve a seat on our van to camp. For the return journey, the van will leave Cavell for the airport at 10:00am at the end of camp, suitable for flights at 1pm or later. We will send information closer to camp time on where and how to meet the van, greeters will help you on arrival at camp. Please reserve a seat at least ten days in advance, we cannot guarantee space for last-minute reservations. Van seats cost $40 in each direction.
Housing
Most housing is in cabins for 4-6 people each, with both single-gender and mixed-gender cabins available. The majority of cabins have a shared indoor bathroom. There are a limited number of double cabins and single rooms.
There are a small number of RV sites with electricity, but no sewer – these need to be reserved in advance as there are a limited number available. For campers wanting to be ever closer to nature, there are ample camping spots along the creek or beach, and teepees available for our use. Campers in tents will be assigned a cabin space which they can use for storage or in case of inclement weather.
Camper Jobs
In the cooperative spirit of camp life, all campers have a daily job to help make camp run smoothly.
Jobs are usually a half hour or less per day, every day, and the same job all week.
Generally campers will be given their job assignment on arrival.
You have the opportunity to make specific requests about your job assignment when you register, or you can log into CDSS Commons to update this information at any time. We can't guarantee that all specific job requests will be filled, but please let us know if you have any preferences or limitations (e.g., dust allergy, unable to lift heavy objects, difficulty staying up late or getting up early).
At Family Weeks, children ages 6-12 may be given a job to share with an adult family member.
Types of Camper Jobs
Dining Hall and Kitchen
Campers help with setting and clearing tables for breakfast, lunch, and dinner
Other kitchen jobs can include serving food, making tea and coffee, and washing dishes after meals
Sweeping
The dance pavilions and other camp spaces need regular sweeping to keep them clean and ready for dancing
Snacks and tea
Some of our camp weeks have a snack or teatime scheduled in addition to the main meals
Campers help with setup and tidying up afterwards, food preparation, and making teas
Parties and events
Some campers will be asked to help out with setting up and tidying away for parties, auctions, and other camp events
Helping with the late-night parties can be a great job for people who like to stay up late, but there are also daytime events that need help
Clerical/Office
The CDSS office staff sometimes need help with clerical work, which can include folding or stapling papers, helping with paperwork at fundraising auctions, or working in the CDSS Bookstore
Some sessions will have a camper job to coordinate mealtime announcements, or to help update schedules with any changes during the week
Greeters and tour guides
We'll ask a few campers to arrive early to be ready to welcome everyone else and give directions to new people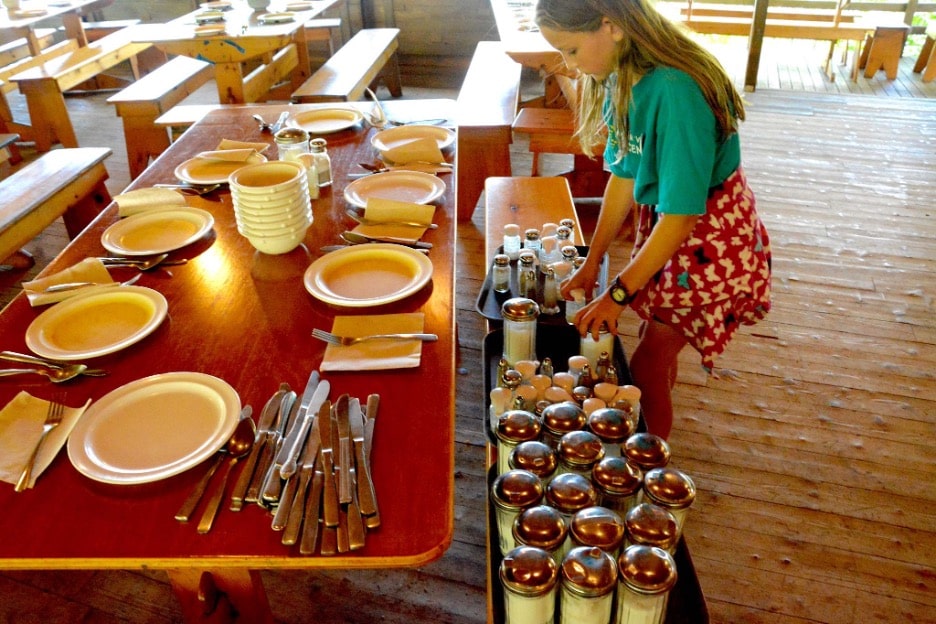 Food
Breakfast, lunch and dinner will be served daily, and there will be plenty of options for people's food preferences. Camp has fabulous cookies! Three meals a day are provided, but you may wish to bring snacks for in between meals, or food to share at parties. Cavell is a nut-free environment, so please do not bring any foods containing nuts. Be on time for meals and follow outdoor dining hall procedures as provided. The dining hall at Cavell is a pavilion with a beautiful view of Lake Huron.
The Café – Come browse books, create some quality time for conversations, and sip your beverage on the screened-in porch overlooking Lake Huron. We will provide tea kettles, pots, and espresso maker; If you have a special brewing technique, bring your equipment, perhaps coffee or tea blend to share. Coffee and tea will always be available in the early morning and during mealtimes.
If you have any dietary restrictions, please let us know in advance so we can make sure the kitchen is ready to feed you. You let us know your dietary needs when you register for camp, and you can also log into CDSS Commons after registration to update your information at any time.
If you have very restrictive or severe food intolerances, you may need to bring some of your own food to supplement the camp food. Refrigerators are available for campers to use for this purpose. Please contact us in advance if you have any questions or concerns.
What to Pack
Here are a few suggestions for what you might want to bring with you to camp, and what you might want to leave at home.
Camp Essentials
Clothing

Bring enough clothes for the whole week; there are no laundry facilities at camp
Bring dance clothes, but make sure you're prepared for colder weather or rain as well

Shoes

Dance shoes
Trail or hiking shoes are a good idea for the paths around camp
You might want water shoes for the beach – some bits of the lakeshore are rocky

Towels
Flashlight & spare batteries
Swimwear
Toiletries, sunscreen
Water Bottle
Bedding

Sheets, sleeping bag or blankets, pillow
You may wish to bring:
Fan
Musical Instruments

Tunes, songs, dances, and stories to share

Snacks and food to share for parties
Auction donations and ideas for services
Food (if on a special diet)
Fancy dress or costumes
Bug spray
Please leave at home:
Computers (if you must bring electronics, please keep them in your cabin and away from camp social life)
Electronic games
Recorded music
Scented products (deodorant, shampoo, etc.)

In order to make camp safe and accessible for people with chemical/fragrance sensitivities, we ask that you refrain from bringing scented products to camp where possible

All the cares and worries of home and work
More Information
Water Safety
Take a break from dancing and enjoy beautiful Lake Huron!
For your water safety, a lifeguard is on duty at scheduled times each day. Regulations are posted, CDSS and Camp Cavell assume no responsibility for campers swimming or using boats. Lifeguard equipment is for use only by the lifeguard or in the case of a swimming emergency.
Swimming is only allowed when the lifeguard is on duty. The beach is very sandy, but the waterbed is very rocky, so bringing water shoes is a good idea. Absolutely no diving is allowed.
Wildlife
Camp Cavell has beautiful grounds, and many campers will enjoy hiking and other outdoor activities organized by the camp while they are here. When it comes to mosquitoes, Cavell is fortunate to have about the lowest number in any camp in Michigan! There are visiting possum, deer, raccoons, and an occasional skunk, but they are very afraid of people and you probably won't get to see them. Hikers should watch out for poison ivy alongside the trails. Thankfully there is no Lyme disease in the area. Standard precautions will be explained at camp, and you can ask Camp Cavell staff if you have any questions.
You should bring any specific first aid supplies or medication that you think you may need in the course of the week.

The CDSS Bookstore
CDSS runs a bookstore at Pinewoods, stocking many of the excellent music and dance books, CDs, and more. The bookstore has stock from the CDSS store as well as books and recordings brought by the program staff for the week.
Fundraising
CDSS holds auctions and other fundraising activities at all of our camps to raise money for camp scholarships and other special projects. Depending on the week, there may be a live auction, a silent auction, or both. These can be great fun, and an opportunity to pick up some exciting items at the same time as supporting CDSS.
Please consider bringing an auction idea or item if you have something that you could imagine yourself bidding on. Auctions can be for services as well, previous popular auction services have included canoe rides, serenades, massages, breakfast in bed, bedtime stories, etc. Items related to dance, music or song; hand-made or special clothes, crafts or art works; or humorous pieces are appropriate.
Remember, we need buyers as well as items to make the auction work; rather than purchasing an item to donate, bring that money to spend at the auction!
Please bring your auction items or services to the office when you arrive at camp.
According to IRS guidelines on the deductibility of items sold at fund-raising auctions, the donor may deduct the value of the item donated and the buyer may deduct the amount paid that is above the value of the item. CDSS is not able to provide appraisals of items or services.
2023 CDSS Sessions at Cavell
In 2023, CDSS is hosting one camp week at Camp Cavell: