"Camp is an opportunity to expand your horizons and experience new things as well as improve your dancing. The setting is beautiful and the people are wonderful."

–George Cherepon
August 5-12, 2023 // Plymouth, MA
A welcoming community, immersed in glorious music and dance
Join our community Facebook group!
As of July 24, this week is over-subscribed. If you register, we'll add you to the waitlist and let you know when space becomes available for you.
Already registered? Click the button below to log into your Camp Registration Home page to review, update, and make payments.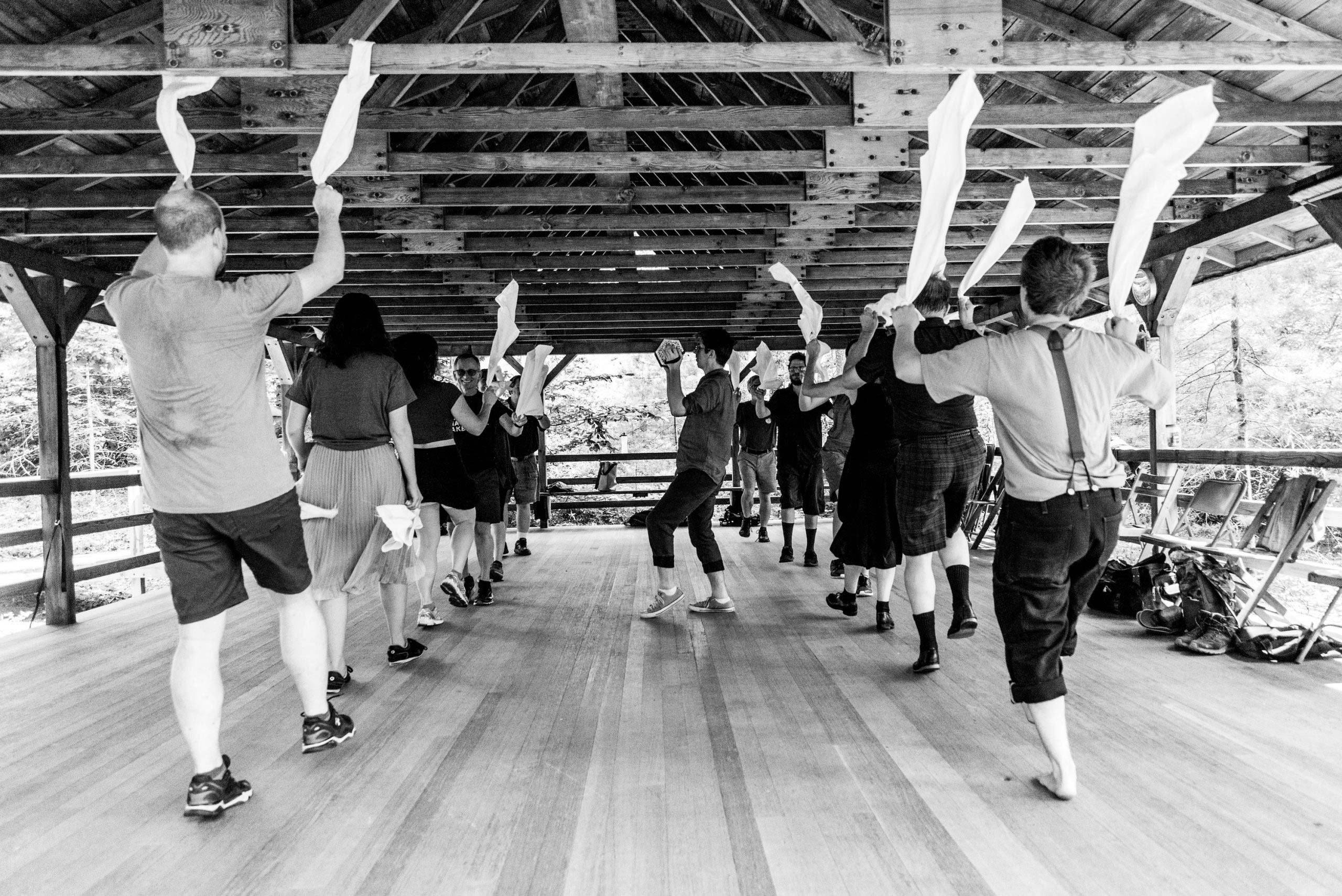 Program Description
A Feast of Tradition & Innovation
Savor glorious historic dances, accompanied by the latest sparkling choreographies. Add a dash of morris, a slice of sword, and scorching hot clogs. Season with spectacular music and singing, for the most delectable feast imaginable!
The offerings at English Week include enough variety to whet any appetite and enough depth to satisfy a discerning palate. Our core program includes five daily sessions of country dancing, four of display dance (morris, sword, and clog), and three instrumental music workshops. You can also learn teaching techniques in the Callers Workshop, stimulate your muse in Choreography class, lead a dance or join the big band at Open Mic … and much more, including singing, a Community Innovation Lab, and a daily dose of stretching and strength for every body.
Even if there were no classes, just spending a week with our amazing staff would leave you exhilarated (and perhaps exhausted). Be sure to leave space for extra-curricular activities –including chocolate tasting, ceilidh dancing, and late-night shenanigans.
English Week welcomes all to a warm and supportive community. We celebrate evolving traditions, embrace creative exploration, and encourage all to participate. Join us for an unforgettable week of music, dance, friendship, and joy.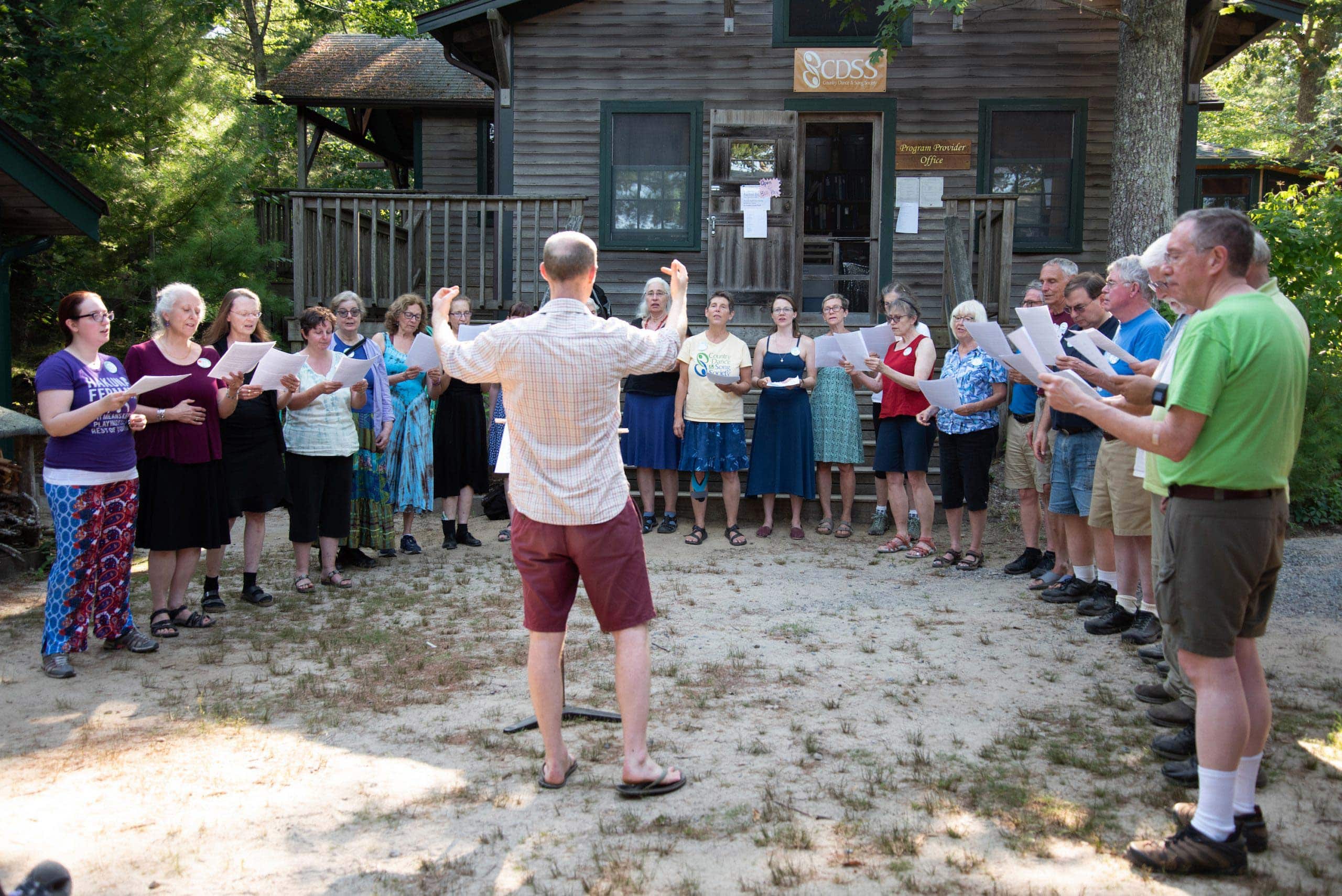 Dance 'til you drop
Five classes each day feature the best in English Country Dance. For advanced dancers, Joanna Reiner Wilkinson explores the techniques that enable "Making the Magic." Gaye Fifer's ECD for All welcomes everyone, from novices to old hands. Jenna Simpson presents a session on 21st Century dances — including modern classics, and new treasures hot off the press. Open Mic with Gaye welcomes all to play music and present dances. Scott Higgs hosts a session on Choreography — with guest presenters Gary Roodman, Chris Sackett, Sharon Green, and Jenna Simpson — to unlock the secrets behind creating new dances. Joanna offers a daily seminar for dance callers, and closes each day with a festive session of ECD favorites.
Morris dancers leap into action under the energetic and creative leadership of Laurel Swift. Her Morris for All class welcomes everyone to explore the joys of morris, while Advanced Cotswold Morris presents special treats for experienced dancers. Cloggers explore inventive, improvisational call and response dances with Laurel. Lovers of Longsword weave their magic with Jan Elliott, renowned for her skillful dancing and teaching.
A Feast for the Ears
Our musicians are also magicians, conjuring glorious melodies, rich harmonies, and lively improvisations to send us into dance ecstasy. They play in more well-known bands than we have room to list, from Bare Necessities and Alchemy to Elixir and the Latter Day Lizards.
Fiddlers Eric Martin, Dave Langford, Miranda Weinberg, and Eleanor Lincoln transport us with their lyricism and blister us with their fire. Anna Patton and Carrie Rose create breathtaking melodies on winds. Crisp textures and rhythmic drive flow from Max Newman on guitar and mandolin. Jacqueline Schwab and Aaron Marcus transport us with inspiring pianism.
Join in the music-making fun! Anna, Jacqueline, and Eric offer workshops each day, to share their musical secrets. Learn new licks in class, then join the orchestra at the Open Mic. You didn't bring an instrument? Everyone is welcome at Chris Bracken's "Social Singing for All."
Your turn to shine
Each morning, Gaye emcees a lively Gathering, featuring you! Bring something to share: a song, a joke, or your rendition of Fandango on didgeridoo. Every afternoon includes space for a smorgasbord of "One-shots" — led by a mix of campers and staff. Monday could be Irish Sets or Acro-yoga … Tuesday could be Historic Reconstruction or Manx Clog — who knows? All offerings are welcomed (we take requests, too) as we take turns sharing our enthusiasms.
Unofficial activities are often the highlights of a week at camp. Would you like to join in a chocolate-tasting party, madrigal sing, pirate raid, or post-dance karaoke? Let your imagination run free — we will help you connect with likely co-conspirators and materials.
Terminology
In the spirit of community inclusion, leaders will avoid gendered role terms.
Together
All these elements are wonderful, but the whole is much more. The heart of English Week finds us immersed in a beautiful natural setting, nestled in a caring community, enveloped in glorious music, and each contributing our own positive energy. We dance, play music, listen, sing, share, create, explore … and we laugh a lot. Join us!
~Scott Higgs, Program Director
Schedule & Class Descriptions
Check out the draft schedule.
ECD Sessions
Advanced ECD – Making the Magic – Joanna Reiner Wilkinson
This class will explore what it means to be an advanced dancer, focusing on skills and techniques including and beyond mastering complex choreographies. Selected topics: flow, end effects, changing roles, phrasing, recovery, supporting your partner and your major and minor set, and that ever-elusive concept of "style.". Knowledge of ECD figures and basic repertoire is expected.
ECD For All – Elegant Escapades – Joanna Reiner Wilkinson
In this class we'll take a lighthearted journey through the vast ECD repertoire. Stops along the way may highlight exploring dances in all kinds of triple times, Playford-style dances in longways formations, deciphering for-those-who-know dances, dances that begin with the letter D, dances where the key figure is staying still, and more!
ECD Callers Workshop – Joanna Reiner Wilkinson
This class is for current ECD callers of any experience level and those considering a career in ECD calling. Each day's class will focus on a different topic: writing an English dance program, working with musicians, building repertoire, teaching vs. calling, etc. The class is open to leaders and callers of other dance forms, but will focus on ECD genre and calling techniques.
ECD for All – Gaye Fifer
Throughout the week, we will enjoy the delicious variety of moods, music and movements that English country dancing can offer. We will focus on common figures and explore all the ways they have been used to good effect in lovely dances.
Open Mic – Gaye Fifer
This is an opportunity to practice calling old favorites and/or to stretch yourself in teaching/calling something new to you. Check in with Gaye a day in advance, so we can shape the program. Music that is not in Barnes should be provided at least 24 hours ahead of time. Feed-back can be provided if you wish, either privately or with/from other participants.
ECD in the 21st Century – Jenna Simpson
This session will present a variety of English country dances devised in the 21st century by choreographers from around the country and across the pond. You'll enjoy dances which have already become modern classics, and you'll be introduced to new treasures as well!
Choreography – Scott Higgs
Creating original dances is inspiring, challenging, and fun ! Drawing on presentations by noted choreographers, we will explore a variety of different approaches, and expand our creative toolkits. In this "hands-on" workshop, you'll collaborate with others, and learn how to shape your creative ideas into satisfying new dances.
Display Dances
Longsword for All – Jan Elliott
Longsword is an ancient, spectacular and mesmerizing linked sword dance tradition from northeast England, with related forms from across Europe. Long, straight, single-handled swords link dancers in a ring; moving over, under and around them creates mesmerizing pattens culminating in a 'lock' or star of interwoven swords. Jan will explore both traditional and invented figures in this class for all levels.
Morris for All – Laurel Swift
All are welcome to work at your own level of bounciness for a multi-level wander around the delights of one of England's most beautiful traditions. We'll be taking a tour that covers the fundamentals of morris, then compares and contrasts the essence and details of different morris traditions. Starting from any level of experience (including absolute beginner) we'll build up to complete mastery of at least one stick dance and one hanky dance! What's not to love?
Clog Dance – Laurel Swift
All welcome! We will be learning a brand new clog dance rooted in Old Lancashire Heel and Toe style, whose different steps can be performed simultaneously to create call and answer rhythms for clogs! Advanced dancers will learn all 12 steps, beginners at least the basic 4. Plenty for everyone to get to grips with and lots of input on style for those working beyond the basics. Please let us know your shoe size if you'd like to borrow clogs.
Advanced Cotswold Morris – Laurel Swift
Refine your style, explore tradition, unleash your untamed choreographic genius! This advanced morris class will improve your dancing, allow you to see some old dances from new angles and possibly even create some new dances in the process. We'll be focused on flow, the special moments and how to keep the momentum moving and building. Prepare to be bemused, bewildered and to fall in love with Cotswold morris all over again.
Music
English Country Dance Music: On The Fly! – Anna Patton
Skills and games for collective musical creativity and spontaneous arranging: One of the great pleasures of playing dance music is the spontaneous mind-meld moments of group creativity that come when everyone is listening and feeling game and responsive. Magical as these moments are, they come from some basic skills that can be practiced in ensembles. All instruments welcome.
Ensemble: Listening and Responding – Eric Martin
In this class we will explore the nuances of ensemble musicianship by playing ECD tunes in groupings both large and small. Participants will have opportunities to hone their communication skills and make connections with fellow musicians. There will be an emphasis on listening to the musical ideas of others and responding in a way that makes the whole much greater than the sum of the parts.
Bored With Your Chords?—Finding Skeletal Chords, Harmonic Movement and Epiphanies – Jacqueline Schwab
In this class, we will identify harmonic underpinnings that move tunes forward and build tension and then give resolution. We will also explore substitution chords, as well as experiment with finding personal, perhaps out-of-the-box harmonic ideas. We'll talk about harmonic styles from different eras. This is a complex topic, so a one-week class will just be a start, but workable strategies for finding chords, creating countermelodies and listening to your bandmates' harmonic choices will begin to emerge.
Social Singing for All – Chris Bracken
Singing with a group of people is one of the more magical things in life – whether it's shouting the rousing chorus, leaning into a crunchy harmony, or feeling the soft vibration of a quiet chord in your bones. We'll do a lot of magic-making, including learning some easy choruses, trying out harmonies, and practicing leading songs. We'll also discuss things like what makes a good song and where to find some, how to read and maybe change the energy of a singing, how to make space for others, and how to tangle with the problematic parts of our singing traditions
The Mix
Gathering – Gaye Fifer
Come and share your talents, and enjoy the delightful offerings of others in our camp community.
Supportive movement, stretching and strength for every body! – Fynn Crooks
As we dance more, jump higher, morris around, and sashay about sometimes things tweak a little. We feel a twinge here or a pull there that didn't used to happen. Aches in new places and strains in new spots. How can we age gracefully as we dance gleefully? We'll spend this class stretching and moving in ways that both aid and ease old injuries, prevent new ones, and build some strength to help us move even better. We'll do a combination of dynamic and static stretching, targeted strength building, and using props like foam rollers and shepherd's hooks to help release the tight stuff. Come give your body some supportive love, it will be time well spent! Bring a yoga mat if you have one.
One-Shots – Miranda Weinberg
It's exciting to discover hidden passions ! Every day will feature different topics, led by an enthusiastic mix of campers and staff. We might explore pond wildlife, Bal folk, cooperative games, Irish sets … it's unpredictable and fun. Talk with Miranda about the special session you'd love to lead, or the topic that you'd love to explore.
Community Innovation Lab – Max Newman
Time to enjoy the braintrust that is everyone at camp. Hosted by Max Newman, this is a session of exploration, sharing, experimentation, and brainstorming. We'll shine a light on successes, challenges, and opportunities. And we'll find entertaining ways to do it!
There will be topics big and small, with room for the nuts and bolts and the grand unification theories. Topics such as: Building and sustaining thriving local groups! Promoting and welcoming diversity of all kinds! Discovering new ways to appreciate, share, and grow our traditions! Intergenerational dancing in 2023! Training for performers! Curating a cool brand and online presence!
Every group faces a unique mix of experiences and challenges — join us to compare notes, share, and innovate in a space that is safe, respectful, interesting, and (YES!) fun.
Registration and Fees
Staff