"Camp is an opportunity to expand your horizons and experience new things as well as improve your dancing. The setting is beautiful and the people are wonderful."

–George Cherepon
Online events August 1 – August 8!
Familiar paths, innovative repertoire
English Dance Week 2020 has been cancelled due to the coronavirus pandemic, but we are excited to announce that we will be holding online camp events during the time we would have been together at Pinewoods.
We have lots of events planned to try and capture some of the magic of English Week including dance, song, music, discussion and performance. All events are free to attend and will be taking place on Zoom or on the CDSS Facebook Page.

We will also be encouraging all to share memories of English Dance Week from years gone by via our Facebook group, with special themed days looking at different elements that make the week so special (Parties, ECD, Campers Night, Morris Tour, Porch & Rail, the list goes on). Be sure to join the group to find out more.
English Dance Week online events!
Event
Date & time (all times EDT)
Description
Link
Clog & Step Class
August 1
1pm-3pm
Join tutors Gillian Stewart, Clara Stefanov-Wagner and Alice Kaufman for a couple of hours of clog and step dance. We'll have some quick warmups and learn excerpts from a Lancashire heel-and-toe clog dance written by Pat Tracy. The end of the class will focus on improvisation and building new steps in concert with the fabulous musical stylings of Mr. Alex Cumming.
Clogs not required, but shoes that make some sound are recommended.
Click here to register!
Virtual Dance Party
August 1
7pm-8:30pm
Join callers Joanna Reiner, Susan Kevra & Bridget Whitehead along with the incredible Peregrine Road (Karen Axelrod & Rachel Bell) for a magical evening of English Country, Couple dances, English Ceilidh, Bal Folk, free waltzing and more.
Click here to view the program.
Click here to register!
Callers' Discussion
August 2
1pm-3pm
We are very excited to have Joanna Reiner and Jacqueline Schwab leading a discussion group for English Country Dance Callers. This class is for current ECD callers of any experience level and those considering a career in ECD calling. The first hour will be chaired by Joanna and the the topics will be based on participant questions/suggestions. Then, after a short break, Jacqueline will lead a discussion with a special focus on working with musicians.
Click here to register!
Virtual Porch Sing
August 2
5pm-7pm
Whilst we can't be physically on the camphouse porch this year, we are not going to let that get in the way of a good sing-around! Through the magic of Zoom virtual backgrounds, join hosts Jennifer Curtin and Alex Cumming on the porch for an evening of song sharing, choruses and merriment. This is a singaround so all are welcome, singers or listeners.
Click here to register!
Tunes 'n Stuff
August 3
7pm
Audrey Knuth has an ongoing weekly online tunes class focused on contra dance tunes, but this week we'll be hijacking it with an English tune in celebration of English Week Online. We'll learn a tune and discuss what one can do with it in the world of English Country dancing, both melodically and harmonically and how we can fit the tune with the specific dance. Check out www.facebook.com/tunesnstuff for more info.
Click here to register!
In The Moment
August 4
7pm
Since the beginning of the pandemic, Karen Axelrod has been streaming a series called In The Moment every Tuesday. She invites musical friends from across the world to send a recording of themselves playing a favourite ECD tune, she then plays along with them 'in the moment' using the power of a bluetooth speaker. Karen does not listen to recording in advance, all she knows is the name of the tune! This week Karen will be hosting a special English Week edition featuring the staff of 2020.
Streaming on Facebook Live
ECD Tune Jam
August 6
7pm-8pm
Audrey Knuth and Alex Cumming invite you to join them for an English Country Dance tune jam! They'll handpick their favourite tunes and send out the music ahead of time. Unlike a normal jam session, you'll only be able to hear the leading and not everyone but as Alex says: "I can now make the biggest mistakes and no one will ever know!"
You can check out the tune list here
Click here to register!
Online Concert
August 7
7pm
Join program director Alex Cumming, Julie Vallimont, and an array of English Week staff for an evening of live and specially pre-recorded performances. Expect toe tapping tunes, beautiful ballads, haunting melodies and well, who knows what could happen! More details to be announced soon!
Streaming on Facebook Live
Join us back at Pinewoods next year! English Dance Week 2021 will take place July 31 – August 7.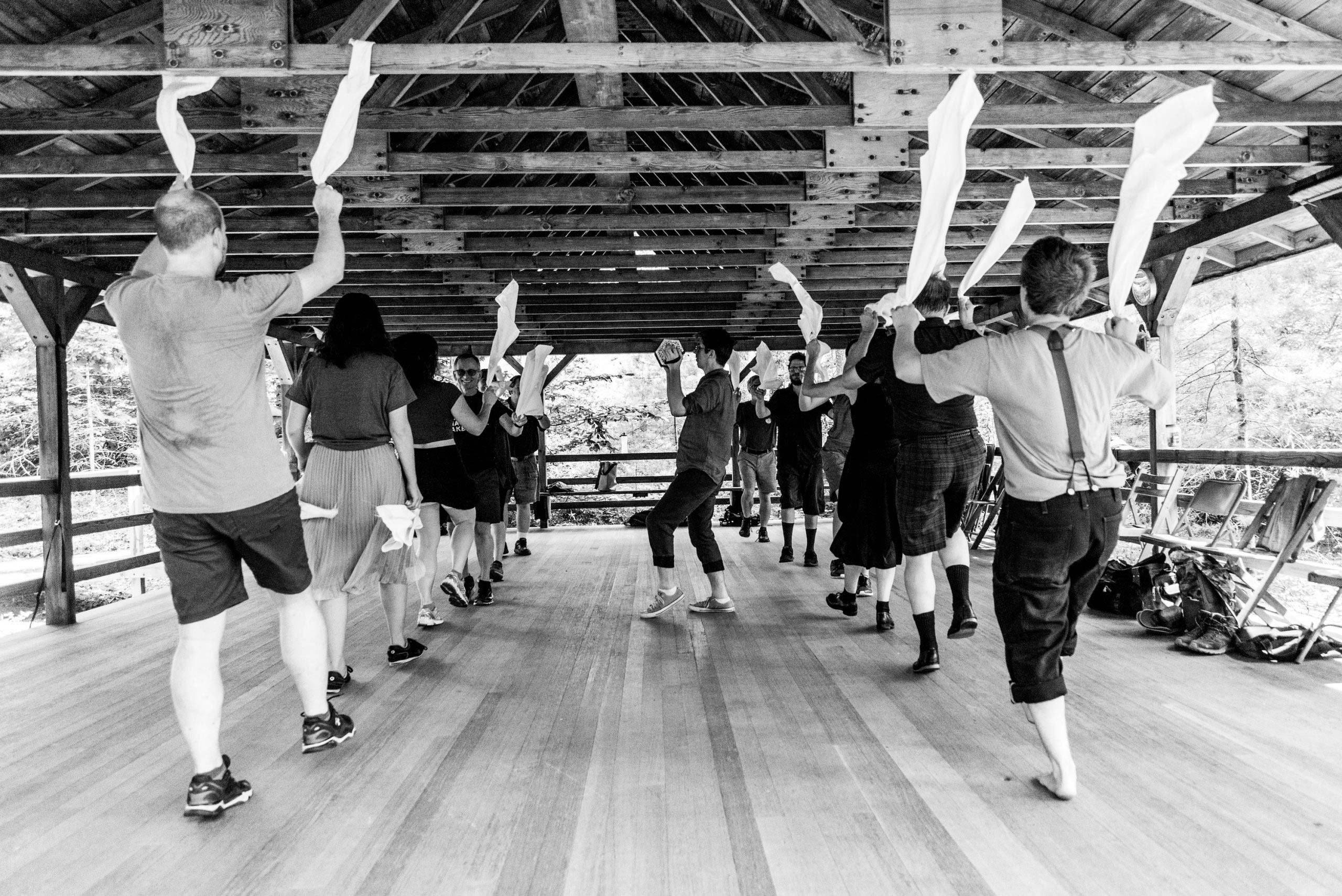 Program Description
Join us for a wonderful week of English dance, music, and song! Experience the tremendous vitality of English country and display dances, stirring tunes, and rousing English songs, all with world-class teachers and superb musicians, in the magical setting of Pinewoods Camp.
During the day, challenge yourself by choosing something new – or relax and enjoy the familiar – from a packed schedule of classes. Evening dances will include a wide range of English country dances accessible to all, with exhilarating music from our extraordinary staff of musicians.
All ye who revel in all of these traditions! English Week is where we greet old friends and make new ones, tread familiar paths and plunge into uncharted territory, revel in classic, beloved, and innovative repertoire, and learn new skills to take back to our own communities. Please join us!
~ Alex Cumming, Program Director
This week will host two special Courses: English Dance Leaders Course with Joanna Reiner and Take Five: A Longsword Intensive with Gillian Stewart.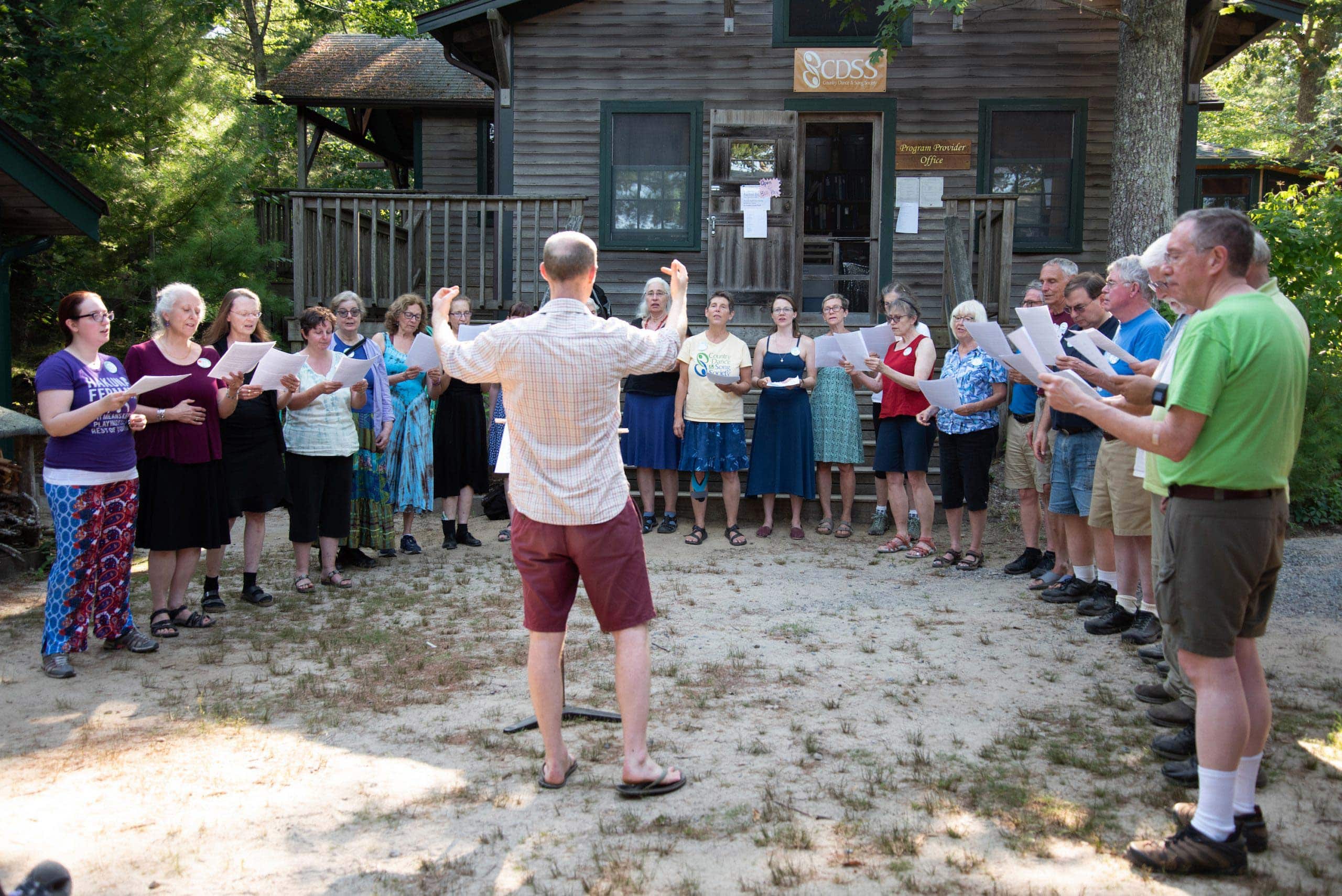 Schedule
7:45-8:15
Hot Breakfast served cafeteria style
8:15-8:45
Cold Breakfast Coffee/Tea available
9:00-10:00
Period 1
Advanced ECD – Joanna Reiner
ECD For All – Bridget Whitehead
Beginner Clog – Alice Kaufman
Alexander Technique – Jaige Trudel
Take 5 Intensive – Gillian Stewart
10:15-11:10
Period 2
ECD For All – Susan Kevra
Rapper for all – Clara Stefanov-Wagner
Song – Adam Broome
English Dance Leaders Course – Joanna Reiner
11:25-12:00
Gathering – Alex Cumming
12:00-12:30
Swimming, Bookstore staffed
12:30
Lunch
1:45-2:45
Period 3
Advanced ECD – Bridget Whitehead
Contra For All – Susan Kevra
Explorative Step – Gillian Stewart
Band – Jacqueline Schwab
English Dance Leaders Course – Joanna Reiner
3:00-4:00
Period 4
ECD For All – Bridget Whitehead
Band – Adam Broome & Jaige Trudel
Morris for All – Alice Kaufman
Take 5 Intensive – Gillian Stewart
4:00-4:30
Tea
4:30-5:30
Period 5
Music Jam – Julie Vallimont
Porch Sing – Jennifer Curtin
One-off classes including ECD Open Mic
5:30-6:30
Swimming, Bookstore staffed, Special events, camper-initiated parties
6:30
Dinner
8:00-10:45
Evening Dance Party
11:00
After-dance Activities
Class Descriptions
Class descriptions coming soon!
Registration and Fees
Staff