"Camp is an opportunity to expand your horizons and experience new things as well as improve your dancing. The setting is beautiful and the people are wonderful."

–George Cherepon
July 31 – August 7, 2021 // Plymouth, MA
Familiar paths, innovative repertoire
We are hoping to be able to have camps in person in 2021, but will be monitoring the COVID-19 situation and will adjust our plans as necessary. The health and safety of our community is our top priority. Where possible we are rehiring the staff we had planned for 2020, although there may be some changes. We don't know when registration will open, but you can check back here for updates. To receive updates about camps and online programs via email, sign up for our email list.
Join our community Facebook group!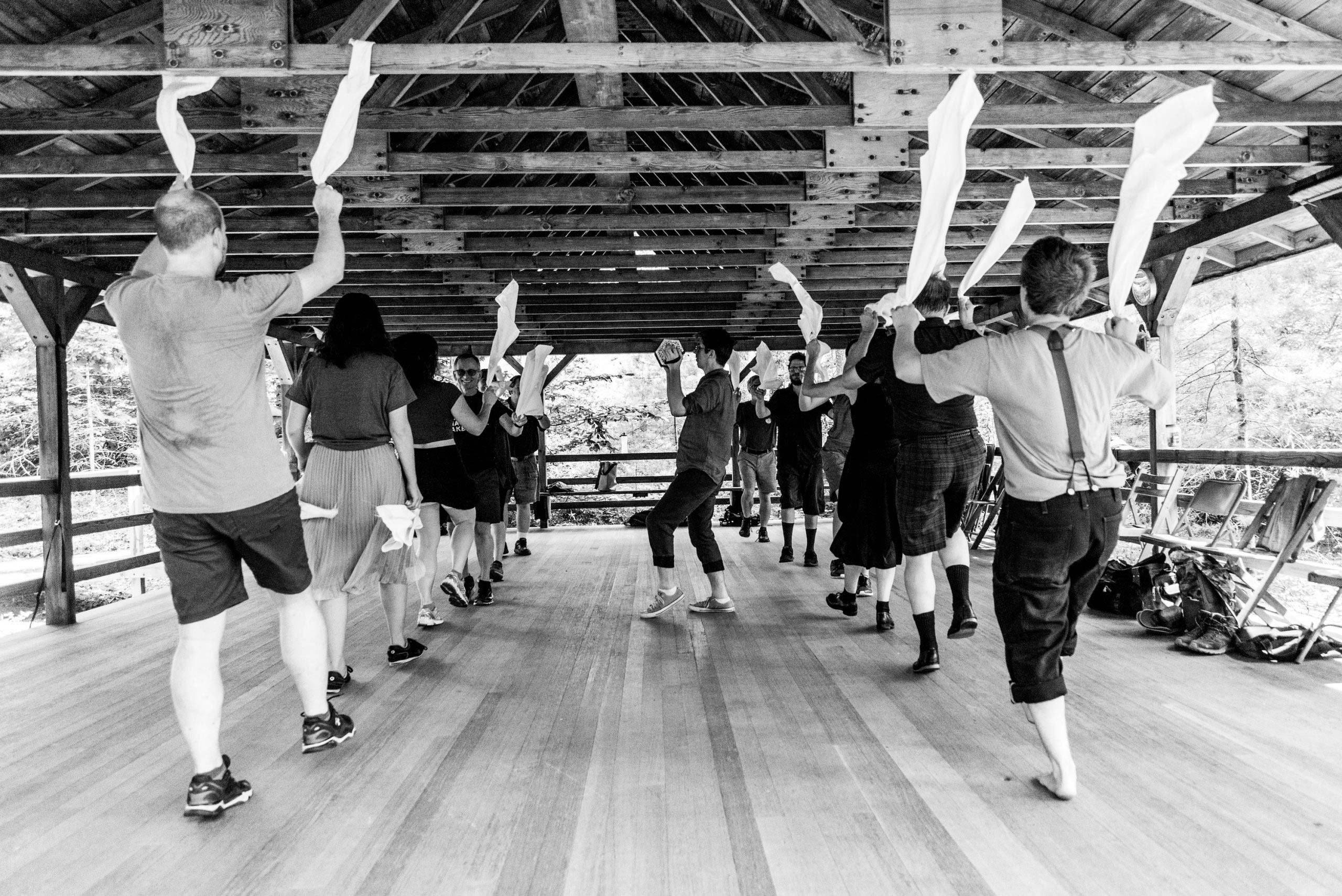 Program Description
Join us for a wonderful week of English dance, music, and song! Experience the tremendous vitality of English country and display dances, stirring tunes, and rousing English songs, all with world-class teachers and superb musicians, in the magical setting of Pinewoods Camp.
During the day, challenge yourself by choosing something new – or relax and enjoy the familiar – from a packed schedule of classes. Evening dances will include a wide range of English country dances accessible to all, with exhilarating music from our extraordinary staff of musicians.
All ye who revel in all of these traditions! English Week is where we greet old friends and make new ones, tread familiar paths and plunge into uncharted territory, revel in classic, beloved, and innovative repertoire, and learn new skills to take back to our own communities. Please join us!
~ Alex Cumming, Program Director
This week will host two special Courses: English Dance Leaders Course with Joanna Reiner and Take Five: A Longsword Intensive with Gillian Stewart.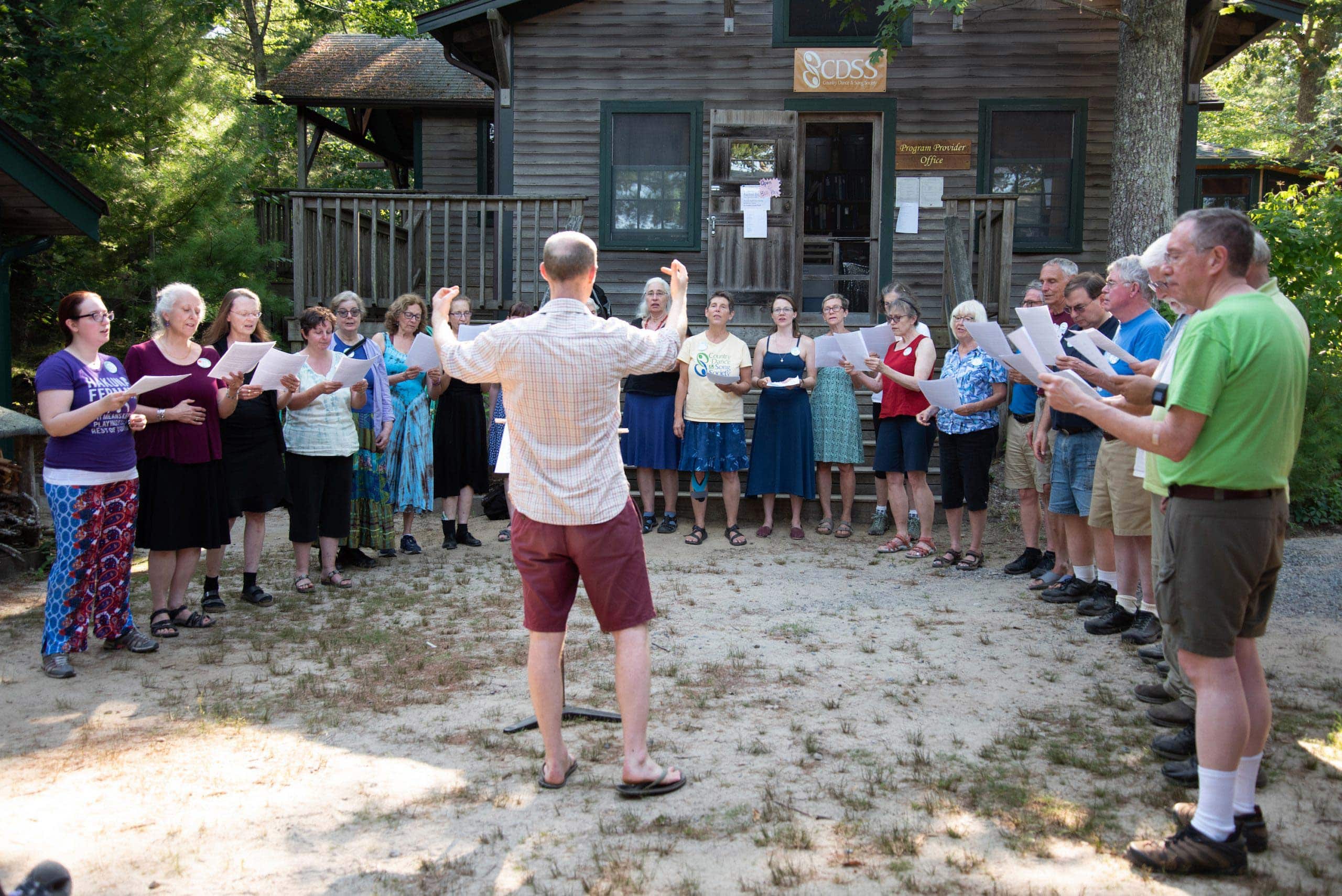 Schedule
7:45-8:15
Hot Breakfast served cafeteria style
8:15-8:45
Cold Breakfast Coffee/Tea available
9:00-10:00
Period 1
Advanced ECD – Joanna Reiner
ECD For All – Bridget Whitehead
Beginner Clog – Alice Kaufman
Alexander Technique – Jaige Trudel
Take 5 Intensive – Gillian Stewart
10:15-11:10
Period 2
ECD For All – Susan Kevra
Rapper for all – Clara Stefanov-Wagner
Song – Adam Broome
English Dance Leaders Course – Joanna Reiner
11:25-12:00
Gathering – Alex Cumming
12:00-12:30
Swimming, Bookstore staffed
12:30
Lunch
1:45-2:45
Period 3
Advanced ECD – Bridget Whitehead
Contra For All – Susan Kevra
Explorative Step – Gillian Stewart
Band – Jacqueline Schwab
English Dance Leaders Course – Joanna Reiner
3:00-4:00
Period 4
ECD For All – Bridget Whitehead
Band – Adam Broome & Jaige Trudel
Morris for All – Alice Kaufman
Take 5 Intensive – Gillian Stewart
4:00-4:30
Tea
4:30-5:30
Period 5
Music Jam – Julie Vallimont
Porch Sing – Jennifer Curtin
One-off classes including ECD Open Mic
5:30-6:30
Swimming, Bookstore staffed, Special events, camper-initiated parties
6:30
Dinner
8:00-10:45
Evening Dance Party
11:00
After-dance Activities
Class Descriptions
Class descriptions coming soon!
Registration and Fees
Staff