Motoring out from Plymouth, one leaves behind the neon signs, the billboards, the pavements—even the houses—to come into a gently rolling forest of low pine trees, broken only here and there by sparkling lakes. The air is pure and pine-scented. Each curve in the road beckons one on to more delightful vistas, and if at the end the road threatens to disappear almost altogether into the ferns, nevertheless one knows (if one has been there before) that there will be a cordial welcome waiting one at the end of the journey—not to speak of ample space for parking!

"Pinewoods Camp," by Bruce Simonds, in the 1940 issue of "The Country Dancer"
CDSS has been at Pinewoods Camp since 1933. The camp is located on 25 acres of woodlands near Plymouth, Massachusetts, on the traditional lands of the Wampanoag people. Pinewoods provides the setting for educational vacations filled with music and dance. Spacious, wooden outdoor dance pavilions are nestled among the towering pines. Cozy two-person cabins offer accommodations between two beautiful lakes, which are ideal for swimming, kayaking, canoeing and relaxing. The main pebbly beach has a long dock, with deep-water swimming to the anchored raft offshore. Scattered along the shores of the two lakes are other, more private, entries to the water. Gatherings, parties and concerts are held in the lakeside Camphouse, next to the main beach. The open-air, lakeside Dining Hall offers delicious meals and a congenial atmosphere for meeting new friends. With their large stone fireplaces, the Dining Hall and the Camphouse provide warm places to gather in cooler weather. Pinewoods Camp is a fragrance-free facility.
How to Get There
Pinewoods Camp is located in Plymouth, Massachusetts. Campers can arrive from 3pm on the first day of the session, and should aim to arrive in time for dinner at 6:30pm – please notify us if you intend to arrive later than this. You can get to Plymouth by bus or train from Boston, and CDSS also runs a van shuttle to pick up campers from Boston's Logan Airport or South Station.
Driving Directions
Download a pdf of driving directions here.
The camp address is 80 Cornish Field Rd, Plymouth, MA 02360.
For web and GPS maps get directions to 148 Halfway Pond Rd and then follow the Last Mile directions in the PDF linked below.
The last part of the highway routes also lead to Cape Cod; weekend traffic is heavy. Leave extra time.
The last couple of miles are on bumpy and winding dirt roads. Plan to arrive before dark if you can.
Please arrive after 3PM. If you arrive between 3:00 and 6:30 on the starting afternoon, you will be met at the entrance by a greeting crew.
If you arrive later, look for posted directions at the camp entrance.
Parking is limited at camp, so please carpool if you can.
Need a ride? Try posting on the Facebook Group for your week.
CDSS Van from Boston
CDSS arranges a van to pick up campers from Boston's Logan Airport and South Station. This is great for campers flying in from across the country (and beyond!), but is also an option for people who live in or near Boston and would rather save the driving.
Please book a flight or train that gets to Boston by 1pm on the first day of your camp session. The van pick up is generally at around 2pm – we'll confirm an exact time around a week before camp starts based on the number of passengers and which terminals you're all at.
We guarantee a space in the van for all bookings received at least 10 days in advance. Bookings made less than 10 days in advance will be accepted if there is space available.
There is also a van service back to Boston after camp. Vans leave Pinewoods at 9:45am on the day of departure, suitable for domestic flights departing Logan at noon or later. Van seats cost $40 in each direction.
You can reserve van seats when you register or you can log into CDSS Commons to add them to your registration at a later date.
Public Transport
You can get as far as Plymouth, Kingston, or Bourne on public transport, but will need to book a taxi for the final leg to camp. The following companies provide services to a station close to Pinewoods:
There are a number of local taxi companies who can take you from the bus or train stations to Pinewoods. We recommend that you book in advance as these companies generally have small fleets and you won't necessarily just be able to hail a cab outside the station.
Sea Breeze Taxi 508-888-0774
Mayflower Taxi 508-746-8294
You may be able to use rideshare apps such as Lyft or Uber, but we would recommend booking a taxi in advance with a local firm as the camp location is remote and service may not be available
Another option is to book an airport shuttle, useful if you're arriving at Logan after the CDSS van leaves or if you are flying to Providence's T.F. Green Airport, which is a similar distance. Here are some companies who offer this service:
Road Runner 508-759-2337
Veterans Livery 781-843-6000
GoBoston Shuttle 888-437-4379
We recommend having a copy of the driving directions to hand, as taxi and van drivers may not know the way and GPS is not always reliable.
Housing
At Pinewoods, campers stay in a variety of cabins and houses spread out in the beautiful woodlands.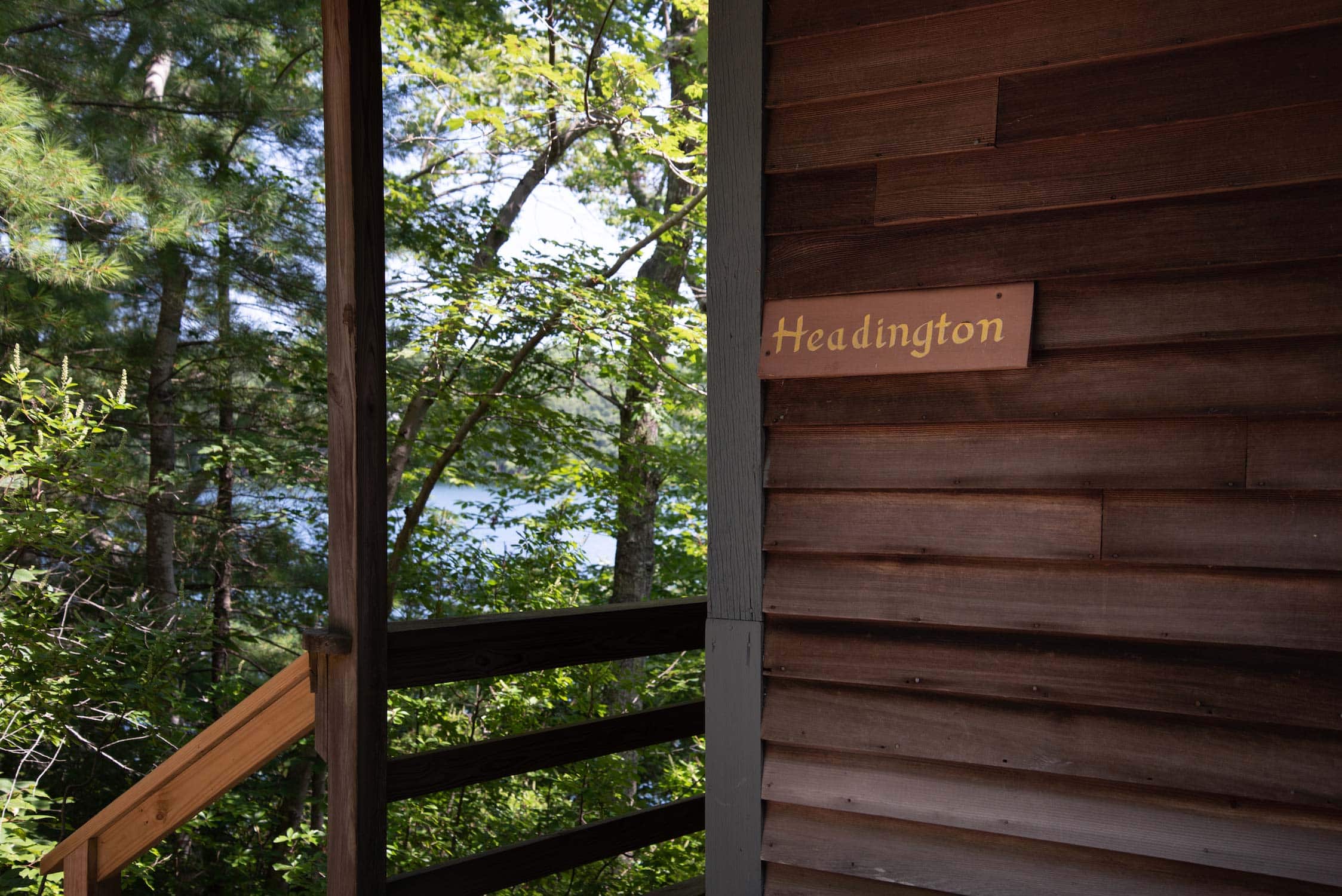 Campers will be given their housing assignment upon arrival at camp. You can make requests for particular cabins or types of housing, or to be housed with a specific person, but space is limited and we can't guarantee that all requests will be met. You let us know your preferences when you register for camp, and you can also log into CDSS Commons after registration to update your information at any time.
The majority of housing at Pinewoods is in double-occupancy cabins. Bathrooms are in a separate building nearby. There are also some cabins with several single rooms, as well as a few houses with a variety of bedrooms and bathrooms. Detached double cabins tend to be quieter than single rooms in shared houses. If you need disability/medical/access accommodations, please list this clearly on your housing preferences, and contact the CDSS Office if you have any questions.
What kind of housing do you want?
Do you want to be in a quiet area of camp, or close to the main events and parties?
Do you want a single room or to have a roommate (a limited number of single rooms are available)?
Do you want to share a cabin with a specific person?
Do you need to have a bathroom in the same building?
Is there a particular cabin or room you've stayed in before that you like?
For Family and Campers' Weeks, housing will be assigned based on the age of the youngest family member; most children over six are assigned a roommate of a similar age in a cabin near their parents.
Adults attending on their own will generally be assigned a roommate of a similar age and gender.
Camper Jobs
In the cooperative spirit of camp life, all campers have a daily job to help make camp run smoothly.
Jobs are usually a half hour or less per day, every day, and the same job all week.
Generally campers will be given their job assignment on arrival.
You have the opportunity to make specific requests about your job assignment when you register, or you can log into CDSS Commons to update this information at any time. We can't guarantee that all specific job requests will be filled, but please let us know if you have any preferences or limitations (e.g., dust allergy, unable to lift heavy objects, difficulty staying up late or getting up early).
At Family Weeks, children ages 6-12 may be given a job to share with an adult family member.
Types of Camper Jobs
Dining Hall and Kitchen
Campers help with setting and clearing tables for breakfast, lunch, and dinner
Other kitchen jobs can include serving food, making tea and coffee, and washing dishes after meals
Sweeping
The dance pavilions and other camp spaces need regular sweeping to keep them clean and ready for dancing
Snacks and tea
Some of our camp weeks have a snack or teatime scheduled in addition to the main meals
Campers help with setup and tidying up afterwards, food preparation, and making teas
Parties and events
Some campers will be asked to help out with setting up and tidying away for parties, auctions, and other camp events
Helping with the late-night parties can be a great job for people who like to stay up late, but there are also daytime events that need help
Clerical/Office
The CDSS office staff sometimes need help with clerical work, which can include folding or stapling papers, helping with paperwork at fundraising auctions, or working in the CDSS Bookstore
Some sessions will have a camper job to coordinate mealtime announcements, or to help update schedules with any changes during the week
Greeters and tour guides
We'll ask a few campers to arrive early to be ready to welcome everyone else and give directions to new people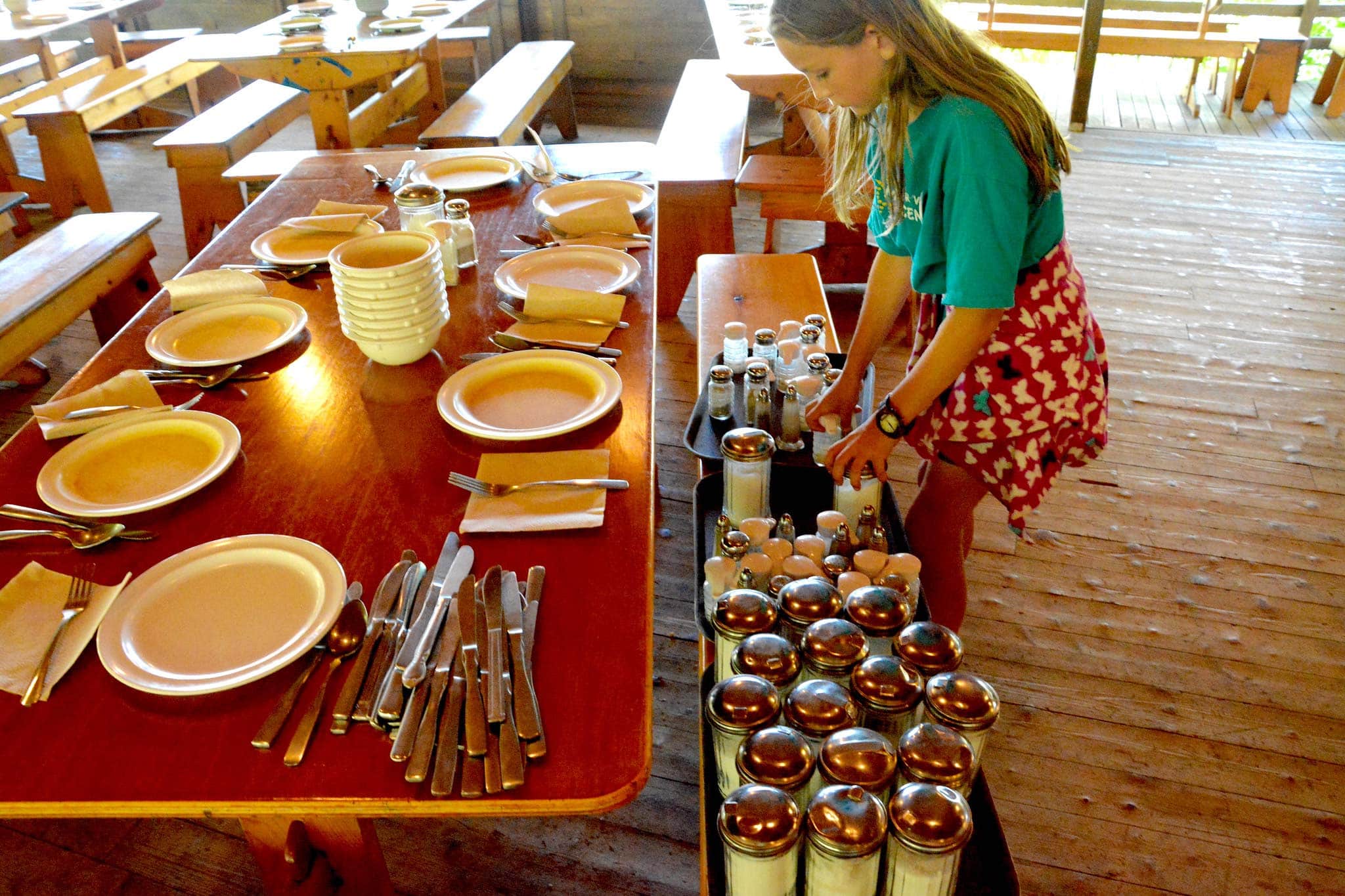 Food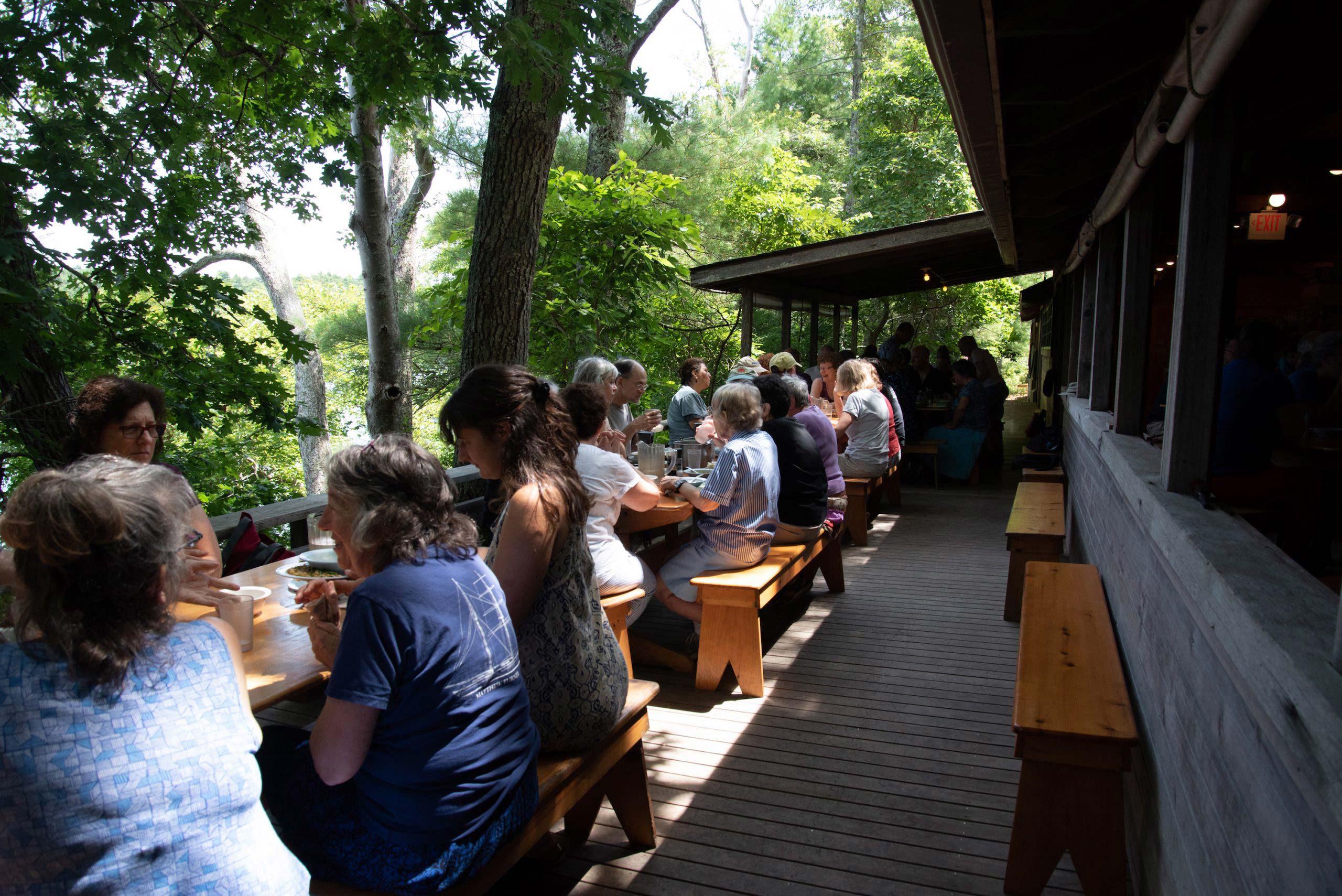 Pinewoods' kitchen provides us with three delicious meals each day, from dinner on the first evening to breakfast on the day of departure. For many people, the food is a much-loved part of the Pinewoods experience, and one of the many reasons to keep coming back. Pinewoods also has a camp store where a selection of snacks can be purchased 24/7.
If you have any dietary restrictions, please let us know in advance so we can make sure the kitchen is ready to feed you. You let us know your dietary needs when you register for camp, and you can also log into CDSS Commons after registration to update your information at any time.
While you certainly won't go hungry on the food provided by the Pinewoods kitchen, you may wish to bring snacks for between meals, or food to share for parties.
Special Diets
Although the Pinewoods kitchen makes an effort to list potential allergens, neither CDSS nor Pinewoods can accept responsibility for notifying you of the presence of potential allergens in the food. All meals with a meat entrée have a vegetarian entrée for vegetarians, but you do need to let us know in advance if you're vegetarian so they can prepare the right amounts. In addition, most of the following is available to all at each meal:
raw vegetables and salad
peanut butter and jelly
hard-boiled eggs
plain tuna fish
bread
cottage cheese
plain yogurt
rice cakes
plain chicken
plain tofu
cold cuts
fruit
If you have allergies or any other dietary restrictions, please let us know so we can make sure the kitchen is ready to feed you.
At least three weeks before camp: log on at CDSS Commons and, under "Your camp registrations", edit your preferences. If you are unable to login, please email Crispin Youngberg with the information
If you have more severe allergies or restrictions, you may also wish to call the Pinewoods kitchen 2-3 weeks before you go to camp. The phone number is (508) 224-4020, and the best time to call is 9-11am or 2-4pm.
Before and after dinner on the first night: check-in with the dining hall manager or one of the cooks.
At any meal: ask about specific dishes if you have any doubts.
If Pinewoods cannot serve all your needs, you may be asked to supplement with your own food. While there is no food preparation space available for campers in the main kitchen, there are refrigerators and kitchens for camper use elsewhere in camp.
What to pack
Here are a few suggestions for what you might want to bring with you to camp, and what you might want to leave at home.
Camp Essentials
Clothing

Bring enough clothes for the whole week; there are no laundry facilities at camp
Bring dance clothes, but make sure you're prepared for colder weather or rain as well

Shoes

Dance shoes
Trail or hiking shoes are a good idea for the uneven woodland paths

Towels

Bring more than one!
Towels can be rented from the camp for a small fee

Flashlight – the paths at camp are not lit
Swimwear
Toiletries, sunscreen
Water Bottle
Bedding

Pinewoods provides a pillow but you need to bring your own sheets and blankets
Bedding can be rented from the camp for a small fee
You may wish to bring:
Fan
Musical Instruments

Tunes, songs, dances, and stories to share

Snacks and food to share for parties
Auction donations and ideas for services
Food (if on a special diet)
Fancy dress or costumes
Bug spray
Please leave at home:
Computers
Electronic games
Recorded music
Scented products (deodorant, shampoo, etc.) – click here for more information about Pinewoods' Fragrance-Free policy
All the cares and worries of home and work
More details
The CDSS Bookstore
CDSS runs a bookstore at Pinewoods, stocking many of the excellent music and dance books, CDs, and more. The bookstore has stock from the CDSS store as well as books and recordings brought by the program staff for the week.
Mail, Phone, and Internet Service
Though there is coverage for most cell services, we ask that laptops and cell phones be kept out of the awareness of other campers. Even if you can't, others want to enjoy this time away from the reminders of work-a-day living.
There is a specific area with wifi access and a place a camper's computer, for short times, can be connected to the internet, via a LAN cable; there is not access to a printer.
Messages we get for campers are delivered through cubbies with the campers' names posted on a message board. Email to a camper can be sent to camp@cdss.org and will be printed out and left with the message board. Our computer is not available to campers. Incoming calls for campers can come to (508) 224-3480 (CDSS office), and the messages will be posted.
USPS delivers letters to camp, but not parcels. UPS and FedEx both deliver parcels to camp. Mail or packages should be addressed to you c/o CDSS at Pinewoods Camp, 80 Cornish Field Rd, Plymouth, MA 02360. You can use this to send bedding and other baggage ahead via UPS or FedEx. UPS and FedEx can also collect from camp, but you need to arrange collection and pay for postage in advance.
Fundraising
CDSS holds auctions and other fundraising activities at all of our camps to raise money for camp scholarships and other special projects. Depending on the week, there may be a live auction, a silent auction, or both. These can be great fun, and an opportunity to pick up some exciting items at the same time as supporting CDSS.
Please consider bringing an auction idea or item if you have something that you could imagine yourself bidding on. Auctions can be for services as well, previous popular auction services have included canoe rides, serenades, massages, breakfast in bed, bedtime stories, etc. Items related to dance, music or song; hand-made or special clothes, crafts or art works; or humorous pieces are appropriate.
Remember, we need buyers as well as items to make the auction work; rather than purchasing an item to donate, bring that money to spend at the auction!
Please bring your auction items or services to the office when you arrive at camp.
According to IRS guidelines on the deductibility of items sold at fund-raising auctions, the donor may deduct the value of the item donated and the buyer may deduct the amount paid that is above the value of the item. CDSS is not able to provide appraisals of items or services.
The Pinewoods Camp Store
Pinewoods has a Camp Store open 24 hours a day, which sells a variety of snacks, soft drinks (including cold brew coffee!) and useful items such as flashlights and batteries. They also have a limited range of medical supplies such as acetaminophen.
First Aid & Water Safety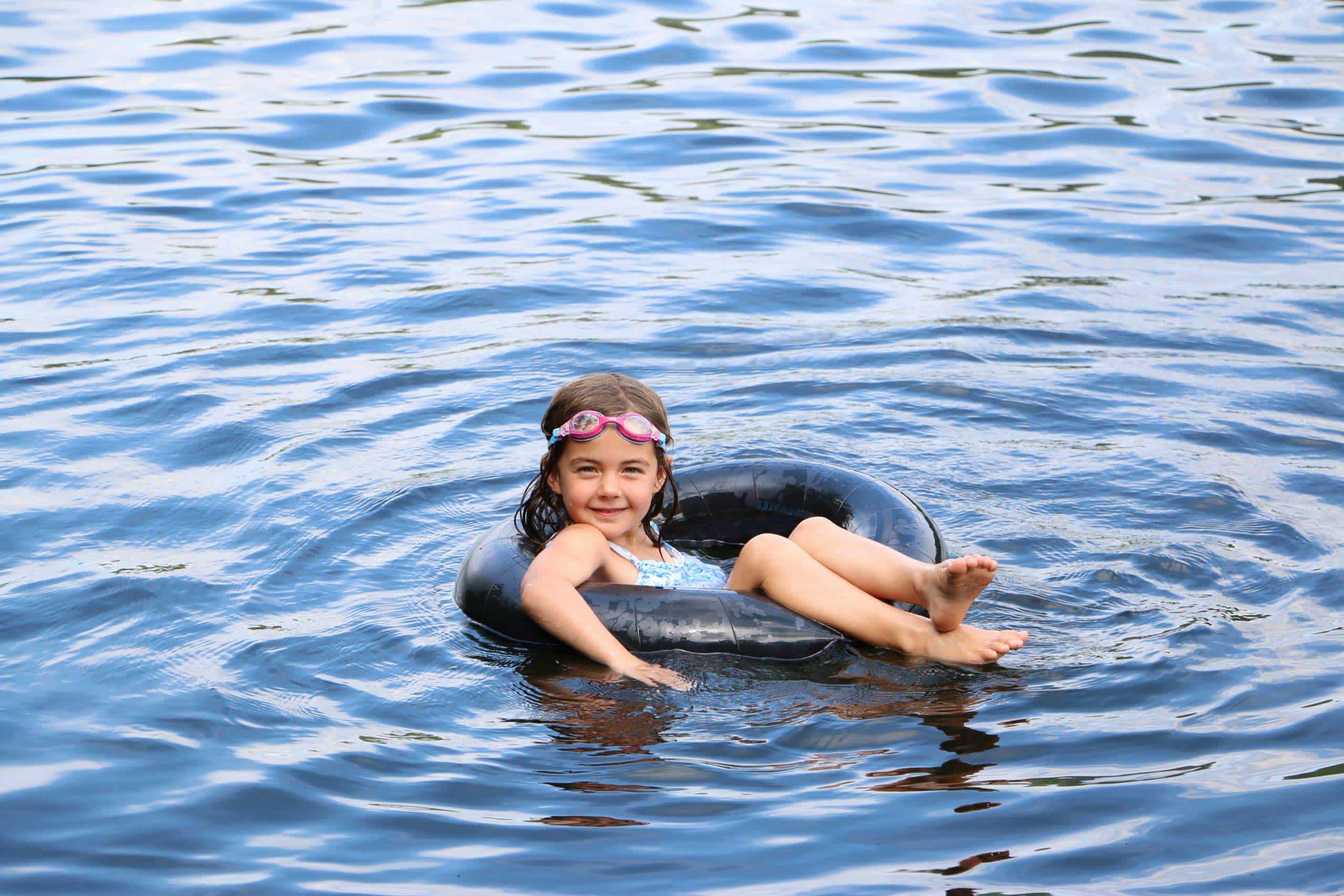 For many people, the ponds are as much a part of the magical Pinewoods experience as the music and dance are!
For your water safety, a lifeguard is on duty on the Long Pond dock for two hour-long periods each day. Canoes are available for your use. Please read the posted regulations and talk to the lifeguard if you have any questions.
All our sessions have a designated first-aider. The camp has a first aid room has basic medical supplies, and a limited number of over-the-counter medications such as acetaminophen are available for purchase from the camp store.
CDSS Sessions at Pinewoods
In 2023, CDSS will host the following camp weeks at Pinewoods:
and also these special courses: