TBD // Lexington, MI
Strengthen your dance playing, deepen your musicianship
During Dance Music & Spice at Camp Cavell
A change in situation means that we know we will not run this Course in 2021; we hope to offer it in 2022.
We are hoping to be able to have camps in person in 2021, but will be monitoring the COVID-19 situation and will adjust our plans as necessary. The health and safety of our community is our top priority. Where possible we are rehiring the staff we had planned for 2020, although there may be some changes. We don't know when registration will open, but you can check back here for updates. To receive updates about camps and online programs via email, sign up for our email list.
Program Description
It is such a great feeling in contra dance, when a whole hall is dancing together to the music. How do we create amazing dance music? Here is an opportunity for intermediate to advanced musicians to dive deeply into what it takes to play for contra dance. We will, through discussion, exercises, and experience, look at what a contra dance needs from musicians, including:
Tempo
Rhythm
Phrasing
Being musically creative
Making it sound good
Exploring chords and textures
Matching tunes to dances
Ensemble playing
We will hone our skills at listening to and locking in with our band-mates and improvising on the fly while still supporting the dancers. These skills are relevant to both developing your own band's sound, and to being an effective player in an open band or pick-up band.
This course, held concurrently with Dance Music & Spice at Camp Cavell, is designed and led by Julie Vallimont and Noah VanNorstrand, known collectively as Buddy System.
Each day we will meet for 2 hour-long periods, sometimes all together and sometimes breaking out into smaller ensembles for specific exercises. The rest of the day and evening, participants have full access to the Dance Music & Spice program.
Course Leaders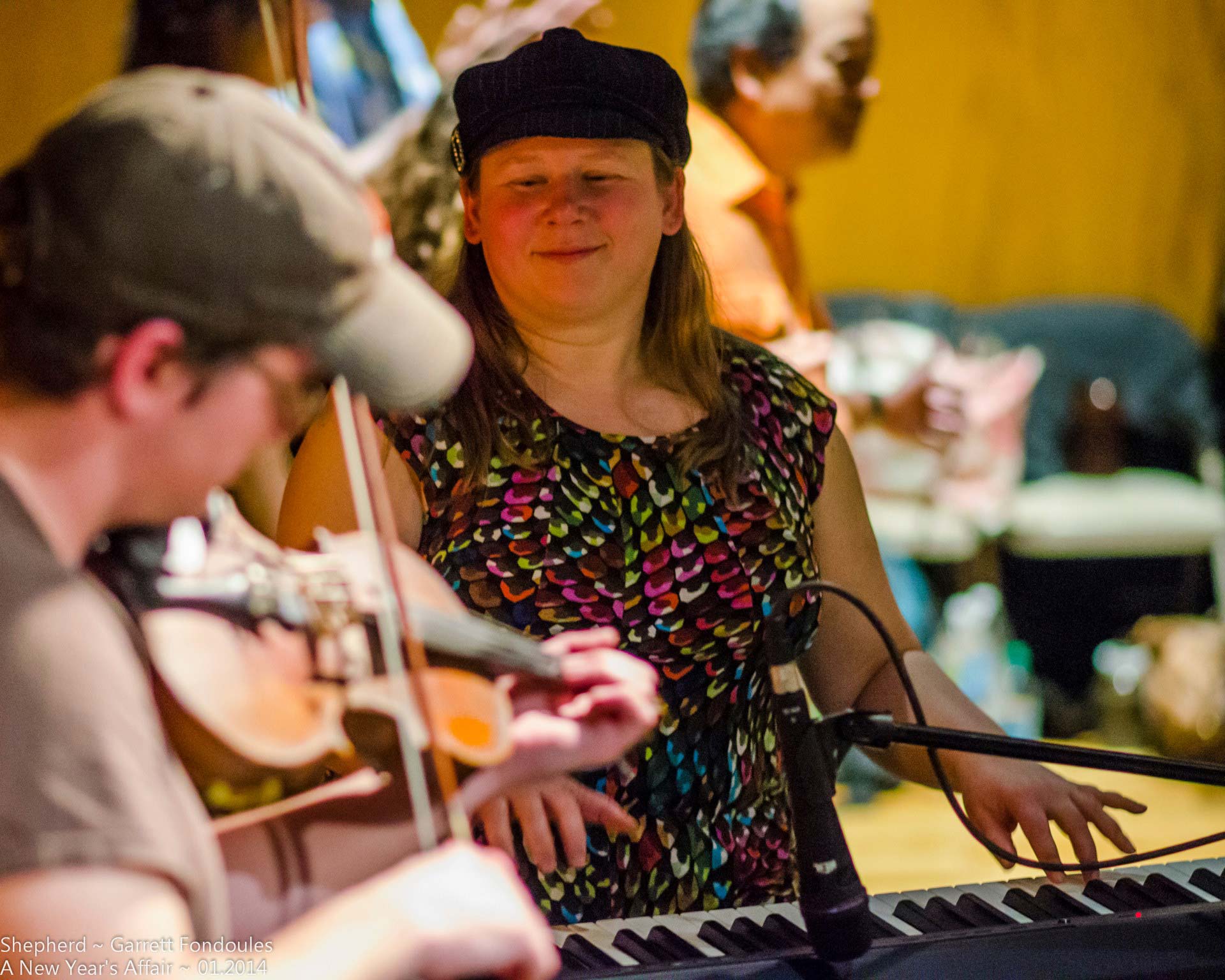 The course is taught by Julie Vallimont and Noah VanNorstrand.

Julie Vallimont performs nationwide on piano and accordion for contra dances, a number of other traditional dance styles, and concerts. Her contra piano playing draws on New England piano traditions which she combines in a unique way with other influences. She is known for her sensitive accompaniment, skill in matching the music to the dance, and music with heart. Drawing on teaching skills developed over fifteen years as a natural science educator, Julie enjoys leading workshops and teaching. She is also an experienced live sound engineer. When she has time, she makes crankies, paper art, and pottery.
Noah VanNorstrand's driving fiddle, feet and mandolin have been a rhythmic powerhouse behind some of the most popular dance bands of the last decade including Great Bear, Buddy System, Wake Up Robin and The Faux Paws. He has performed all over North America at nearly two hundred different dance weekends, folk festivals and music camps. His musicianship is deeply compelling and virtuosic but difficult to define; freely blending traditional folk genres such as Celtic and Old-time Applachian fiddling with elements of rock, newgrass and pure unfiltered improvisation. His unique approach to foot percussion and innate understanding of dynamics and groove have made him a defining figure of modern contra dance music.
Noah and Julie started performing together in 2014. As Buddy System, they have taken the country by storm, playing for dancers in more than twenty states, and at some of the biggest dance festivals in the country. They also love playing concerts, where they can showcase other parts of their deep repertoire.
Registration and Fees
Participation is limited to 15. The course is geared toward intermediate to advanced musicians, able to play tunes at dance tempo and with some experience playing for contra dances. There is a possibility for less experienced musicians to audit the Course, let us know if you are interested. If the course is oversubscribed on March 16, preference will be given to the more experienced musicians and, to a lesser extent, the balance of instruments. There can also be some preference to applicants supported by their local community. Strong indicators for CDSS are our Group Priority and Matching Scholarship processes, where a CDSS affiliate vouches for a participant and may offer some scholarship, asking CDSS to match that amount. This is a statement by people who know the individual, that the person is deserving of assistance and would benefit the local community by attending camp. That can count highly in this and in our scholarship considerations.
To register, please log into CDSS Commons, or visit our registration page for more information.
The fee for this week is $915.