June 18-25 // Lexington, MI
Strengthen your dance playing, deepen your musicianship
During Dance, Music & Spice at Camp Cavell
It's such a great feeling in contra dance when a whole hall is dancing together to the music. How do we create amazing dance music? Join Alex Sturbaum and Buddy System's Noah VanNorstrand this week to find out!
Program Description
This course is an opportunity for intermediate to advanced musicians to dive deeply into what it takes to play for contra dance. Through discussion, exercises, and experience, we'll look at what a contra dance needs from musicians, including:
Tempo
Rhythm
Phrasing
Creativity
Sounding good
Exploring chords and textures
Matching tunes to dances
Playing in an ensemble
We'll hone our skills at listening to and locking in with our bandmates and improvising on the fly while still supporting the dancers. These skills are relevant to both developing your own band's sound and to being an effective player in an open band or pick-up band.
We'll meet for two hour-long periods each day, sometimes all together and sometimes breaking out into smaller ensembles for specific exercises. The rest of the day and evening, you'll have full access to Dance, Music & Spice Week.
Course Details and Participation Requirements
The course is geared toward intermediate to advanced musicians, able to play tunes at dance tempo and with some experience playing for contra dances.
There is a possibility for less experienced musicians to audit the Course. If you're interested in auditing, let us know.
Course Leaders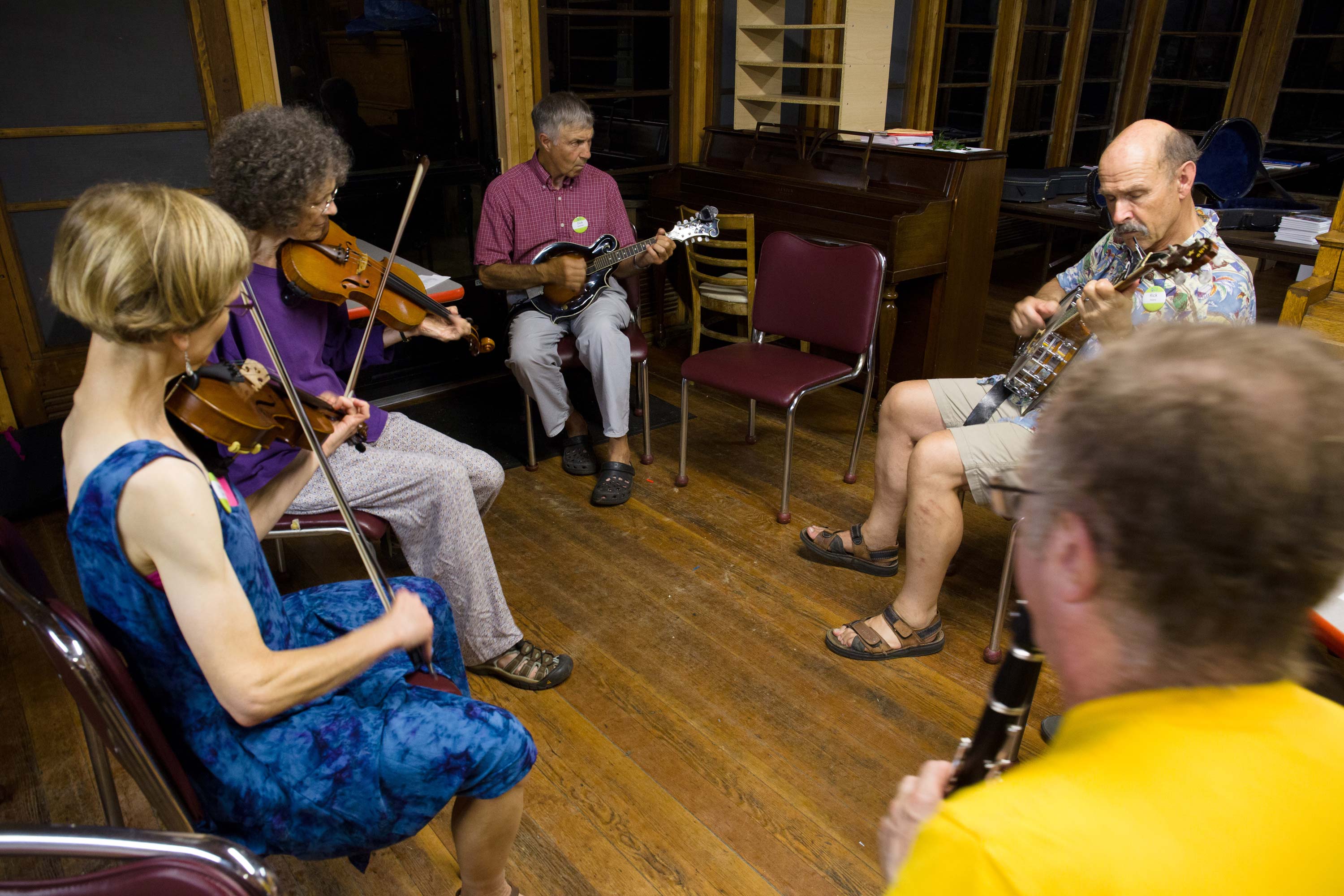 The course is taught by Alex Sturbaum and Noah VanNorstrand.
Alex Sturbaum is a traditional musician based in Olympia, WA. Alex is a singer, songwriter, dance musician, and multi-instrumentalist, and performs across the country at festivals, contra dance weekends, and more. A versatile and engaging performer steeped in folk music from both sides of the Atlantic, they draw influences from Celtic, American, English, Canadian, and martime music to create something at once old and new. Alex's performances are known for high energy and an instant rapport with audiences. Alex is best known for their powerhouse guitar and accordion playing, their sharp, traditional-sounding lyrics, and their enthusiasm and appetite for collaboration – the latter of which has led some to call them "one of the most get-sh*t done people in folk music". They tour regularly as a solo artist and as half of the duo Countercurrent with Brian Lindsay. They also teach, record, and produce projects such as The Vashon Sessions (a collaborative music project connecting musicians across the Pacific Northwest) and Raise the Rafters (an annual traditional singing weekend). They have performed on many albums, and have released three solo albums: River Run Wide, Loomings, and Atlantic Dreams."
Noah VanNorstrand's driving fiddle, feet and mandolin have been a rhythmic powerhouse behind some of the most popular dance bands of the last decade including Great Bear, Buddy System, Wake Up Robin and The Faux Paws. He has performed all over North America at nearly two hundred different dance weekends, folk festivals and music camps. His musicianship is deeply compelling and virtuosic but difficult to define; freely blending traditional folk genres such as Celtic and Old-time Applachian fiddling with elements of rock, newgrass and pure unfiltered improvisation. His unique approach to foot percussion and innate understanding of dynamics and groove have made him a defining figure of modern contra dance music.
Registration and Fees
The fee for this week is $950.
Participation is limited to 15.
If the course is oversubscribed on March 15, preference will be given to the more experienced musicians and, to a lesser extent, the balance of instruments. There can also be some preference to applicants supported by their local community. Strong indicators for CDSS are our Group Priority and Matching Scholarship processes, where a CDSS affiliate vouches for a participant and may offer some scholarship, asking CDSS to match that amount. This is a statement by people who know the individual, that the person is deserving of assistance and would benefit the local community by attending camp. That can count highly in this and in our scholarship considerations.
To register, please log into CDSS Commons, or visit our registration page for more information.