"Fabulous music and dance in a magical setting."

–Lorraine Graves
August 10-17, 2024 // Plymouth, MA
Renaissance, baroque, and medieval music for players and singers of all levels
Join our community Facebook group!
The information below is for 2023. We'll post the 2024 camp information soon.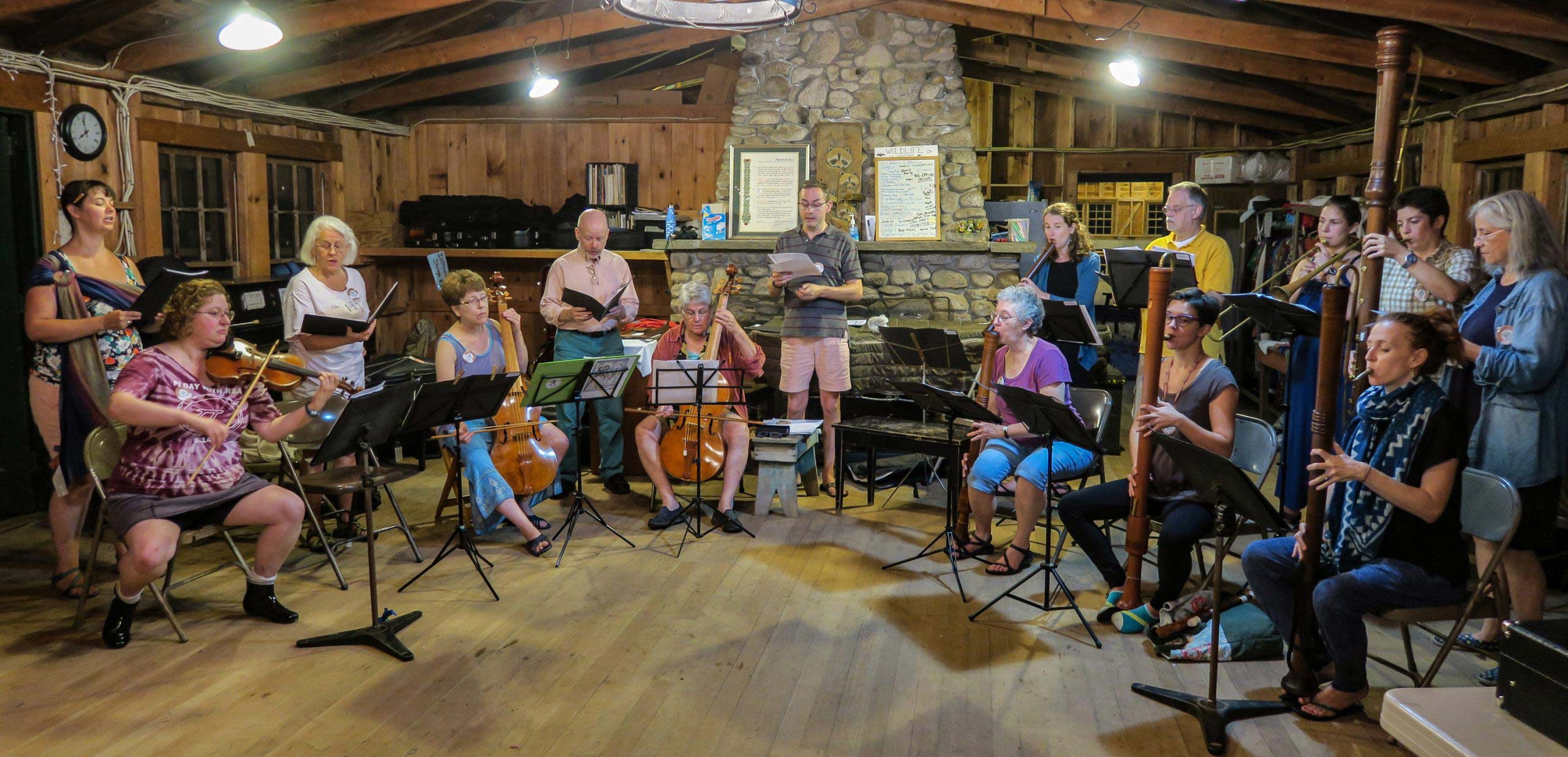 Program Description
Are you passionate about renaissance, medieval, and early baroque music, especially as revived and played on period instruments? Do you also love nature and being in community with others? If so, this is the week for you!
Early Music Week offers joyful opportunities and challenges to players, singers, dancers and listeners at every level, from novice to highly experienced. As classes unfold through the week, we explore and discover the connections that lie behind some of the world's most vibrant and compelling renaissance, baroque, and medieval music. And we dance together every day, connecting with dancers and musicians in a unique and spontaneous way, so different from a class or a concert hall — in the pavilions under the pine trees.
Work and Play
At Early Music Week, instrumentalists can focus intensively on their primary instruments, enjoy the opportunity to play with others in mixed ensembles, yet also find time to explore something completely new, singers can delve into early music repertoire in small groups, sing in a chorus or collegium, or try an introductory instrumental class, and everyone is invited to enjoy English country dancing, with instruction during the day for all levels. Our week also features an English dance band class, evening lectures in early music, a dedicated space for our LGBTQ community to meet and talk each day, an outstanding faculty concert, various performing opportunities for our participants, and a special course that require advance registration: an Advanced Ensemble Intensive.
Music of the Spheres
Early Music Week offers daily classes and concerts for players, singers and listeners of every level centered on this year's theme, Music of the Spheres. Let's explore together the relationship between structures of music and those of the physical world, to look beyond ourselves out into the entire universe, and develop a conscious awareness of the ethereal qualities that are transmitted through composed sound. As we dance together every day, in morning classes by level and at the evening dance led by expert callers and an elegant professional band, we will add a visceral component as we move to music in pavilions under the pine trees.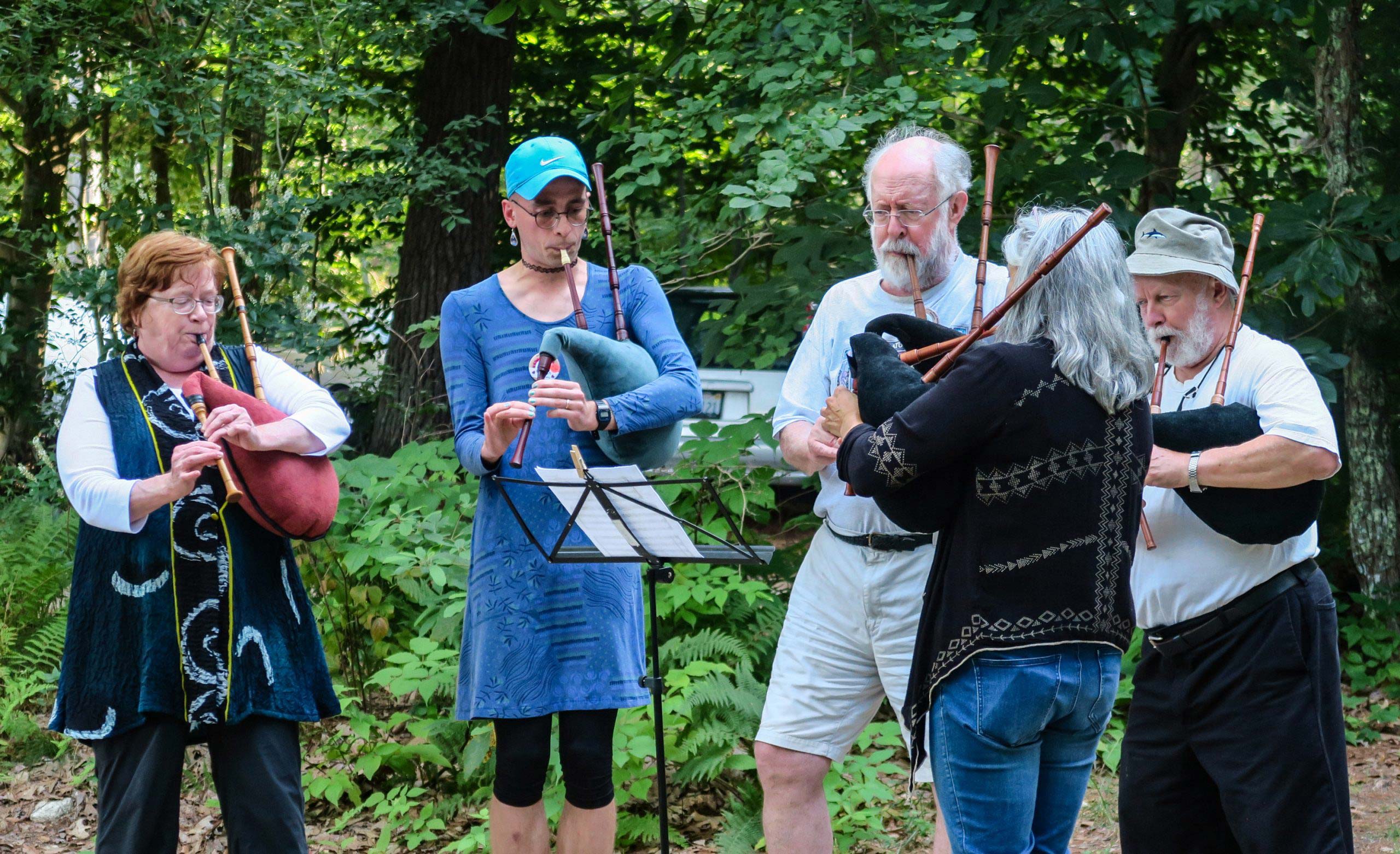 Experience this in-depth music and dance week surrounded by exceptional natural beauty, with time for relaxation—swimming, hiking, canoeing—and delicious home-cooked meals in the open-air dining hall. What better way to get inside music, and to bond with others of like mind, than to play, sing, dance, and learn together in this magical environment.
~Lisa Terry, Program Director
Class Descriptions
Period 1
Instrumental and vocal consorts grouped by level (B to A)
Beginner to Advanced: recorder, viol, voice, strings, harp, louds, mixed instruments. Voice classes will include rhythmic, interval and sight-reading exercises to strengthen the students' musicianship.
Advanced Ensemble Intensive – Frances Fitch, Michael Barrett, Emily O'Brien
By pre-registration only: Advanced Ensemble Intensive
English Dance Band: Making Dancers Move and Your Heart Sing (HI+, all instruments) – Jacqueline Schwab
Join us for this user-friendly class designed for those who would like to learn the little-known craft of making music danceable. We will explore what, beyond a steady tempo, makes music danceable and what inspires people to move. The journey of becoming a dance musician may help grow your sense of rhythm, melody, and harmony, improvisation, commanding sound and flowing ease in your playing, listening, ensemble playing and more! Open to all who love to play at a danceable tempo.
Harp Consort (all levels) – Ellen Tepper
This class will feature a few hundred years of harp repertoire – all sizes and shapes of harps are welcome, the bigger the better (or at least the more versatile) – I will bring a couple, as well. We will play some Metrical Medieval Dances, Honking Rhythmic Renaissance tunes, and some Spanish harp music from Luz Y Norte, including how to read harp tab (1677). We'll have a look at playing for ECD, maybe play for one as an all harp ensemble. Zen-like scales and relaxation techniques will round out the days.
Sight-Transposition Boot Camp (UI+, all instruments) – Niccolo Seligmann
The piece is written in D, but the singer can't sing it in any key higher than C. What do you do? This common situation has many bad solutions, but only one good solution: develop the skills to transpose on sight. Different strategies work for different people, but all of these strategies require a great deal of repetition. It's not glamorous work, but once you can do it, you can always do it, and your singer will thank you.
Period 2
English Country Dancing: An Introduction, and Then On We Go! (B) – Jan Elliott, with Lisa Terry and Lisa Bueno
On Sunday and Monday, and again on Wednesday, we will get you started so that you can enjoy Gene's class and the evening dances for the whole week.
English Country Dance for All (B+) – Gene Murrow, with Frances Fitch and Catherine MIller
A survey of the best dances from the 17th through the 21st centuries, with outstanding music. While enjoying these miniature masterpieces, we'll focus on learning superior dancing skills, including mastery of the basic figures and development of good dancing style.
ECD: Experienced (A) – Orly Krasner with Jacqueline Schwab and Emily O'Brien
This class offers a banquet of ECD morsels including tantalizing hors d'oeuvres, healthy salads, meaty entrées, and decadent desserts–something for every taste and appetite!
Period 3
Collegium: Celestial Music inspired by Love Poems (I to A, singers, recorders/flutes, strings) – Larry Zukof
Love texts from the Song of Songs have inspired composers from the Middle Ages to the modern era inviting interpretations both religious (based on Old and New Testament allegorical readings) and secular with pure sensual content. These erotic poems, written in the 3rd century BCE, without mentioning God or laws, celebrate the joy of love and sexual awakening with beautiful images in harmony with the natural world. Our settings range from the mystical and ethereal (Dunstable and Clemens) to the word painting madrigal style (Lassus and Victoria).
ECD Performance Class (Experienced dancers) – Orly Krasner, with Ellen Tepper and Catherine Miller
Explore the ways that dancing makes music visible, to quote George Balanchine. We will focus on choreography, carriage, connection and clarity, and we will polish for presentation a selection of historical and modern gems.
Advanced Ensemble Intensive – Michael Barrett, Emily O'Brien, and Lisa Terry
By pre-registration only: Advanced Ensemble Intensive
The Tuneful Sphere (LI recorders) – – Héloïse Degrugillier
Our recorder ensemble will enjoy exploring frottole, madrigals and beautiful chansons.
Wheels of Fortune (I+ viols) – Sarah Mead
Fortune can smile upon us one moment and plunge us into melancholy the next with just a turn of her wheel. The song "Fortuna Desperata" appeared in many forms in the early 16th century. Explore songs and settings of "Fortuna" from the heyday of Flemish polyphony.
Celestial Harmonies (UI+ recorders, early winds, strings) – Miyo Aoki
We humans have always been fascinated by the cosmos and inspired by music. In earlier centuries scholars of astronomy and mathematics looked for commonality in patterns between their work and music. The early 17th-century mathematician and astronomer Johannes Kepler ascribed certain musical intervals to each planet and surmised that together they produced a kind of cosmic counterpoint, and composers of all eras have taken inspiration from celestial bodies for their own compositions. In this class we'll play renaissance and baroque music centered around celestial objects – the sun, the moon, and more! Music by Giles Farnaby, Orlando di Lasso, Floriano Canali, and others.
Mensural Notation – What's your sign? (For All) – Benjamin Matus
Learn (or improve your mastery of!) the basics of late Medieval/Renaissance Notation. Demystify mensuration signs, ligatures, imperfections, and alterations. Explore the expressive freedom of leaving scores behind! Together we will work through songs from the Loire Valley Chansonniers (late 15th century) in facsimile while trying to not get too distracted by any doodles the scribe may have left for us. Open to singers and instrumentalists. Proficiency in many clefs is helpful but not entirely necessary.
Beyond The Drone Zone (open to all, B to A) – Niccolo Seligmann
To engage with medieval monody & chant, you have to make choices. But what choices are out there? How does one know which choices suit which repertoires? This class demystifies "arrangement," giving versatile tools to players who are curious about medieval music but daunted by how little information is on the page. We'll put special focus on "accompanying" medieval monody as a means of sharing rich storytelling with modern audiences.
Beginning Bagpipes – Dan Meyers
Learn how to get the most out of only nine notes! We'll explore the basic technique for playing Renaissance bagpipes, one of the most popular instruments for dance music in 15th and 16th-century Europe, and learn a few bagpipe-friendly tunes along the way, as well as tips for tuning and maintaining reeds. Some experience in recorder, loud Renaissance winds like shawm or dulcian, or both are recommended; a few instruments will be available to borrow, or you can bring your own.
Period 4
Chorus: Yuletide Madrigal Feast (all voices) – Joshua Overby
This course is centered around a cold winter night — in the middle of summer! Take a trip through time and delve into a feast at a royal court, where you will serve as the choral entertainment. Get a hands-on look at how composers depicted the king of the heavens in their music and enjoy this introduction to performing early music in the form of Christmas carols, madrigals, and motets.
Advanced Ensemble Intensive – Frances Fitch, Michael Barrett, and Jonathan Oddie
By pre-registration only: Advanced Ensemble Intensive
Urania and Her Sisters: Madrigals and dances inspired by the nine muses of ancient Greece (I+, recorders) – Eric Haas
Works of Byrd, Kirbye, Phillips, Giovanelli, and others.
Easy Earworms (LI+, all instruments) – Ellen Tepper
This is a by-ear class that will have medieval tunes mixed in with old Irish song melodies. It is an accessible class, not just for harpists.
The Combinative Chanson (I+, all instruments) – Benjamin Matus
When there are two or three songs you'd like to play but only have time for one… look no further than the Combinative Chanson! This genre of polyphony mashes up two or three popular Renaissance songs into one piece. Performers are presented with an even more concrete notion that all the voices are the melody. For wind and string players, these pieces present a fantastic (and often funny) opportunity to convey text in our playing.
Birds and Beasts (UI+ recorders) – Miyo Aoki
What does a chicken sound like in music? Find out in this class on depictions of and references to animals in music! We'll play music from the renaissance and baroque by composers such as Jacob Regnart, Alessandro Poglietti, Heinrich Isaac, and others.
House of Habsburg (UI+ soft winds) – Héloïse Degrugillier
With his excellent political skills, Maximilian I secured the presence of the Habsburg in Europe. Maximilian was also a great patron of the arts and gathered the most famous musicians to his court. Music by Isaac, Hofhaimer, Senfl.
El Cristo Negro: African and Indigenous Ministriles in the Mexico City Cathedral (UI+, Loud Band) – Dan Meyers
Recent research indicates that 17th-century Mexico City was a surprisingly diverse place, where White Europeans mixed with Black slaves and freemen, native Aztecs, and even Chinese and Filipino barbers and dentists. Some accounts indicate that this diversity was present in the Cathedral's capilla as well; pay records indicate that both Black and Indigenous musicians were represented in the most prestigious musical ensemble in Mexico, and pieces for Cathedral performance were composed in Nahuatl as well as Latin and Spanish. We'll explore some of the rich repertoire of the Mexico City Cathedral in the early 17th century, including both pieces brought from Spain and pieces composed locally.
Three's Company (HI+ viols) – Sarah Mead
How do we play in three when our bows only go in two directions? Discover everything a viol player needs to know about playing triple rhythms. Learn tricks and pointers for playing triples in anything from simple dances to complex polyphony and the ins-and-outs of proportion-changes.
Beginning Viols – Niccolo Seligmann
Bamboozled by bowing basics? Flustered from faulty flights of finger? Crunchy cacophonies causing a crisis? Fret not! Each class period will focus on a different aspect of playing the viol, helping you find your best way to hold, bow, finger, and care for your beloved viola da gamba. No beginner is "too beginner" in this affirming class environment, and all sizes of viols are welcome. Viols are provided.
Queer Hangout Space
This open-ended "class" invites queer & trans students to spend time in an Early Music/ECD space truly for queer people. We can share our experiences in Early Music/ECD, learn about each other's lives, and explore ways to create more space for ourselves within the larger majority-cishet early music/ECD communities. While all campers are welcome, non-queer participants are encouraged to take a listening-oriented role. Time and place will be announced each day at camp.
Registration and Fees
Staff