Camp Louise is a beautiful facility, located on a lovely wooded property in the Catoctin Mountains of Western Maryland, in the traditional lands of the Massawomeck and Susquehannock peoples. All camp buildings are created to enhance the landscape that surrounds them. The cabins offer comfortable wooden bunk beds, extra thick mattresses, and covered wooden porches, and each one is equipped with its own bathroom that includes shower, toilet, and sink. Louise offers excellent dance and program facilities, and air-conditioned dining hall, and two swimming pools (a shallow-water pool and an Olympic-sized deep-water pool). The camp is within 1 ½ hours travel from both Baltimore, MD and Washington, DC.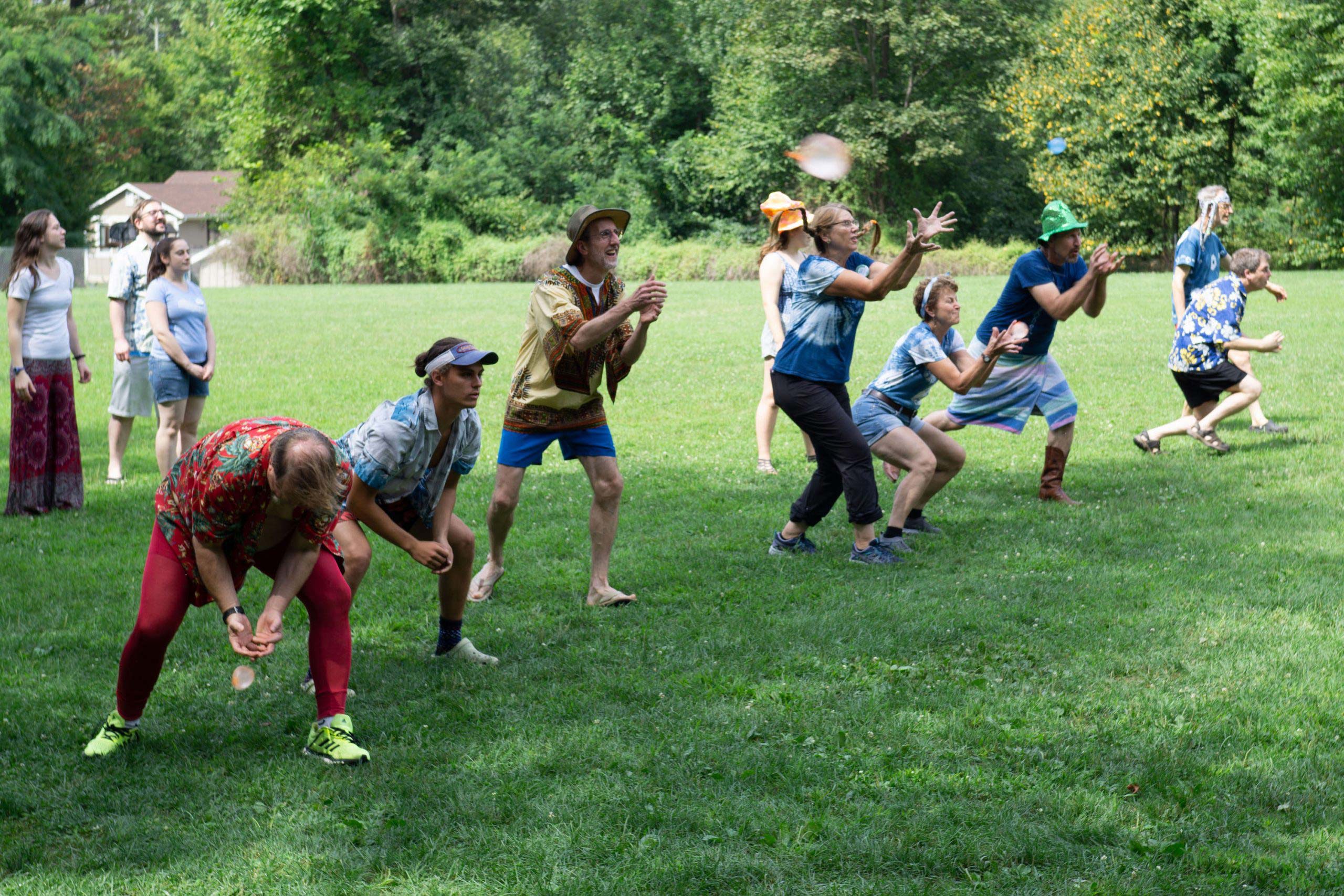 Directions and Arrival Instructions
Camp Louise is located in Cascade, MD, about halfway between Gettysburg, PA and Hagerstown, MD on Route 491. Google Maps can find the camp by name ("Camp Louise Cascade, Maryland"). The address is 24959 Pen Mar Rd, Highfield-Cascade, MD 21719.
Camp is open for arrivals from 3:30pm.
Camp phone: (410) 466-9010
Please plan to arrive before dark.
You can unload your belongings from your car into your cabin and then move car to the parking area across the road.
Unfortunately, there is no public transportation to Camp Louise, but if you need a ride, you can try posting in the CDSS Commons group for the week, or in the Facebook group.
Housing
Campers will be given their housing assignments on arrival. Space is limited, and we can't guarantee that all specific requests will be filled, but if you let us know what you want, we'll do our best to make it happen. You can make housing requests when you register, or by logging into CDSS Commons at any time afterwards. Please notify us of all housing needs at least 10 days before camp starts.
Most Families will be housed in a bunkhouse, most which share a bathroom with another family. We arrange families based on the age of the youngest children to aid the Pied Piper and roving monitor systems. Small families might be housed with other small families with children that are close in age in the same bunkhouse.
For Adults without children, there is a possibility of being housed in double-occupancy cabins with AC and full bathrooms in each room. There is a limited supply of these cabins and there may be more requests than availability. In that case two couples or several same gendered people might be housed in large bunkhouse.
Bring your own bed linens, pillows, towels, toiletries and blankets (it can get cold at night).
General housing categories at Camp Louise are:
Family bunkhouse
Double or single occupancy room
Specific area or building
Specific roommate, neighbor, or group
Single gender or mixed gender bunkhouse
Camper Jobs
In the cooperative spirit of camp life, all campers have a daily job to help make camp run smoothly.
Jobs are usually a half hour or less per day, every day, and the same job all week. Generally campers will be given their job assignment on arrival. You have the opportunity to make specific requests about your job assignment when you register, or you can log into CDSS Commons to update this information at any time.
We can't guarantee that all specific job requests will be filled, but please let us know if you have any preferences or limitations (e.g., dust allergy, unable to lift heavy objects, difficulty staying up late or getting up early).
At Family Weeks, children ages 6-12 may be given a job to share with an adult family member.
Types of Camper Job:
Dining Hall and Kitchen

Campers help with setting and clearing tables for breakfast, lunch, and dinner
Other kitchen jobs can include serving food, making tea and coffee, and washing dishes after meals

Sweeping

The dance pavilions and other camp spaces need regular sweeping to keep them clean and ready for dancing.

Snacks and tea

Some of our camp weeks have a snack or teatime scheduled in addition to the main meals.
Campers help with setup and tidying up afterwards, food preparation, and making teas.

Parties and events

Some campers will be asked to help out with setting up and tidying away for parties, auctions, and other camp events
Helping with the late-night parties can be a great job for people who like to stay up late, but there are also daytime events that need help

Clerical/Office

The CDSS office staff sometimes need help with clerical work, which can include folding or stapling papers, helping with paperwork at fundraising auctions, or working in the CDSS Bookstore
Some sessions will have a camper job to coordinate mealtime announcements, or to help update schedules with any changes during the week

Greeters and tour guides

We'll ask a few campers to arrive early to be ready to welcome everyone else and give directions to new people
Food
All meals at Camp Louise are served buffet style, including a salad bar and vegetarian and gluten-free options. If you have any dietary restrictions, please let us know in advance so we can make sure the kitchen is ready to feed you. You let us know your dietary needs when you register for camp, and you can also log into CDSS Commons after registration to update your information at any time.
If you have very restrictive or severe food intolerances, you may need to bring some of your own food to supplement the camp food. Refrigerators are available for campers to use for this purpose. Please contact us in advance if you have any questions.
The camp provides three meals per day, from dinner just after arrival to breakfast on the morning of departure. Children are provided with morning and afternoon snacks. CDSS provides some snack food for late night parties, but contributions from campers are also encouraged.
What to Pack
Here are a few suggestions for what you might want to bring with you to camp, and what you might want to leave at home.
Camp Essentials
Clothing

Bring enough clothes for the whole week, there are no laundry facilities at camp
Bring dance clothes, but make sure you're prepared for colder weather or rain as well

Shoes

Dance shoes
Trail or hiking shoes are a good idea for the uneven woodland paths

Towels

Bring more than one!
Towels can be rented from the camp for a small fee

Flashlight – the paths at camp are not lit
Swimwear
Toiletries, sunscreen
Water Bottle
Bedding
You may wish to bring:
Fan
Musical Instruments

Tunes, songs, dances, and stories to share

Snacks and food to share for parties
Auction donations and ideas for services
Food (if on a special diet)
Fancy dress or costumes
Bug spray
Please leave at home:
Computers
Electronic games
Recorded music
Scented products (deodorant, shampoo, etc.)
All the cares and worries of home and work
More information
CDSS Bookstore
The CDSS Bookstore offers dance and song recordings and books, morris supplies, postcards and more along with staff items. It is open for browsing all day from Monday lunch until Friday afternoon. Items may be taken only after they are checked-out during posted staffed hours. Bills can be paid no later than Friday afternoon bookstore hours. Cash, check and credit cards (visa or mastercard) are accepted.
Water Safety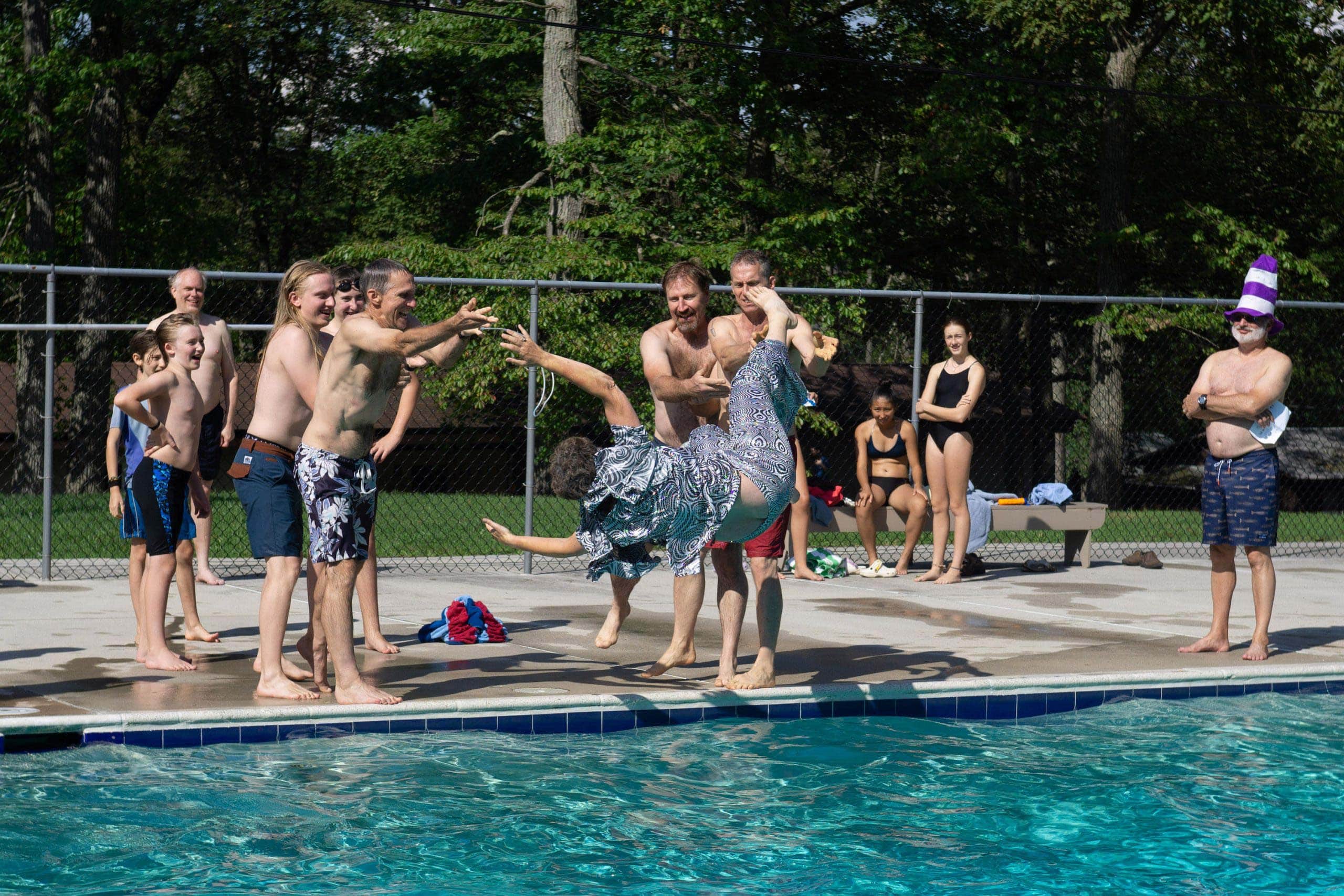 There is a swimming pool at camp. For your water safety, swimming is only available as scheduled with lifeguards on duty. Campers 9 & under must be accompanied by their parent or guardian. There are other activities available during some swim times and you must decide together when you will swim or do other things. CDSS and Camp Louise assume no responsibility for campers swimming. Lifeguard equipment is only for use by the lifeguard or in the case of a water emergency. Do not swim if you have been drinking alcohol.
First Aid
Please bring any specific first aid supplies or medication that you think you may need in the course of the week. A CDSS health care provider is in attendance at camp and available at all times for basic first aid and for medical emergencies. We are unable to dispense any medicine or medical advice; if there is an emergency or medical question we will direct you to the closest hospital, which is 15 minutes away. CDSS and Camp Louise assume no liability for accidents or illness or for their treatment.
Bunnies, Bats, Bees, etc.
Louise is in a beautiful and rustic setting. Many creatures including yellow jackets, mosquitos, ticks, bats, gnats, snakes and bunnies share this environment. Do not approach or handle any wild animals and let us know if any animals are found in cabins or if any contact has occurred.
Alcohol and Drugs
Illegal use and sale of alcohol, and drugs is prohibited at Camp Louise. The legal drinking age in MD is 21. Parents and guardians are responsible for making sure that their children do not use alcohol or drugs at Camp Louise. Recreational use of marijuana is illegal in MD.
Fun(d)raising Activities
Auctions are held at each CDSS camp, both for raising much-needed funds and for the entertainment of campers. This summer's nine-week goal is to raise $40,000 for CDSS special projects and for our camp scholarships. We will have a 13 and up oriented live and silent auction and a Dollars for Scholars fund raising activity geared toward children. Please consider bringing an auction idea or item if you have something that you could imagine yourself or your child bidding on. Items related to dance, music or song; hand-made or special clothes, crafts or art works; or humorous pieces are especially appreciated. Remember, we need buyers as well as items to make the auction work; rather than purchasing an item to donate, bring money to spend at the auction! Please bring your auction items or services to the office within the first two days of camp. According to IRS guidelines on the deductibility of items sold at fund-raising auctions, the donor may deduct the value of the item donated and the buyer may deduct the amount paid that is above the value of the item. CDSS is not able to provide appraisals of items or services.
2023 CDSS Sessions at Louise
CDSS is hosting one camp week at Camp Louise in 2023: