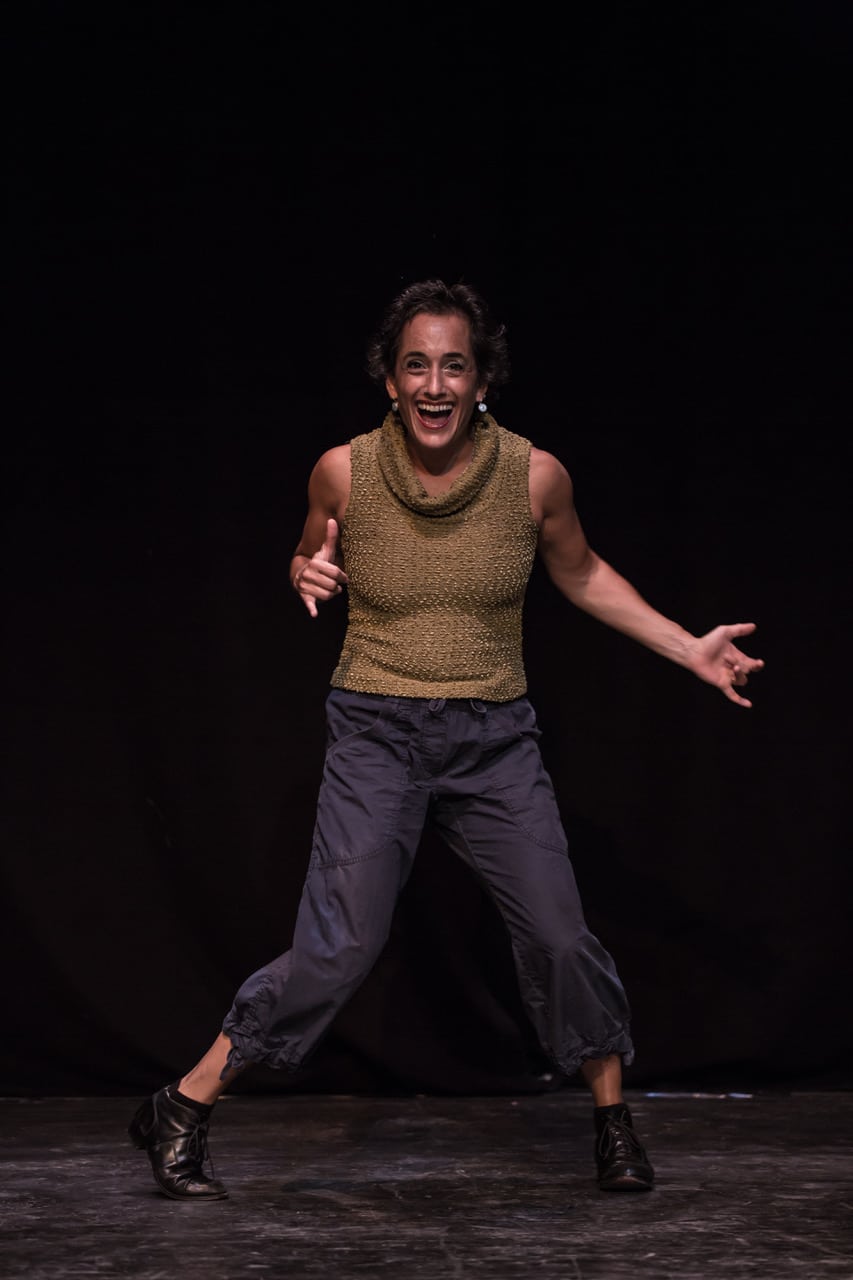 Evie Ladin is a percussive-dancer, choreographer, singer, songwriter, banjo player and square-dance caller with a lifetime of experience in traditional American cultural arts and intercultural music/dance performance and education. Based in Oakland, CA, Evie grew up in a traditional folk scene on the East Coast of the US, and early on was drawn to other cultures where music and dance are an integral part of social communication. Her performances, recordings and teaching reconnect Appalachian arts with other African-Diaspora traditions, in the American folk music world, the international Body Music and percussive dance communities, and at all levels of education.
Evie graduated from Brown University (BA: African Studies In Dance), and received both Fulbright and Watson Fellowships, studying music/dance in Eastern Nigeria. For 8 years, she toured concert halls and festivals nationally with the music/dance ensemble Rhythm In Shoes. Since landing in California in 2000, Evie has choreographed numerous works for and with partner Keith Terry and his intercultural, rhythm-based Crosspulse ensembles, performing from Lincoln Center, NY to SFJAZZ, Brazil to Bali and many points in between.
In the percussive dance world, Evie is Executive Director of the International Body Music Festival, directs the moving choir MoToR/dance (whose dance-for-camera works have been shown in several film festivals) and is an ace freestyle flatfooter. In the Trad world, Evie teaches banjo at the infamous Freight & Salvage, online to over 350 students at Peghead Nation and numerous camps; calls and plays for square dances; and has won contest ribbons in Folk Song and Neo-Trad Band. In the songwriter world, she writes clever, poignant songs with funny stories. Touring solo, with Keith Terry, and her Evie Ladin Band she has produced 9 CDs, and two instructional clogging DVDs.
A highly entertaining performer, Evie enjoys facilitating arts learning in diverse communities. She is a 2020-21 Jubilation Fellow, awarded to those who facilitate music and rhythmic learning. You don't often hear words like 'traditional,' and 'authentic' paired with 'innovative' and 'unique,' but Evie Ladin has brought them together brilliantly, and the result is truly a high point in new music. – FOLKWORKS, Los Angeles