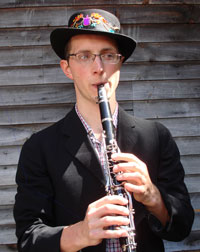 Stefan lives in Brattleboro, Vermont with his wife Zara Bode and their son Desmond. He graduated from Oberlin College as a jazz percussion major. Stefan is percussionist, singer and founding member of the Sweetback Sisters, a "honky tonk band for the modern cowboy and girl", featuring lead singers Zara Bode and Emily Miller (The Sweetback Sisters have appeared on Prairie Home Companion, coming in second in Garrison Keillor's national "Twenty-somethings Bands" competition); a founding member and bass singer in Starry Mountain Singers a cappella ensemble (which also includes Zara Bode), and, in 2015, became the percussionist for The Devil Makes Three.
Stefan, a gifted singer and singing leader, leads shape note singing at the Old Songs Festival, and has led harmony singing at Oberlin and at the CDSS-sponsored summer camps Pinewoods Family Week and Ogontz Family Week. He has been on several Northern Harmony tours, and was a leader of an Adult Village Harmony singing camp. Although he is best known as a percussionist and singer, he is also becoming a hot mandolin player, and a deeply meditative old time fiddler.
Stefan has been the percussionist of choice for several of America's favorite contra dance bands, including Assembly (AKA Popcorn Behavior), Magic Foot , Lissa Schneckenburger and Lift Ticket.