July 31 – August 7 // Plymouth, MA
Style and Substance on the Dance Floor
During English Dance Week
CDSS is moving forward with 6 COVID vaccine-required camp sessions for 2021. Each session will adhere to national, state, and local public health ordinances in effect at the time of the session. CDSS will continually monitor public health guidelines and keep registered campers informed of program adjustments as they are necessary.
Click here to read more about our decision process.
The program details listed here are subject to change. We are working with staff and program directors to bring you as much of this program as possible. We will continue to update these pages as changes become clear.
There will be a lottery on June 14 for any programs that are oversubscribed. After that date, registrations are processed in order of receipt.
Program Description
So you want to be an English dance caller! Hooray!
English dance calling and leading is the best job in the world, but it is, in fact, a job. It requires training, experience, patience, love, continuing education, many hours outside of actual gigs to prepare and digest, and overall, passion for and dedication to English Country Dance, this sport we love so much.
This course, held concurrently with English Dance Week at Pinewoods, is designed and led by Joanna Reiner Wilkinson, who has been calling for many years, and enjoys passing this skill on. It will focus on teaching ECD style and technique – how we dance in addition to what we dance – and how we include teaching dance style in both workshops and social dance settings. ECD Callers of any experience level, including beginning callers, should sign up for this class with a genuine desire to work on their own dance style, learn new things, take risks in a supported environment, and try different ways of teaching and calling.
The course will meet during two class periods per day and include dancing, discussion, small group work, observation, and practice calling. It will encourage self-reflection, and will include critique and the opportunity to support and be supported by a cohort.
Course Leader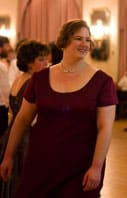 Joanna Reiner Wilkinson has taught English dance for over two decades. In addition to being one of the leaders of the Philadelphia-based Germantown Country Dancers, her calling has taken her from Amherst to Ann Arbor, from NEFFA to Hey Days, from St. Croix to Vancouver, and other points abroad, including many sessions at Pinewoods Camp. While known for her clear calling and instruction, Joanna loves teaching workshops for ECD callers, and workshops that explore ECD technique, new dances, and how people learn and remember dance choreography. In her spare time, Joanna uses her dance teaching skills to help demystify financial data for arts and culture nonprofits throughout the US.
Registration
The course is geared toward dancers with at least 3 years of regular ECD attendance and is limited to 12. If the course is oversubscribed on June 14, preference will be given to those who live in communities without a formal apprenticeship program and/or with limited mentoring available. There can also be some preference to applicants supported by their local community. Strong indicators for CDSS are our Group Priority and Matching Scholarship processes, where a CDSS affiliate vouches for a participant and may offer some scholarship, asking CDSS to match that amount. This is a statement by people who know the individual, that the person is deserving of assistance and would benefit the local community by attending camp. That can count highly in this and in our scholarship considerations.
To register, please log into CDSS Commons, or visit our registration page for more information.
The fee for the course is $915.