"You will have so much fun and gain a bigger family by the end of the week."

–Kristen Planeaux
**New location!**
August 13-19, 2023 // Poland, ME
The week children take their families to
Join our community Facebook group!
As of July 24, this week is over-subscribed. If you register, we'll add you to the waitlist and let you know when space becomes available for you.
Already registered? Click the button below to log into your Camp Registration Home page to review, update, and make payments.
Program Description
Come dance, sing, revel and delight in the woods of Maine as we move our beloved Family Week community from Ogontz to Agassiz Village! Some things will feel new, like the expansive, beautiful timber framed dining hall, the incredible waterfront with its alluring islands, and the cabins set in a ring against the landscape. And some things will feel oh so familiar as you're greeted by old friends and new alike all ready to soak in the magic of the week! Is that a ring of chairs around an old oak tree? Can you hear the first few notes of Abbots Bromley somewhere off in the distance? Follow the music and find fun, joy and laughter in a new setting this year.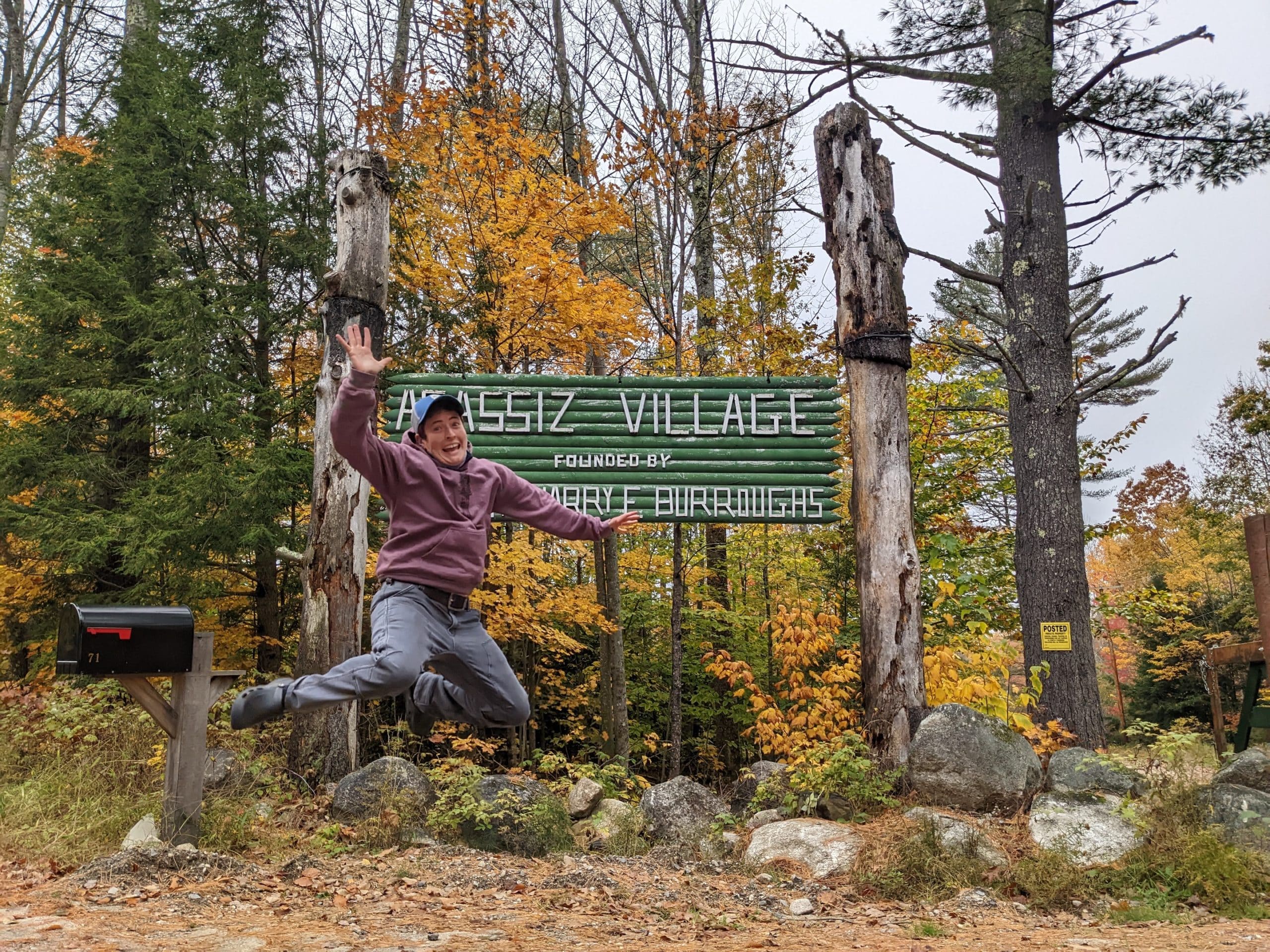 Morning classes start by age groups and find our youngest campers engaged with music, stories and art while older kids find a variety of traditional dance and singing options to try out. Teens and adults can choose from soaring and smooth English dancing, singing in harmony, morris dancing and more, all before lunch! We'll gather together, laugh, eat delicious food, swim, share stories, and possibly even nap as the afternoon progresses and we find our rhythm as a community. Afternoon workshops include Family Band, Storytelling, English clog dance, the famous Mummers Play, Family Sing, Letterboxing and plenty more dancing. Our all star music staff will keep us moving all evening with nightly dances taught and called by phenomenal callers.
Come recharge, reconnect, relax and renew as we gather together again and learn that it really does take a village!
~Fynn Crooks & Laurel Swift, Program Directors
Class Descriptions
Period 1
Littles: Ages 2-3 with Emily Troll
We'll start the day with stories, poems, songs, and joyful play, with a special focus on animals and the nature around us.
Ages 4-5: Art Adventures with Nicole Singer
In this class for younger artists, we will explore a new project or theme each day using a variety of art materials. Projects may include watercolor painting, sculpture with natural materials, printmaking, sketching, and collage. We'll get to display our work around camp as we finish each project, and of course, all artists will get to take work home at the end of camp. All projects will be geared specifically towards children ages 4 and 5. It is recommended that children come with an adult to help them with their projects. Adults can make their own art pieces alongside kids too!
Ages 6-7: Singing Games, Dancing, and More with Katy German
In this class we're going to move and dance! We'll play some goofy games, learn some traditional singing games that showcase our dramatic and dancing skills, and explore some of the favorite dances from this and other camp communities. We might even make up our own dance to share with the rest of camp!
Ages 8-9: Smorgasbord of Fun with Ann Percival
Mornings with Ann will be a smorgasbord of singing games, ukulele playing, cranky making and singing…lots of singing!
Ages 10-12: Cotswold Morris with Sam Overbeck & Hamish Swanson
Sam and Hamish will lead you in Cotswold Morris dancing, an exciting form of English folk dance. Prepare to jump around, sticks and hankies in hand, learning the step-hops and leaps of this unique dance style. We'll learn a couple traditional dances and maybe write one of our own to perform at the end of the week!
Ages 13 & up: English Country Dance – Sue Rosen
We'll explore the wide range of wonderful and accessible English country dances from the traditional barn dance to the treasured Playford repertoire and the more recent gems from both sides of the pond. With glorious music, we'll have fun and dance beautifully.
Ages 13 & up: Molly Dance with Daisy Black & Andrew Swaine
An introduction to traditional and modern Molly dances from the fens of Eastern England. Modern dances will be taken from the repertoire of Gog Magog Molly, whose style is colourful and high energy, with a love of geometric figures.
Period 2
Ages 2-3: Songs & Stories with Alex Cummming
Come hang out with Alex and his accordion as we have fun exploring songs, music, dance and stories that explore nature, traditions, being yourself and being silly!
Ages 4-5: BAMS with Luke Donforth
Books, Art, Music, & Science. We'll move through a variety of activities, including reading dance and music related stories, art projects, singing songs and chants, and doing a little hands-on science.
Ages 6-7: Musical Frolics with Ann Percival
During their second morning class period the 6-7's will sing, dance, play ukulele and frolic in all things musical.
Ages 8-9: Longsword with Sam Overbeck & Hamish Swanson
We will learn the ancient art of English longsword dancing, which winds and twists dancers to form knots, figures, and locks. We will learn some cool new lock shapes and experiment with dancing to traditional and non-traditional music during our class. We will work towards a performance at the end of the week where we will display our astounding dance skills.
Ages 10-12: World of Whistles with Laurel Swift
We will all learn – from scratch – to play folk tunes on the tin whistle! We'll sing some songs with whistle interludes and maybe even write dances to our whistle playing.
Ages 13 & up: Playford Through the Ages – Andrew Swaine
A tour of historical country dances from mid-17th century onward, reinterpreted with reference to the original sources. No experience of Playford required – and if you do have experience, many of these might be livelier than you expect!
Ages 13 & up: Harmony Singing For All – Anna Patton
Come join the Agassiz Village choir, singing harmony arrangements of American songs from the 20th and 21st centuries. We'll learn several songs that are easy to jump in on plus one more ambitious centerpiece song that has a bit of crunch to the harmonies. Music will be provided and singers who want to learn by ear are welcome too.
Period 3
Ages 8 & up (younger, if passionate, with an adult): Contra Potpourri with Luke Donforth
Come dance a mix of contras, with different themes on different days. Monday we'll dance with reunions and shadows. Tuesday will be advanced dances with interesting effects. Wednesday will be fun flourishes and where they fit. Thursday will be groovin' no-walkthroughs.
All ages: Unlocking the Word Hoard: a Storytelling Workshop with Daisy Black
Using stories from medieval and more recent oral folk traditions, these workshops will teach you to break down any story for telling; adapt old stories for modern audiences; and use basic performance techniques to make your stories sizzle and crackle in the imaginations of your listeners.
All ages: Art for All with Nicole Singer
Come make some art! In this low-key, choice-based art class for all ages and experience levels, we will have several areas set up with different kinds of art supplies each day. Nicole will provide instruction in how to use all the materials to make a variety of projects at each station, but if you like, you can also dream up your own project using the materials provided. All experience levels welcome!
Ages 13-17: Teen Class with Laurel Swift
Bring your talents, your secrets and your daft ideas! Most of all bring yourself and willingness to get stuck in and learn some new skills. Maybe some songs? Perhaps some dances or stories? Hopefully a few terrible jokes! This class will be shaped by your interests and contributions as we concoct a highly unique performance together.
Period 4
Ages 8 & up (younger, if passionate, with an adult): Family Band with Emily Troll & Ann Percival
Ever wanted to be in a band? Here's your shot! All abilities and instruments are welcome. Emily and Ann will lead you to victory every evening at the Community Dance.
Ages 8 and up (younger, if passionate, with an adult): Clog Dance with Laurel Swift
Come and keep your feet busy whilst filling your brain with the catchy and incessant rhythms of a Lancashire cotton mill! We'll start right from the beginning and learn the basics of English clog dancing. New steps each day and we'll learn a whole dance over the week.
Ages 10 and up (younger, if passionate, with an adult): Letterboxing with Fynn Crooks
Come check out this unique hobby that combines the art of stamp carving with adventure, exploration, hiking, and sometimes even code-breaking! Started in 1854 on Dartmoor, letterboxing has grown into an international treasure hunt. Now it's travelled from Ogontz to Agassiz. Learn how to carve your own stamp, and how to find hidden pieces of art stashed all around camp. You'll leave with a nice souvenir and an opportunity to explore all week long! This class is best for slightly bigger hands, but under 10s are welcome with a parent.
Period 5
Ages 10 & up (younger, if passionate, with an adult): Intro to ECD with Katy German
English Country Dance moves can look deceptively sedate, even boring. So, what's the deal? In this class we'll cover the basics of ECD and try out approaches to ECD that boost fun and satisfaction. We'll explore delightful ways to hold our bodies and interact with other dancers. Come build your dancing skills, enjoy the fantastically beautiful music, and find out what keeps people coming back century after century.
Ages 10 & up (younger, if passionate, with an adult): Ceilidh Class with Andrew Swaine
In the UK, "English Ceilidh" is by far the most popular form of country dance at festivals for young people, featuring big bands and high energy. The dances are mostly simple, but there's plenty you can do with them – this series will show many of the things the experienced dancers do, as well as give a grounding in stepping skills.
All ages: Social Singing for All with Nicole Singer
Come sing with us! Join Nicole for a social singing class where we hang out and sing lots of different kinds of songs together. All experience levels welcome! If you're new to this, you'll learn about how a social singing session works (sometimes called a singaround, song swap, or pub sing) and build your confidence as a singer and song leader. If you're already a confident song leader, come share your songs and wisdom, and if you like, get some feedback to improve your song leading skills too. We will also talk about song session etiquette, how to choose songs that work well for social singing settings, and some ways to instigate or facilitate singing in a crowd.
Mummers Play – Paddy Swanson
The artistic director of Revels will lead us in the creation of another spectacular mummers play. Join the troupe and play your part!
Registration and Fees
Staff