"It's a soul-nourishing reminder of the power of music and dance to connect people and bring joy."

–Ellen Saltonstall
July 15-22, 2023 // Plymouth, MA
Bring your whole family tree to these woods
Join our community Facebook group!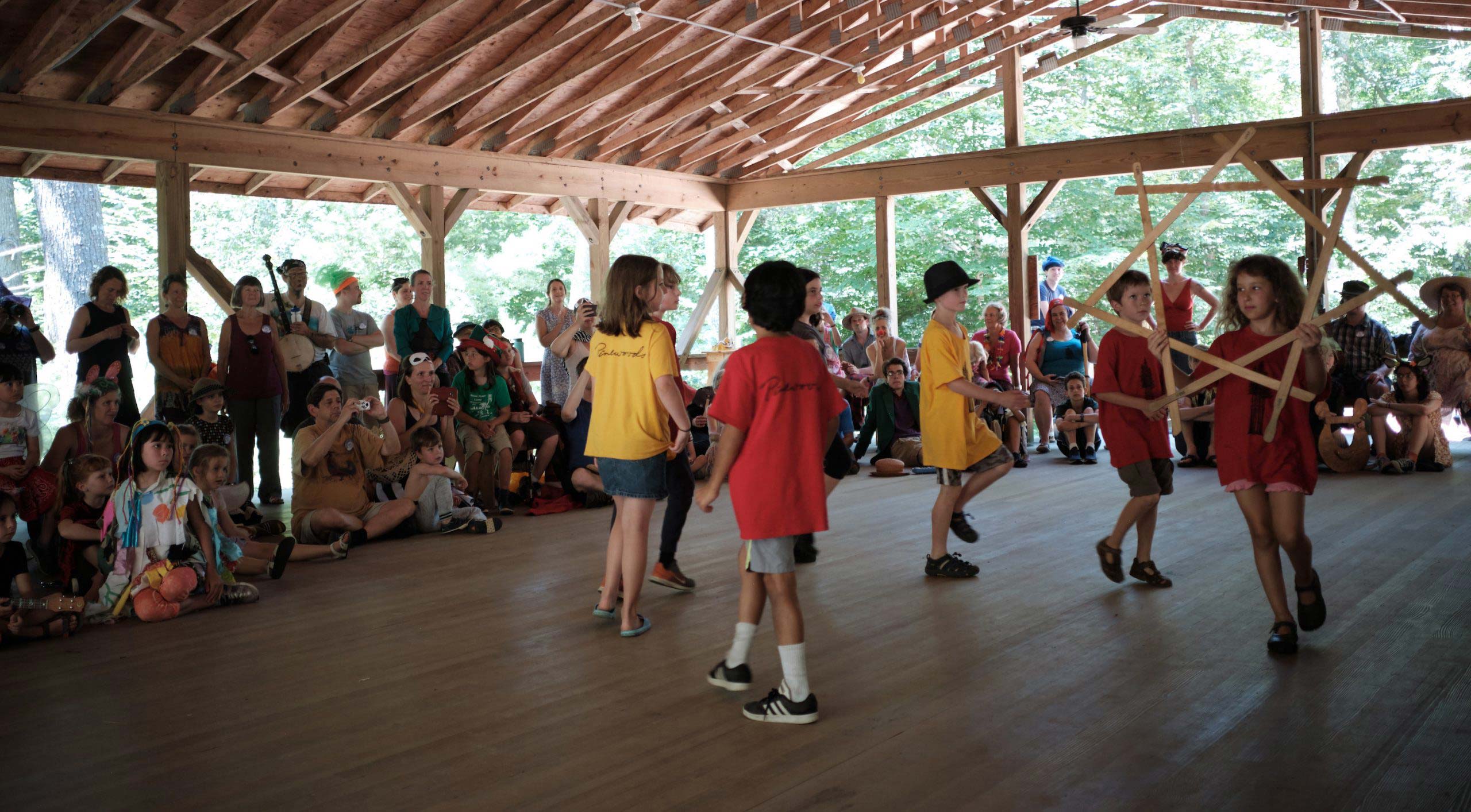 Program Description
Community. Song. Dance. Laughter.
Join us among the Pines for a week like no other. Family Week at Pinewoods is full of magic and joy, music and dance, for young, old, and everyone in between.
Nestled between two pristine New England ponds offering daily idyllic swimming and canoeing, both natural beauty and community spirit are ever-present. Together, we celebrate the charm of living in woodland cabins, eating delicious, home-cooked meals, and participating in the rich traditional music, dance, and song program offered by our skilled staff.
Morning classes are enjoyed by age groupings, with younger participants delighting in traditional song, dance, stories, crafts, and circus arts facilitated by expert children's educators. Meanwhile, teens and adults choose from an array of energizing community dance classes. Teens are welcome to join in adult activities throughout the day, but also have a daily class of their own. In addition to classes, there are two all-community gatherings (morning and evening) where the staff and campers alike share stories, songs and talents.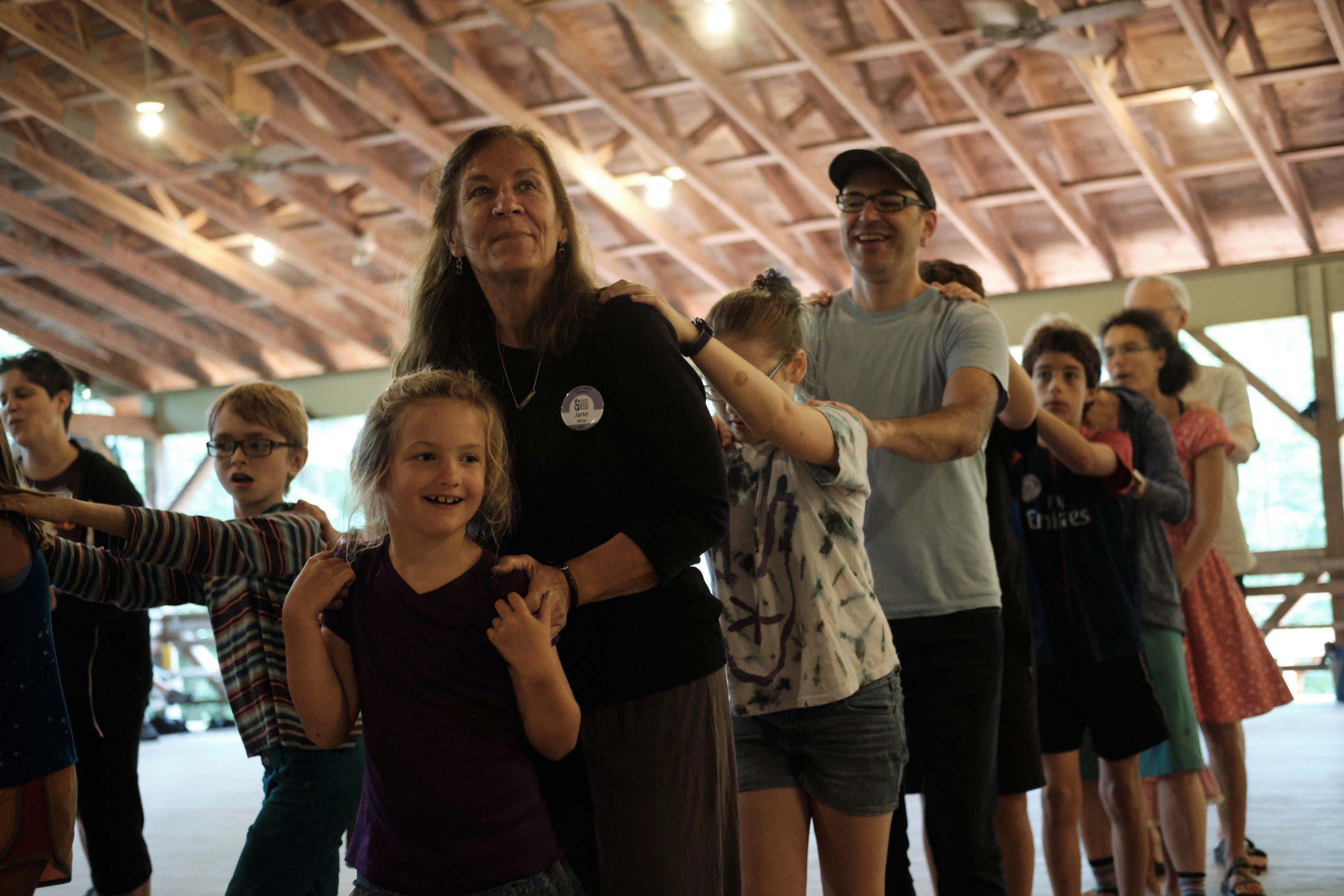 Family Week is a rejuvenating and inspiring way to spend time with your children, your grandchildren, your nieces and nephews, or other children dear to you. Adults without children are also very welcome.
Whether you're looking for a community experience, special family time, or a chance to grow your intergenerational dance, music, and song repertoire, Family Week will fill you with inspiration to sustain you through whatever is to come. We hope to see you there!
~Naomi Morse, Program Director
Schedule & Class Descriptions
2023 DRAFT Family Week at Pinewoods Schedule
Period 1
Ages 2-3: Play Party with Stefan Amidon
Come hang out as we have fun exploring songs, music, dance and stories that explore nature, traditions, being yourself and being silly!
Ages 4-5: Wiggles & Giggles with Jennifer Armstrong
Songs to sing, ring plays to play, and stories to hear, we'll have fun with it all.
Ages 6-7: Stories & Movement with Louisa Engle
We will hear several folktales and act them out with dances, songs and rhythms. Perhaps we will create a tale of our own?
Ages 8-9: Let's Move and Make it Fun! with Katy German
From goofy games, to singing, games, to social dancing fundamentals, this is a class where we will explore ways to bring fun into any group situation and make the most of our time in this wonderful community. Be prepared to play hard, think deeply, dance beautifully, and share what we learn with others!
Ages 10-12: Aunt Janine's Dancing Machine with Janine Smith, Elvie Miller and Naomi Morse
Who needs Dancing With the Stars when you can be a star at the dance? We'll explore timing, styling, writing dances, and most importantly, having FUN!
Ages 13 & up: English Country Dance for All with Margaret Bary, Karen Axelrod and Anna Patton
Bring a joyful start to your day with English Country Dance. Our focus will be on musicality, how to dance with the phrasing and express the feeling of the music. Another goal is to develop our spatial awareness and understand how the parts of the dance fit together. Repertoire will be accessible to beginners, while offering challenges for more experienced dancers. All are welcome.
13 & up: Exploring Step Dance with Alice Kaufman with Alex Cumming
Come join us as we look at ways to make your feet dance! We'll explore percussive step dance in many different time signatures and styles from English Clog to Appalachian step and beyond. Bring some loud shoes and even a song you'd be excited to dance too.
Period 2
Ages 2-3: Rise & Shine with Louisa Engle
Simple songs and stories for 2s and 3s. We will get to know a few different instruments and sing and dance along.
Ages 4-5: Sing & Play with Erica Morse
We will sing songs, play singing games, and learn finger plays. We will enjoy singing picture books and make simple crafts. Come ready to sing and play together!
Ages 6-7: Songs & Stories with Jennifer Armstrong
We'll make a group "cranky show" of a favorite song as well as plenty of singing together and listening to and making up stories.
Ages 8-9: Longsword with Margaret Bary and Stefan Amidon
How do wooden swords stick together to make a star? We will learn the secrets of English longsword dancing, create our own figures and then weave them together into an original dance. Participants should wear shoes or sneakers that stay on securely.
Ages 10-12: Singing & Circus with Alex Cumming & Roger the Jester
Description coming soon!
Ages 13 & up: Rapper with Alice Kaufman & Stefan Amidon
We will bounce up and down in jig time whilst tangling ourselves together with bendy rapper swords from the northeast of England in the ritual dance known as rapper. We'll explore creative new approaches to this traditional dance form.
Ages 13 & up: Squares, Contras, and Morning Mantras with Janine Smith, Elvie Miller, Owen Morrison, and Naomi Morse
Lovely contras and fast-moving squares will move you towards dance nirvana. Seize the chance for a morning dance trance!
Period 3
Ages 8 & up: Mumming & Miming with Roger the Jester
Come join us to create a fun and funny "Mimer's Play", a silent Mummer's Play!
Ages 8 & up: Community Chorus with Anna Patton & Stefan Amidon
Description coming soon!
All ages (under 10 with a parent): Crafternoon with Sarah Nicholson
Create for the sake of joy! Come and play with a variety of materials and discover where your creative process will lead you. Paper, paints and other inspirations will be provided for making paper beads, prayer flags, small books, collages, or creations of your choice.
Ages 10 & up: Community Band with Louisa Engle
Come join the band! Bring your favorite dance tunes and learn a few more at the community band. We will work on learning by ear while we work out our arrangements. All instruments are welcome.
Ages 10 & up: Kerry Sets with Owen Morrison and Denis Liddy
No experience is needed to enjoy these energetic set dances from the Sliabh Luachra region of Ireland. We'll start by learning the polka step that will be used throughout, and we'll explore a repertoire of dances learned from the late Timmy McCarthy of Ballyvourney, Ireland. Owen has fond memories of late night set dances at Pinewoods, and is thrilled to share them with a new generation of teenagers, grandparents, and everyone in between.
Late Afternoon
All Ages: Stories & Circus with Jennifer Armstrong and Roger the Jester
Description coming soon!
Ages 10 & up: Instrument / Singing Jam
Description coming soon!
Ages 13-17: Teen Class with Margaret Bary & Janine Smith
Description coming soon!
Camper Led Activities
Sign language, a boat trip, nature walk, jam session, grandparent social hour at Pinecones, lawn games at the dining hall, whatever!
Registration and Fees
Camp fees cover all accommodation, meals from dinner on the arrival day to breakfast on the departure day, and all of the various dance, music, and song events in the program.
| | |
| --- | --- |
| Adults (16+) | $1,000 |
| 13-15 | $900 |
| 10-12 | $775 |
| 7-9 | $650 |
| 4-6 | $555 |
| 2-3 | $360 |
| 0-1 | $70 |
You can find more information about the registration process here. If you need financial assistance in order to attend, please go to our scholarships page.
Staff