"I mused over the last year that re-starting the music and dance scene would involve more kitchen junkets and porch gatherings than big dances and festivals."

–Andy Davis
August 21 – 28, 2021 // Plymouth, MA
Where YOU are the defining ingredient
CDSS is moving forward with 6 COVID vaccine-required camp sessions for 2021. Each session will adhere to national, state, and local public health ordinances in effect at the time of the session. CDSS will continually monitor public health guidelines and keep registered campers informed of program adjustments as they are necessary.
Click here to read more about our decision process.
Join our community Facebook group!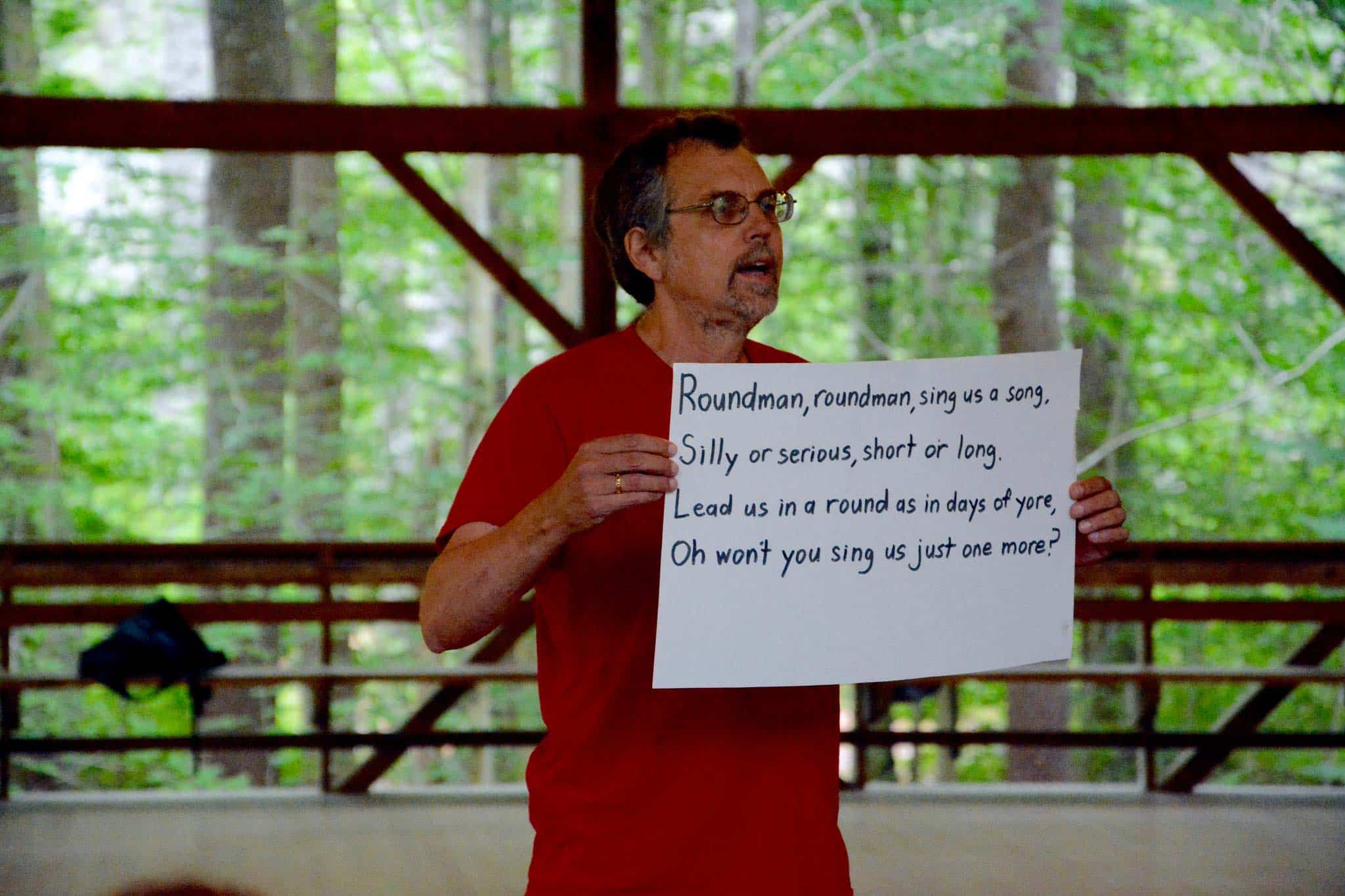 Program Description
These are participatory arts, not just because we dance to the caller and band, and sing along with the leader, but because we are the musicians, callers, song leaders, and organizers as well. There is a need – perhaps even more pronounced due to the pandemic – for community led activities at many levels. Join us as we unplug the computers we have been so reliant on and share our art with each other face to face.
In the 40 year history of Campers' Week, we have learned much about community based programming and the value of empowering the campers in the creation and execution of program. That empowerment is the focus of this week, open to ages 12 and up. Bring your dance cards, instruments, songs, and collective spirit! Add your talents to the program of opportunities to teach and to play for dance and music classes on a daily or ad hoc basis, and, presuming that regulations allow, an evening dance with an open mic and open band. There is a small staff to coordinate and mentor, but the program will depend on the contributions of everyone. Contribute your talents, and marvel at the diverse talents of the community.
The schedule includes pre-set classes that are a framework and opportunity for your contribution and participation as well as open spaces for you to put together your own offering — for 1 day or for several. Come to dance classes and the Evening Ceilidh to take your turn at the mic, take your seat in the band, and to join the dancers on the floor. We will curate the programs with the dancers in mind, but give many voices their opportunities. Come to the music classes to share your song or tune and to join in and learn from your peers. Or sign up to create your own piece of program — host a jam, teach an instrument, share a repertoire, discuss dance choreography — if you want to offer it and someone wants to join you, we can find the time and space. This week offers musicians many opportunities to play, and callers many opportunities to teach, for all-camp dances in C#.
Harmony in human interaction is a goal and takes conscious work. Participatory music and dance are tools to bring us together. While history is messy and old/traditional material can perpetuate some of that mess, this week assumes there is value in traditional material as a common repertoire and a link to the past, while recognizing that it is ever-evolving to reflect ever-evolving society. At Unplugged, we will experience the repertoire, teaching style, and language choices of many members of the community. Some are experimenting with and pushing new ideas, some are strict traditionalists. It is our hope and expectation that all are committed to dance and music both as their own artistic expression and as a tool for community building. So whether the caller refers to you as a lark, 2nd corner, man, lady, or some term you have never heard, let's enjoy the dance in the moment. If someone asks us to sing along with a song about love, murder, whaling, the pain of slavery, a religion that doesn't speak to us, or in a language we don't understand, let's enjoy the harmonies in the moment. AND let's continue conversations about what that meant, how it worked, where each of us hopes we can lead society, and how we can use music and dance to strengthen our communities.
All registrants under age 18 must be accompanied by an adult, responsible for bedtimes, monitoring, program participation, and all other parenting duties. There will be one class specifically for the 12-17 year old crowd, but otherwise, we will participate as one community.
We have every hope and expectation of returning to regular Campers' Week programming in 2022, but without the ability to safely include children this summer, we are offering this alternative program to the fully vaccinated, from the Campers' Week community and beyond. CDSS will offer online programming to the Campers' Week and Family Weeks communities this summer.
~ Steve Howe, Program Coordinator
Class Descriptions
7:45-8:15 Hot Breakfast served cafeteria style
8:15-8:45 Cold Breakfast Coffee/Tea available
9:00-10:00 All-Camp Gathering – Sally Rogers
We gather each morning to learn a song together and to share a curated program of your talents. This is a mix of participation and performance; bring your party piece, story, jokes, or lead your favorite round, pub song, or that 4 part vocal piece. If we can dance to your offering, perhaps the evening Ceilidh is the better venue.
10:15-11:15 Period 1
Teens – Jonathan Van Gieson
This is the one time that we will segregate by age to give the 12-17 crowd some time with Jonathan and the team he pulls together. This is both a rollicking good time and skill-building for meaningful participation in camp activities.
English Dance – Margaret Bary / Andy Davis
Bring your dance cards, instruments, and dance shoes. Margaret will put together a daily program with a mix of her own and your teaching. Andy will lead the open band. If you are interested, join the Callers Class for helpful critique of the teaching.
Camper-led classes
Throughout the day, there is space for you to offer a class, host a jam, or initiate a discussion. It can be for one or two days, or daily for the full week. Let us know what you want to add to the schedule and then let's see if we can get people to join you.
11:15-12:15 Period 2
American Dance – Kathy Anderson / Andy Davis
Bring your contra and square dance cards, instruments, and dance shoes. Kathy will put together a daily program with a mix of her own and your teaching. Andy will lead the open band. If you are interested, join the Callers Class for helpful critique of the teaching.
Camper-led classes
12:15 Lunch
1:30-2:30 Period 3
Harmony – Sally Rogers
Sally has a large repertoire, but there is space for your song as well. This class will develop a repertoire through the week and develop leadership skills.
Camper-led classes
2:45-3:45 Period 4
Calling Dances – English and American – Kathy Anderson
Come to call or come to dance and to see the process unfold. There will be some supportive critique of the calling, but mostly we learn by doing. Take your turn at the mic and offer your feet in support of budding callers.
Rapper Dance – Sarah Henry
Sarah has taught many a rapper class, but in this one, we will develop choreography together as we work on stepping and teamwork. This class is for dancers of all levels, the more experienced can contribute figures to the dance that we build as we go.
Crafts and Song on the Porch
This is a casual sing while we quilt, knit, bead, paint, etc. Bring a craft project to share and a song to ease the labors.
Camper-led classes
3:45-4:30 Swimming, Bookstore staffed
Camper-led classes
3:45-4:00 Tea
4:15-5:15 Period 5
Community Band – Andy Davis
There is a spot for musicians at all levels in the community band. How do you enhance the sound of the ensemble? Melody instruments and backup instruments will be needed. Music will be taught both with notes and 'by ear'. Bring a tune that you think we can learn and enjoy playing!
Camper-led classes
6:00 Dinner
7:45-10:30 Evening Ceilidh – Kathy Anderson, Margaret Bary, Sally Rogers / Andy Davis
An evening dance called and played by the community and interrupted by various entertainments, perhaps we can waltz to an offering by the Harmony Class, or the Rapper Class has something to show us. Expect surprises! Rather than turning Friday into show and tell, we will share as we go. Get your one-off class onto the schedule, let us know what you have to offer. If you want a seated audience, the All-Camp Gathering may be the better venue.
10:45 After-dance Activities
What did we miss? Is this the time to make it happen? We have to be nice to the neighbors, but there are possibilities!
Registration and Fees
Staff