"Fabulous music and dance in a magical setting."

–Lorraine Graves
August 14 – 21, 2021 // Plymouth, MA
Epics and Odysseys
We are hoping to be able to have camps in person in 2021, but will be monitoring the COVID-19 situation and will adjust our plans as necessary. The health and safety of our community is our top priority. Where possible we are rehiring the staff we had planned for 2020, although there may be some changes. We don't know when registration will open, but you can check back here for updates. To receive updates about camps and online programs via email, sign up for our email list.
Join our community Facebook group!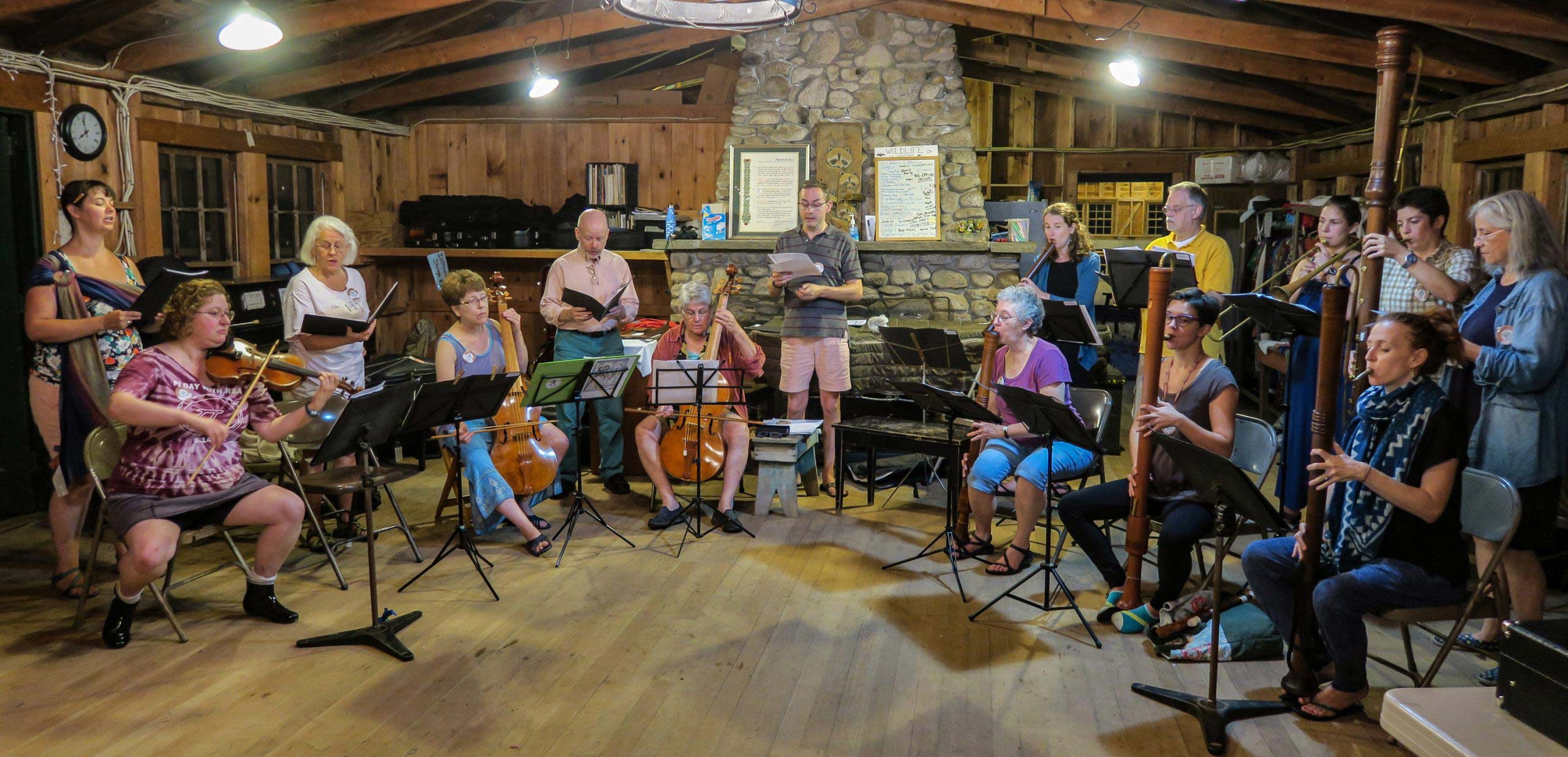 Program Description
Journey to another time with music that tells a story and evokes distant lands in a universal language. Our epic will explore music with mythological connections; travel the different regional styles of the Renaissance and Baroque; and bring us together through music and dance. We offer coached consorts at all levels for recorders, viols, voices, louds (Renaissance reeds and brass); plus flute, harp, and of course English Country Dance for everyone.
Early Music Week offers joyful opportunities and challenges to players, singers and dancers of every level, from beginners to the highly experienced. As classes unfold through the week, we will explore and discover the innovation and creativity that lie behind some of the world's most vibrant and compelling music, listening and playing with deeper understanding, as well as dancing together and enjoying all that the Pinewoods community has to offer.
Instrumentalists may focus intensively on their primary instruments, enjoying the opportunity to play or sing with others in mixed ensembles and find time to explore something completely new. Singers can delve into early music repertoire in small groups, sing in a chorus and/or collegium, and try an introductory instrumental class. Everyone is invited to enjoy English country dancing, with instruction during the day for all levels. This elegant, low-impact, fun and welcoming style of participatory dance is the highlight of every evening. Dances are led by expert callers with music played by an elegant live band. All are warmly encouraged to participate.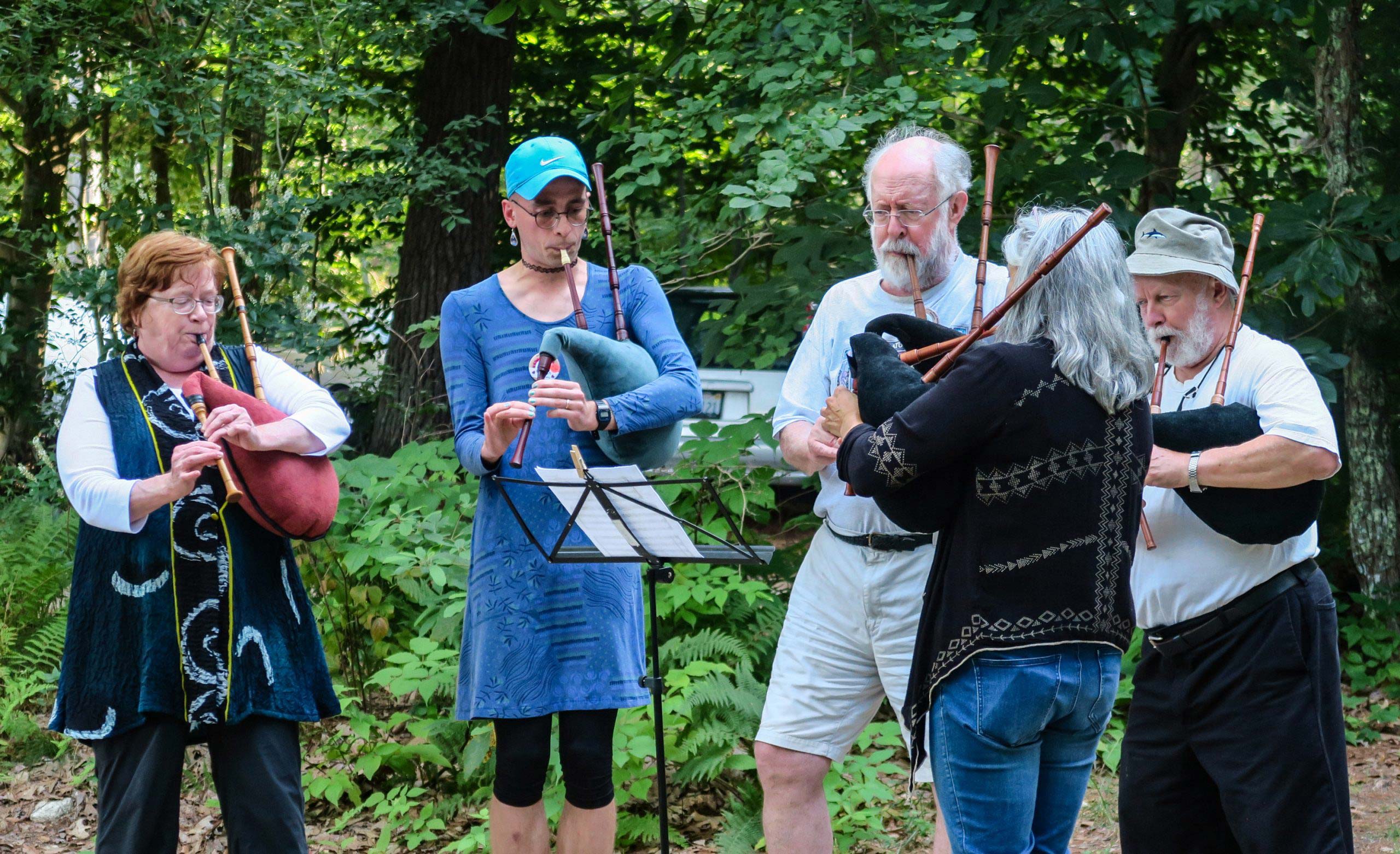 The week also offers Accademia, an intensive program of High Renaissance Ensembles for advanced voices, viol and wind players with strong sight-reading skills (16th c. viols and recorders provided for student use).
Less experienced recorder players who want to focus on improving their technique and rhythmic skills can opt for Recorder Boot Camp classes.
Our outstanding faculty includes active professionals and acclaimed teachers and coaches of early winds (recorder, flute, capped reed/bagpipe, shawm, dulcian, sacbut, cornetto) strings (viola da gamba, Baroque violin, vielle, rebec), voice, chorus, harp, lute, and keyboard. The program also includes mini lecture/recitals by faculty as well as side-by-side play/sing-ins, with more advanced participants assisting those less experienced. The week closes with a faculty concert and student performances before a final banquet and celebration.
Experience this in-depth music and dance week surrounded by exceptional natural beauty, with time for relaxation — swimming, hiking, canoeing — and delicious home-cooked meals in the open-air dining hall. What better way to get inside music, and to bond with others of like mind, than to play, sing, dance, and learn together in this magical environment?
Emily O'Brien – Program Director
We will be joined by the Sierra Club, with 20 people using camp as their home base while they do service work with the Wildlands Trust. They will eat with us and, during their off hours, they will join us for dancing, swimming and socializing.
Lisa Terry will be the Viol Maven for Early Music Week this summer. She'll have a supply of nylon strings to sell, a few Sensicore strings to lend, and the expertise to get your pegs turning and your soundposts upright. See the Viol Maven each day during breakfast and lunch to make an appointment before first morning or afternoon class. Please read Viol Survival Tips, and put them in practice BEFORE camp!
Schedule
Full class schedule coming soon!
7:45-8:15
Hot Breakfast served cafeteria style
8:15-8:45
Cold Breakfast Coffee/Tea available
8:15-8:25
Vocal warm-ups For All
8:30-8:50
Stretches and warm-ups For All
9:00-10:25
Period 1
Instrumental and vocal consorts grouped by level
10:45-11:45
Period 2
English Country Dance classes, by level
11:45-12:30
Free time: Swimming, Bookstore staffed, play-ins
12:30
Lunch
1:45-3:00
Period 3
3:20-4:35
Period 4
4:45-5:15
Tea
5:15-6:15
Free time: Informal camper music making, Swimming, Bookstore staffed
6:30
Dinner
7:45-8:15
Faculty Lecture/Presentations
8:15-9:45
English Country Dancing For All
9:45
Special Events: madrigal sing, skit night, auction, parties
Class Descriptions
Class Descriptions coming soon!
Registration and Fees
Staff