"Fabulous music and dance in a magical setting."

–Lorraine Graves
August 14 – 21, 2021 // Plymouth, MA
Epics and Odysseys
CDSS is moving forward with 6 COVID vaccine-required camp sessions for 2021. Each session will adhere to national, state, and local public health ordinances in effect at the time of the session. CDSS will continually monitor public health guidelines and keep registered campers informed of program adjustments as they are necessary.
Click here to read more about our decision process.
Join our community Facebook group!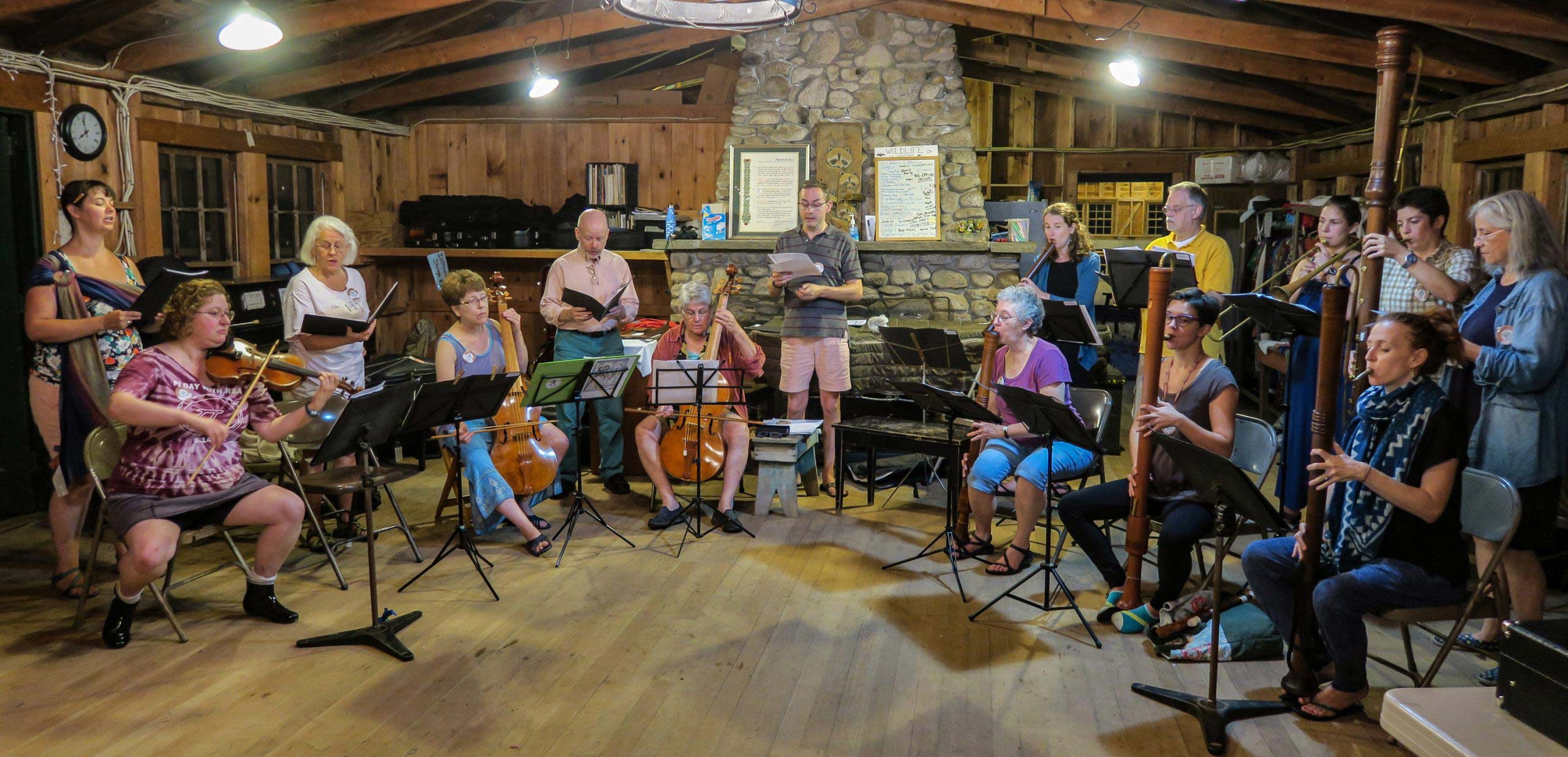 Program Description
Journey to another time with music that tells a story and evokes distant lands in a universal language. Our epic will explore music with mythological connections; travel the different regional styles of the Renaissance and Baroque; and bring us together through music and dance. We offer coached consorts at all levels for recorders, viols, voices, louds (Renaissance reeds and brass); plus flute, harp, and of course English Country Dance for everyone.
Early Music Week offers joyful opportunities and challenges to players, singers and dancers of every level, from beginners to the highly experienced. As classes unfold through the week, we will explore and discover the innovation and creativity that lie behind some of the world's most vibrant and compelling music, listening and playing with deeper understanding, as well as dancing together and enjoying all that the Pinewoods community has to offer.
Instrumentalists may focus intensively on their primary instruments, enjoying the opportunity to play or sing with others in mixed ensembles and find time to explore something completely new. Singers can delve into early music repertoire in small groups, sing in a chorus and/or collegium, and try an introductory instrumental class. Everyone is invited to enjoy English country dancing, with instruction during the day for all levels. This elegant, low-impact, fun and welcoming style of participatory dance is the highlight of every evening. Dances are led by expert callers with music played by an elegant live band. All are warmly encouraged to participate. While the dances are built around sets of couples, there is no expectation or judgement about who dances where or with whom. Whether the teacher uses "Man/Woman" or "Lark/Raven" to indicate a position in the dance, anyone is welcome in any position and we urge people to change partners and roles regularly.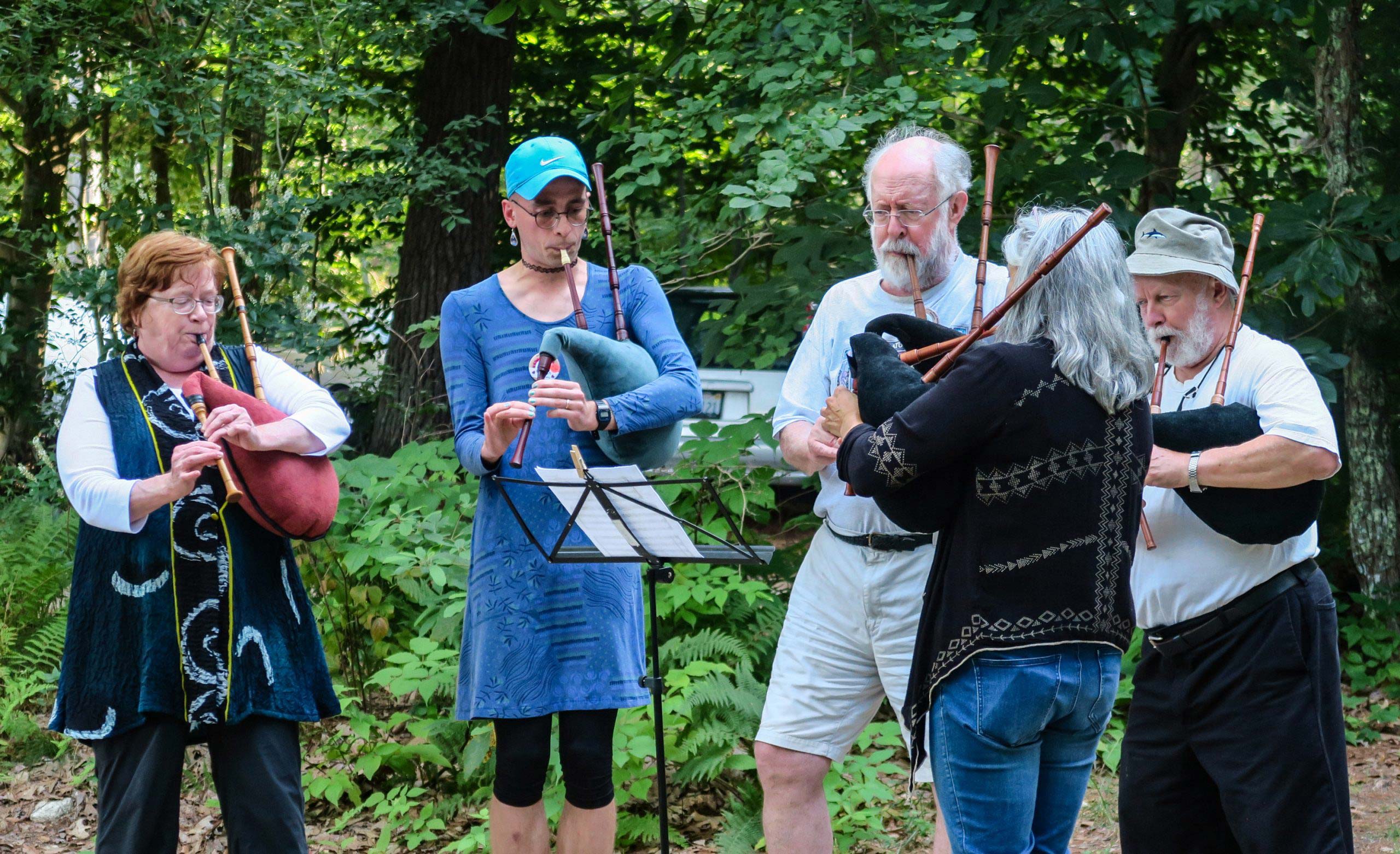 The week also offers Advanced Ensemble Intensive, an intensive program for advanced voices and instrumentalists (string, wind and keyboard players) with strong sight-reading skills.
A special feature of this year's program is our All Camp Collegium, which gives us the chance to work on large polychoral works with mixed instrumentation, and enjoy finally being able to make music together again.
Our outstanding faculty includes active professionals and acclaimed teachers and coaches of early winds (recorder, flute, capped reed/bagpipe, shawm, dulcian, sacbut, cornetto) strings (viola da gamba, Baroque violin, vielle, rebec), voice, chorus, harp, lute, and keyboard. The program also includes mini lecture/recitals by faculty as well as side-by-side play/sing-ins, with more advanced participants assisting those less experienced. The week closes with a faculty concert and student performances before a final banquet and celebration.
Experience this in-depth music and dance week surrounded by exceptional natural beauty, with time for relaxation — swimming, hiking, canoeing — and delicious home-cooked meals in the open-air dining hall. What better way to get inside music, and to bond with others of like mind, than to play, sing, dance, and learn together in this magical environment?
Emily O'Brien and List Terry – Program Co-Directors
We will be joined by the Sierra Club, with 20 people using camp as their home base while they do service work with the Wildlands Trust. They will eat with us and, during their off hours, they will join us for dancing, swimming and socializing.
Lisa Terry will be the Viol Maven for Early Music Week this summer. She'll have a supply of nylon strings to sell, a few Sensicore strings to lend, and the expertise to get your pegs turning and your soundposts upright. See the Viol Maven each day during breakfast and lunch to make an appointment before first morning or afternoon class. Please read Viol Survival Tips, and put them in practice BEFORE camp!
Schedule
Updated July 1, 2021
7:45-8:15
Hot Breakfast served cafeteria style
8:15-8:45
Cold Breakfast Coffee/Tea available
8:15-8:25
Vocal warm-ups For All
8:30-8:50
Stretches and warm-ups For All
9:00-10:25
Period 1
Instrumental and vocal consorts grouped by level
10:45-11:45
Period 2
English Country Dance classes, by level
11:45-12:30
Free time: Swimming, Bookstore staffed, play-ins
12:30
Lunch
1:45-3:00
Period 3
Recorder Bouquet (LI+ Recorders) — Anne Timberlake
European Tour (I+, Recorders) — Eric Haas
Adventures in Counterpoint: Bach for Recorders (HI-A Recorders) — Jan Elliott
The Sylvan Forest and the Woods so Wilde (LI+, Recorders, flutes, strings) — Larry Zukof
Pilgrims' Progress (I+, Strings and friendly winds) — Karen Burciaga
Coperario, Ferrabosco and Lupo: Music for Several Viols (HI-A Viols) — Carol Lewis
Choir (Voices) — Frances Fitch
A Wind Player's Cookbook: Tasty Polyphony for the Discerning Palate (I, Louds)— Dan Meyers
Hand Pict Tunes of the Celts or Out on Your Ear! (I+, All instruments) — Ellen Tepper
The End of All Our Exploring (Experienced, Dancers) — Bruce Hamilton
Advanced Ensemble Intensive (Pre-registration, All) — Emily O'Brien, Lisa Terry
3:20-4:35
Period 4
All Camp Collegium, with breakout by level
4:45-5:15
Tea
5:15-6:15
Free time: Informal camper music making, Swimming, Bookstore staffed
6:30
Dinner
7:45-8:15
Faculty Lecture/Presentations
8:15-9:45
English Country Dancing For All
9:45
Special Events: madrigal sing, skit night, auction, parties
Class Descriptions
Updated July 1, 2021
9:00-10:25
Instrumental and vocal consorts grouped by level, Beginner to Advanced
Recorder, viol, voice, strings, harp, mixed instrument, and Advanced Ensemble Intensive (see below for link to description) Voice Classes will include rhythmic, interval and sight reading exercises to strengthen the students' musicianship. (B to A)
Advanced Ensemble Intensive (Pre-accepted applicants) with Frances Fitch
10:45-11:45
English Country Dancing (Sunday only): An Introduction, and Then On We Go! (B) with Jan Elliott
English Country Dance for All (B and up) with Jacqueline Schwab
We will dance historical and newly choreographed selections that have won the hearts of dancers for good reasons. If these dances are new to you, you'll soon know why people love them. And if they're already your favorites, here's a chance to do them even better! Please join the fun-this session is for all dancers.
English Country Dance: The Breadth of the Genre (A) with Bruce Hamilton
English Country Dance has tunes and choreographies from five centuries, styles ranging from court to ceilidh, from extra-creamy to extra-crunchy. It has delicious modal tunes. It has squares, lines, circles, and non-Euclidian shapes. It has dances three pages long. This magnificent collection needs us, its custodians, to keep dust from gathering on it, and we benefit from having our own horizons pushed outward. We'll sample the collection, appreciating its range and the characters of individual dances. And who knows? New personal favorites may hide in unexpected places.
1:45-3:00
Recorder Bouquet (LI+ Recorders) with Anne Timberlake
Gather your tuneful lilies! Stop and smell the musical roses! Featuring flower-inspired music by composers from many times and places, this class will help your ensemble skills bloom and grow. Is it possible to stuff more flower puns into a single course? Sign up and find out!
European Tour (I+, recorders) with Eric Haas
Not English Not Country Dances: French, Dutch, German, and Italian dance music for the court and theatre. Music of Praetorius, Susato, Gervaise, Gesualdo and others.
Adventures in Counterpoint: Bach for Recorders (HI-A Recorders) with Jan Elliott
The great master of baroque counterpoint wrote few pieces specifically for recorder, but his music can lend itself to nearly any instrumental combination when played with affinity and understanding. Recorder arrangements abound, including suites, concertos, cantatas and fugues. We will explore several examples, increasing parts and complexity as we go, and touch on some of the technical choices in arranging these works for recorder consort. Low instruments are especially welcome.
The Sylvan Forest and the Woods so Wilde (LI+, Recorders, flutes, strings) with Larry Zukof
Spirited, lively and graceful dances, fantasies, and bucolic tunes from the late 16th C. Composers will include Byrd, Brade, Holborne, Ravenscroft.
Pilgrims' Progress (I+,  Strings and friendly winds) with Karen Burciaga
We'll trace the Plimoth colonists' journey from turbulent 1590s England to religious refuge in the Netherlands and on to their new lives on the unfamiliar shores of New England–in fact, about 8 miles from Pinewoods. The "Pilgrims" as they were later called were a diverse group of Separatists and Anglicans, religious zealots and irreverent opportunists. They brought with them music experiences as varied as their reasons for coming to the New World, and contrary to popular belief, the settlers found time to sing and dance when not farming or attending church. We'll look at consort music of Morley and Dowland, catches by Ravenscroft, selections from the Dutch collection 't Uitnement Kabinet, psalms from the Ainsworth Psalter, and dance tunes from the English Dancing Master. Those interested can have a quick coaching in Original Pronunciation, the way English (probably) sounded in 1620.
Coperario, Ferrabosco and Lupo: Music for Several Viols (HI-A Viols) with Carol Lewis
Renaissance England loved viol consorts, and by about 1600, the finest musicians at (and around) the royal court were writing fantasias and dance music for three, four, five and six viols. We'll pick three of these composers, Coperario, Ferrabosco and Lupo, all viol players themselves, and see how their music was similar and yet different. Above all, we'll get to play some beautiful music, some of it modeled on vocal music (madrigals), some purely instrumental, and all of it taking advantage of the very special sound qualities that belong only to the viol family.
Choir (Voices) with Frances Fitch
Let's join voices – though they may be a bit rusty after the long isolation we've been through! Vocal warm-up and intonation exercises will lead into an exploration of Epics and Odysseys as we make music together under the pines.
A Wind Player's Cookbook: Tasty Polyphony for the Discerning Palate (I, Louds) with Dan Meyers
Inspired by Dan's fondness for the music of the underrated Brescian composer Gregorio Zucchini, this class will feature music selected from the works of the finest 16th-century composers with "edible" names, including Brebis, Dentice, Lauro, Meloni, Mouton, Morel and–OK, it's a bit of a stretch–Dulichius. From four-voice appetizers to eight-voice, double-choir main courses, there's something on the menu for every appetite in this multi-course journey through Italy, France, and the Low Countries.
Hand Pict Tunes of the Celts or Out on Your Ear! (I+, All instruments) with Ellen Tepper
Tunes from the north of England, Scotland and Ireland, in the 3 styles of traditional harp music, suantrai, geantrai and goltrai (sleeping, dancing and lamentation) For all instruments, (not just harp).A tune a day taught by ear (maybe more depending on the acquisitivity of of participants)
The End of All Our Exploring (Experienced, Dancers) with Bruce Hamilton
And the end of all our exploring will be to arrive where we started and know the place for the first time / A singer gives life to a song, a musician gives life to a tune, and dancers give life to a dance. Old favorites can blossom under gentle, loving attention and reveal color, texture and fragrance we didn't know were there – or sensed but couldn't quite reach. We'll give some dances that attention and see what happens.
Advanced Ensemble Intensive (Pre-registration, All) with Emily O'Brien, Lisa Terry
3:20-4:35
All Camp Collegium, with breakout by level with Larry Zukof
This year we're celebrating being able to make music together in person with a special All-Camp Collegium. We'll enjoy the richness of larger-scale works than we can usually work on, for a symphonic combination of instruments and voices spearheaded by Larry Zukof. The whole group will meet together sometimes, but will also break out into sectionals by instrument and level, led by Larry Zukof (voices), Lisa Terry (viols and friends), Anne Timberlake (Recorders), Jan Elliot (recorders), Carol Lewis (viols and friends), and Dan Meyers (advanced louds). The Collegium's centerpiece project will be Cavalieri's "O che nuovo miraculo", the finale of the 1589 Florentine wedding Intermedi (#6 La Pellegrina) which became very famous as the Aria di Firenze or Aria del gran duca.
5:15-6:15
Music Play-in (includes singers and instrumentalists) for all levels: sit side-by-side (next to a more advanced player/singer) if you wish.
Registration and Fees
Staff