"Fabulous music and dance in a magical setting."

–Lorraine Graves
Online events August 16-21 // Plymouth, MA
Epics and Odysseys
You are invited to join us for Early Music Week Online! We are delighted to share with you a variety of exciting events led by our wonderful faculty, please scroll down to see the full schedule.
All evening events are at 8pm EDT. Please register here to be sent the Zoom link – you only need to register once and can then use the same link to attend any of the events. All events are open to all, so please share this with your friends. There is no charge to attend, but we will have a voluntary collection to support our wonderful and dedicated faculty.
If you are on Facebook, please join our community group to connect with other campers and share memories.
Event
Date & Time
(all times EDT)
Description
Faculty Lecture
August 16
8pm

Ottoman and Turkish Music from the 18th-20th century
What is a Samai? How does music in a 16/4 measure pattern sound like? Who was Prince Dimitri Cantemir and how did he change history of Ottoman Music? Have you personally played or hummed with Kudüm, Kanun,Tanbur and Ud before?
Join Daphna Mor for some history, theory, and music listening (or playing/ humming* -music is instrumental , but singable 🙂 ).
*If you plan to play prepare your melody instruments (440, treble clef) or percussion instruments. scores will be shared on screen.
Morning Warm-ups
August 17
8:30am
By popular request! Morning warm-ups led by Francie Fitch.
Madrigal Sing & Play Along
August 17
8pm
Join us on Monday evening to sing and play favorite madrigals together. Early Music Week faculty will present madrigals with all the parts covered so we can all join in singing and playing together from home. Music will be provided in advance in PDF format; sing or play whichever part strikes your fancy!
Faculty Lecture
August 18
8pm
Pilgrims' Progress: Music of the Plimoth Colony Settlers
2020 marks the 400th anniversary of the Mayflower's sailing, and the newly restored Mayflower II has just come back to Plymouth! Dan and Karen of Seven Times Salt will give a lecture with musical examples following the passengers from their homes in turbulent 1590s England to religious refuge in the Netherlands, and onward to the unfamiliar shores of New England. Contrary to what the history books tell us, the Plimoth colonists, or "Pilgrims" as they were later called, were a diverse group of Separatists and Anglicans, religious zealots and irreverent opportunists from many walks of life, and they brought with them experiences of music as varied as their reasons for coming to the New World. We'll discuss music of the Elizabethan tavern and theater, songs by Thomas Ravenscroft, Dutch tunes, the Ainsworth Psalter, and (of course) Playford's English Dancing Master.
Presented by Dan Meyers and Karen Burciaga
Faculty Lecture
August 19
8pm
Audible Visions: The poetry of Vittoria Colonna illuminated by music
Sarah Mead, Anney Barrett, & Michael Barrett
How three elements – the words of the poet, the polyphony of the composer, and the sounds of the instruments – came together in one project.
Three Pinewoods EMW teachers describe the journey that led to the recording of Pietro Vinci's "Sonetti Spirituali" with illustrations, poetry, and videos of their concert.
Faculty Concert
August 20
8pm
Early Music Week faculty will present a variety of live and pre-recorded performances.
Open Mic Night
August 21
8pm
Part skit night, part camper concert, part show and tell. Have you been practicing Van Eyck in quarantine? Learning to juggle? Making a multi-track video of Spem in Alium from your closet? Writing poetry? Share it with all of us at Open Mic Night.
If you would like to contribute, contact Emily O'Brien (emily@emilysdomain.org) with the details so we can sort out the logistics in advance. Acts may be performed live in the moment or pre-recorded, but should be kept under 3 minutes.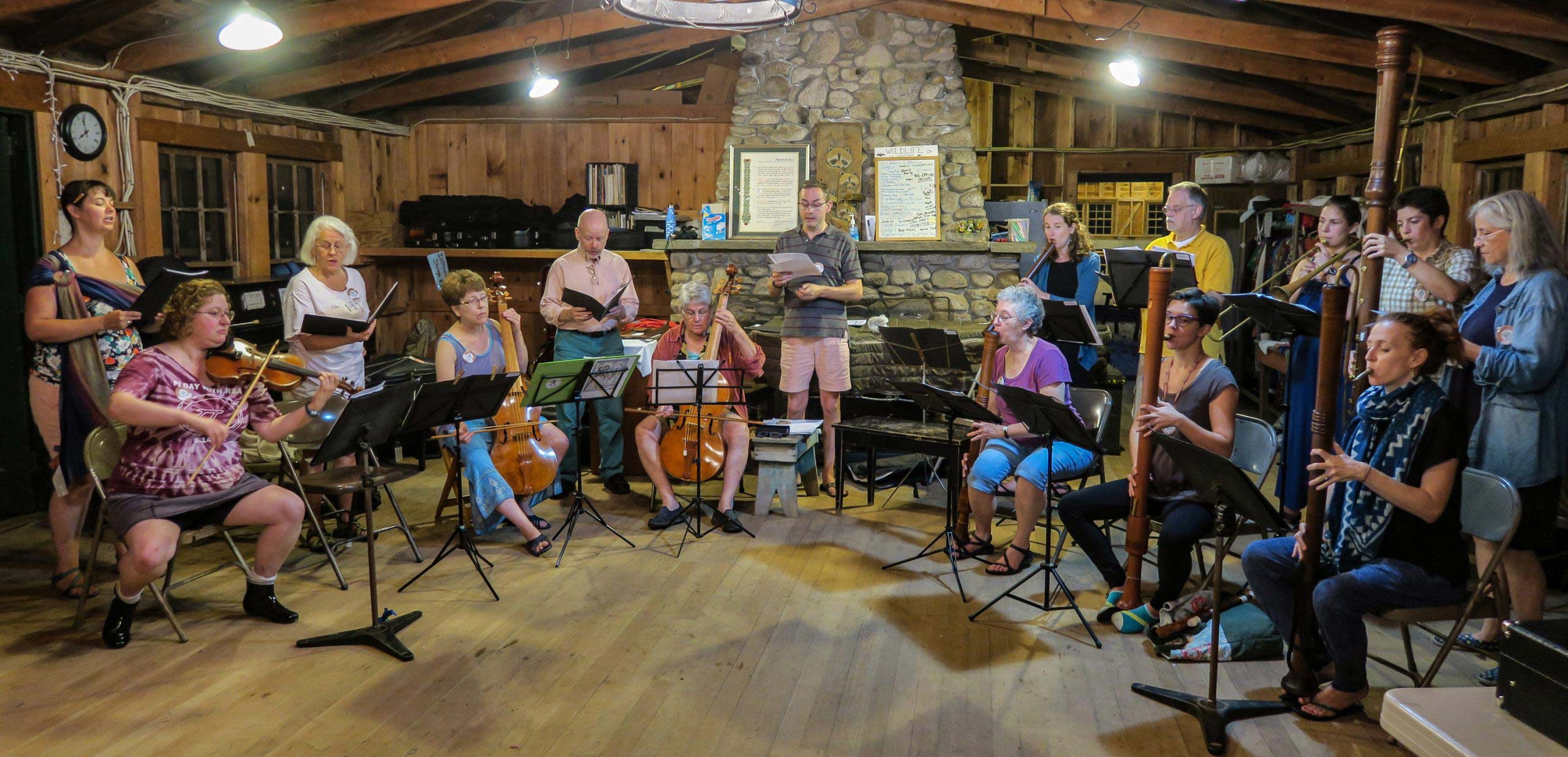 Program Description
Journey to another time with music that tells a story and evokes distant lands in a universal language. Our epic will explore music with mythological connections; travel the different regional styles of the Renaissance and Baroque; and bring us together through music and dance. We offer coached consorts at all levels for recorders, viols, voices, louds (Renaissance reeds and brass); plus flute, harp, and of course English Country Dance for everyone.
Early Music Week offers joyful opportunities and challenges to players, singers and dancers of every level, from beginners to the highly experienced. As classes unfold through the week, we will explore and discover the innovation and creativity that lie behind some of the world's most vibrant and compelling music, listening and playing with deeper understanding, as well as dancing together and enjoying all that the Pinewoods community has to offer.
Instrumentalists may focus intensively on their primary instruments, enjoying the opportunity to play or sing with others in mixed ensembles and find time to explore something completely new. Singers can delve into early music repertoire in small groups, sing in a chorus and/or collegium, and try an introductory instrumental class. Everyone is invited to enjoy English country dancing, with instruction during the day for all levels. This elegant, low-impact, fun and welcoming style of participatory dance is the highlight of every evening. Dances are led by expert callers with music played by an elegant live band. All are warmly encouraged to participate.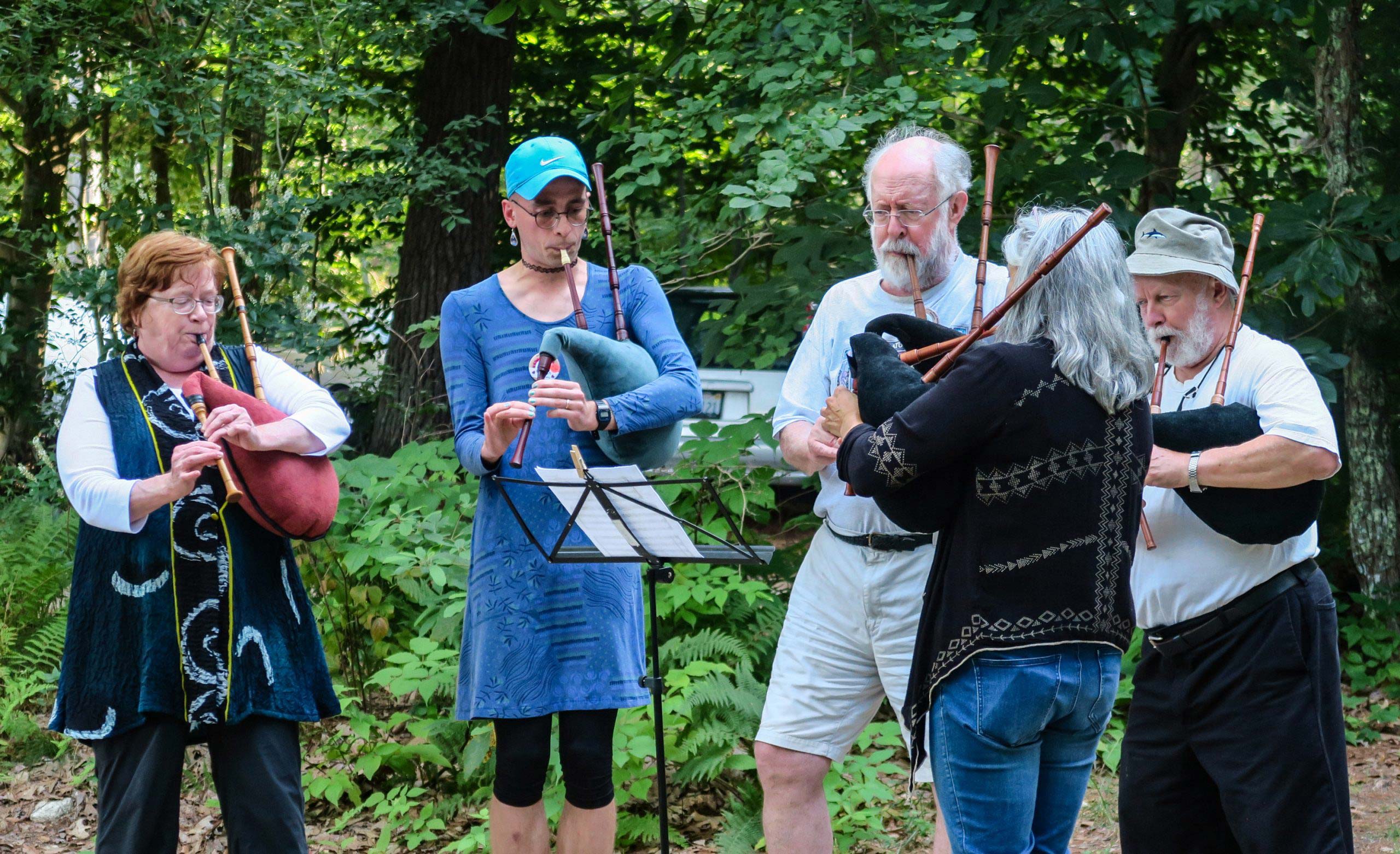 The week also offers Accademia, an intensive program of High Renaissance Ensembles for advanced voices, viol and wind players with strong sight-reading skills (16th c. viols and recorders provided for student use).
Less experienced recorder players who want to focus on improving their technique and rhythmic skills can opt for Recorder Boot Camp classes.
Our outstanding faculty includes active professionals and acclaimed teachers and coaches of early winds (recorder, flute, capped reed/bagpipe, shawm, dulcian, sacbut, cornetto) strings (viola da gamba, Baroque violin, vielle, rebec), voice, chorus, harp, lute, and keyboard. The program also includes mini lecture/recitals by faculty as well as side-by-side play/sing-ins, with more advanced participants assisting those less experienced. The week closes with a faculty concert and student performances before a final banquet and celebration.
Experience this in-depth music and dance week surrounded by exceptional natural beauty, with time for relaxation — swimming, hiking, canoeing — and delicious home-cooked meals in the open-air dining hall. What better way to get inside music, and to bond with others of like mind, than to play, sing, dance, and learn together in this magical environment?
Emily O'Brien – Program Director
We will be joined by the Sierra Club, with 20 people using camp as their home base while they do service work with the Wildlands Trust. They will eat with us and, during their off hours, they will join us for dancing, swimming and socializing.
Lisa Terry will be the Viol Maven for Early Music Week this summer. She'll have a supply of nylon strings to sell, a few Sensicore strings to lend, and the expertise to get your pegs turning and your soundposts upright. See the Viol Maven each day during breakfast and lunch to make an appointment before first morning or afternoon class. Please read Viol Survival Tips, and put them in practice BEFORE camp!
Schedule
Full class schedule coming soon!
7:45-8:15
Hot Breakfast served cafeteria style
8:15-8:45
Cold Breakfast Coffee/Tea available
8:15-8:25
Vocal warm-ups For All
8:30-8:50
Stretches and warm-ups For All
9:00-10:25
Period 1
Instrumental and vocal consorts grouped by level
10:45-11:45
Period 2
English Country Dance classes, by level
11:45-12:30
Free time: Swimming, Bookstore staffed, play-ins
12:30
Lunch
1:45-3:00
Period 3
3:20-4:35
Period 4
4:45-5:15
Tea
5:15-6:15
Free time: Informal camper music making, Swimming, Bookstore staffed
6:30
Dinner
7:45-8:15
Faculty Lecture/Presentations
8:15-9:45
English Country Dancing For All
9:45
Special Events: madrigal sing, skit night, auction, parties
Class Descriptions
Class Descriptions coming soon!
Registration and Fees
Staff